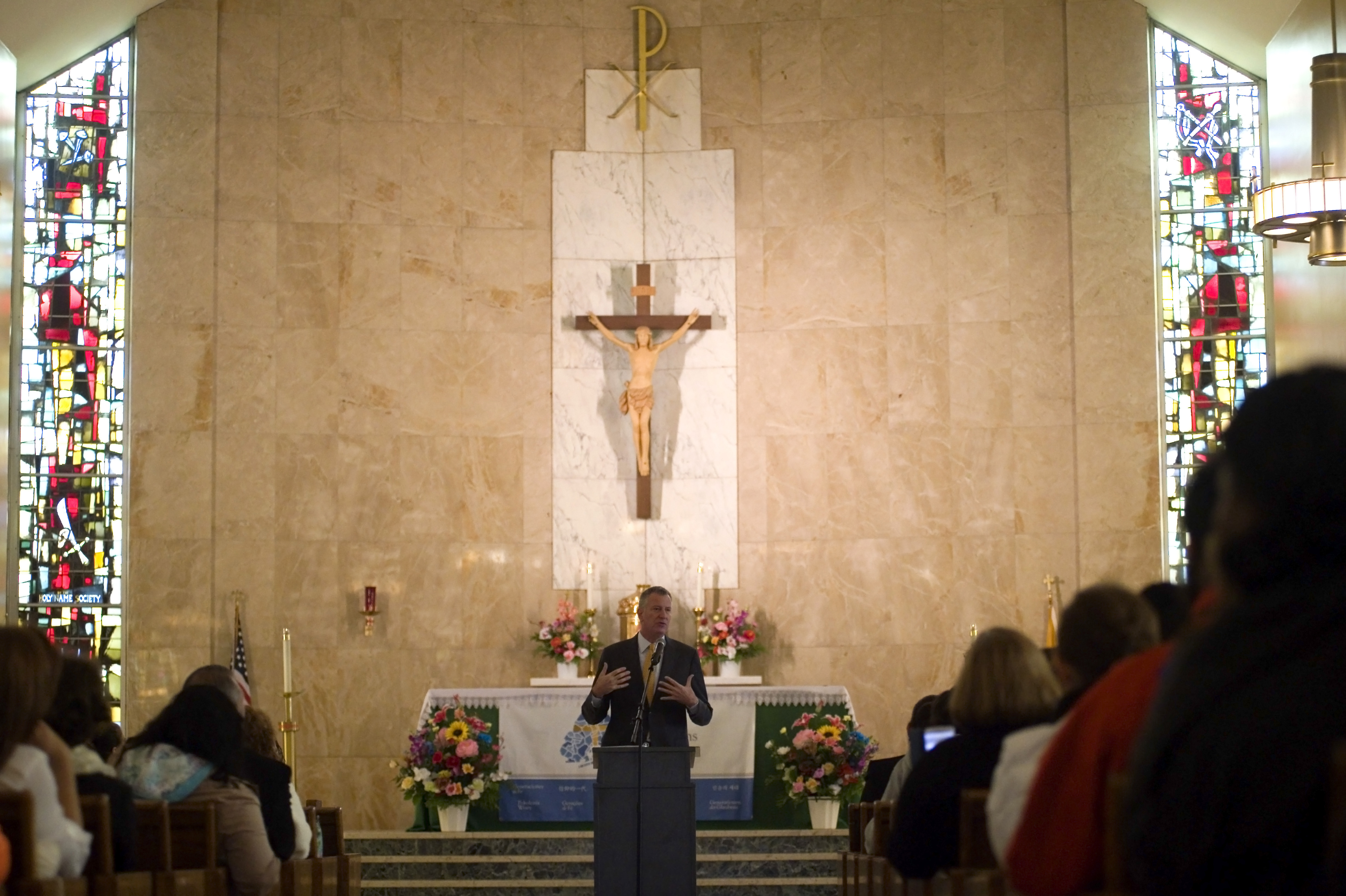 Mayor Bill de Blasio's embattled affordable housing plan is getting a bit of divine intervention.
More than sixty members of the clergy are endorsing Mr. de Blasio's effort to re-zone parts of the city to build more housing and require developers to include affordable units, according to a letter obtained by the Observer.
"On behalf of the many families in our congregations struggling to find affordable housing and remain in their homes, we write in strong support of Mayor de Blasio's plan to build and protect 200,000 affordable apartments—enough housing for half a million people," the coalition of leaders from various faiths wrote in a letter addressed to the City Planning Commission.
Mr. de Blasio has proposed two separate zoning changes to help accomplish his housing goals, and both will go before the Planning Commission for a hearing this week. The first, Mandatory Inclusionary Zoning, requires builders to include affordable units when they need city approval to build housing. The second, Zoning for Quality and Affordability, will make several changes including allow for taller buildings.
Both plans have met with broad disapproval from Community Boards across the city and from the borough boards made up of their members and local elected officials. While those votes are not binding, they have been well-publicized and have dampened the momentum Mr. de Blasio's administration was seeking for the plan going into his third year in office.
In recent days, the mayor has clearly been trying to change the narrative. Last week he rolled out endorsements from two major labor unions, the Hotel Trades Council and SEIU 32BJ, as well as the AARP, the interest group representing older Americans. And on Friday Manhattan Borough President Gale Brewer gave her blessing to Mandatory Inclusionary Zoning—pending conditions she believes will be met in negotiations, though she would not issue a recommendation for Zoning for Quality and Affordability, saying that plan took a "one-size-fits-all approach" that could endanger neighborhood character.
But the group of clergy—which includes A.R. Bernard of the Christian Cultural Center megachurch that often hosts political figures, and Bishop Orlando Findlayter, whom the mayor infamously checked up on after an arrest early in his term—endorsed both of the zoning text amendments.
"The two zoning changes will mean thousands more apartments affordable to our congregants. Many of our congregations have deep experience building and supporting affordable housing in our communities. It is one of the issues that most deeply affects the families we serve. And it is powerful to have a City administration that is taking concrete steps to build and protect the affordable housing New Yorkers so desperately need," they wrote.
Mr. de Blasio has taken his affordable housing pitch to churches before, seeking to speak more directly to people in neighborhoods that might be prime spots for new development and where some residents fear that any new market-rate or luxury housing—even if there is a large affordable component—will hasten gentrification and make their apartments and neighborhoods unaffordable.
One pastor who signed the letter, Rev. Dr. Adolphus Lacey of Bethany Baptist Church in the booming Bedford-Stuyvesant neighborhood of Brooklyn, said two families who had joined his church recently had to move to Newark because they could no longer afford the neighborhood.
"I certainly am leery of gentrification in Bed-Stuy, and we're certainly trying to protect the housing stock where it is," Rev. Lacey said in a phone interview. "But nonetheless, as development takes place, I certainly want to make sure that any type of development tries to make it affordable for the residents that are in there."
Rev. Lacey said he understands those who are skeptical of the mayor's plan, because he is often on the side of the opposition—he noted his strong belief that Mr. de Blasio should have fired Daniel Pantaleo, the officer involved in the death of Eric Garner. But he said he was pleased that City Hall had reached out to him to discuss the plan, and he thought it was a step in the correct direction to make it a "matter of law" that developers include affordable units.
"I also thought I owed it to the integrity of myself to say that this is not a bad plan. It's a good plan, it's a good step in the right direction," he said. "I endorse it as a step in the right direction. I do not say this is a silver bullet. There is more that needs to be done."
Rabbi Joseph Potasnik, the executive vice president of the New York Board of Rabbis, struck the same tone. 
"There is no perfect plan but this is a strong beginning which enables some people who have been excluded to participate," Rabbi Potasnik, who also signed the letter, said in an e-mail to the Observer. "We need to work collectively to expand the initiative so that more can find much needed housing. We in the faith communities hear the pain of people who find it increasingly difficult to live here. A homeless shelter cannot become the substitute for permanent housing."
Mr. de Blasio has turned to the clergy before for help with affordable housing plan—his friend and Roman Catholic Cardinal Timothy Dolan has previously met with the mayor about building affordable housing, though his name was not on this letter, and the two together broke ground on a $20 million affordable development in the Bronx. The Catholic Church has also been involved in other city zoning matters—including a proposed Midtown East re-zoning that would allow the church to sell the air rights over St. Patrick's Cathedral throughout the neighborhood, which parishioners were urged to support when they attended a papal mass at Madison Square Garden in September.