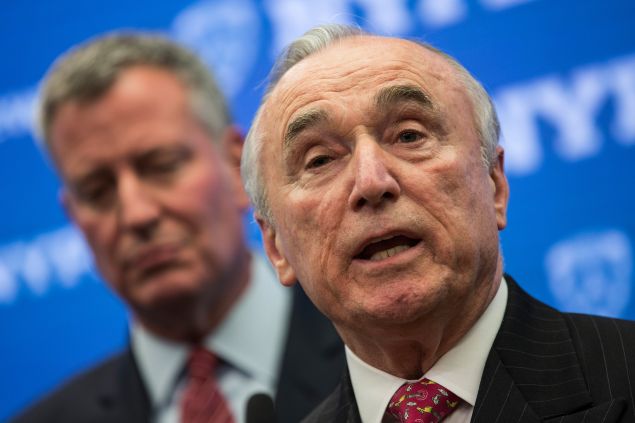 Echoing an editorial in the Daily News today, a progressive city councilman and occasional Bill Bratton critic is calling on an NYPD inspector general to investigate whether the police department is fudging their shooting stats—as Ray Kelly, the former commissioner, claimed yesterday.
Councilman Ritchie Torres, a Bronx Democrat pushing police reform bills in the Council, said Philip Eure, the NYPD inspector general, should investigate Mr. Kelly's assertion that people suffering graze wounds were not always recorded as shooting victims, and wounds suffered by an uncooperative victim were now being labeled self-inflicted.
"Look, both of them are political animals, right? Have the inspector general inquire into the matter and determine if there's merit to Ray Kelly's claim," Mr. Torres told the Observer. "Have an independent party look into the allegations and investigate whether they're true. I do suspect Ray Kelly's criticisms are politically motivated."
A spokeswoman for the Inspector General's Office declined to comment.
A fiery war of words between Mr. Kelly, the longtime commissioner under Mayors Michael Bloomberg and David Dinkins, and Mr. Bratton, the current top cop, erupted yesterday, with Mr. Bratton accusing Mr. Kelly of making "outrageous" and untrue claims in an effort to sell more copies of his recently published memoir. The NYPD has said they tabulate shootings no differently than they did under Mr. Kelly, but the former commissioner cited unnamed police sources telling him something to the contrary.
The resentment between the two men, both powerful voices in the law enforcement community, stems at least partially from the 2013 mayoral race, when Bill de Blasio, a liberal Democrat, attacked Mr. Kelly and his boss, Mr. Bloomberg, for a stop-and-frisk policy that they said punished minorities. When Mr. de Blasio won, one of his first acts was to appoint Mr. Bratton, who once served under Mr. Kelly in the Dinkins administration. Mr. Kelly flirted with a mayoral bid on the Republican line before ultimately taking a pass.
Since then, he has emerged as a fierce critic of the de Blasio administration, charging that the city's quality-of-life is declining, even though the overall crime rate remains at a historic low. According to NYPD statistics, there were 1,125 shootings as of Sunday, down from 1,156 recorded over the same period the year before. The city has had a slight increase in murders, to 340 as of Sunday, but is still near the remarkable low of 333 recorded at the end of last year.
Earlier this afternoon, a de Blasio spokeswoman sent reporters a quote from George Kelling, the criminologist Mr. Bratton and Mr. de Blasio revere for pioneering the "broken windows" theory of policing—paying attention to small, quality-of-life offenses as a way to head off greater spikes in crime. Mr. Kelling said he was "stunned" by Mr. Kelly's claims.
(Mr. Kelly told the Observer in a September interview that the "broken windows" term was rarely referred to when he was commissioner.)
"I'm stunned by the suggestion that the very real crime reductions and quality-of-life gains that Commissioner Bratton is securing are anything but the result of professional policing, quality leadership, and holding staff accountable," Mr. Kelling said. "It is deeply disappointing that the former commissioner has resorted to unsubstantiated attacks in an attempt to undermine Bratton's and the NYPD's success and integrity."