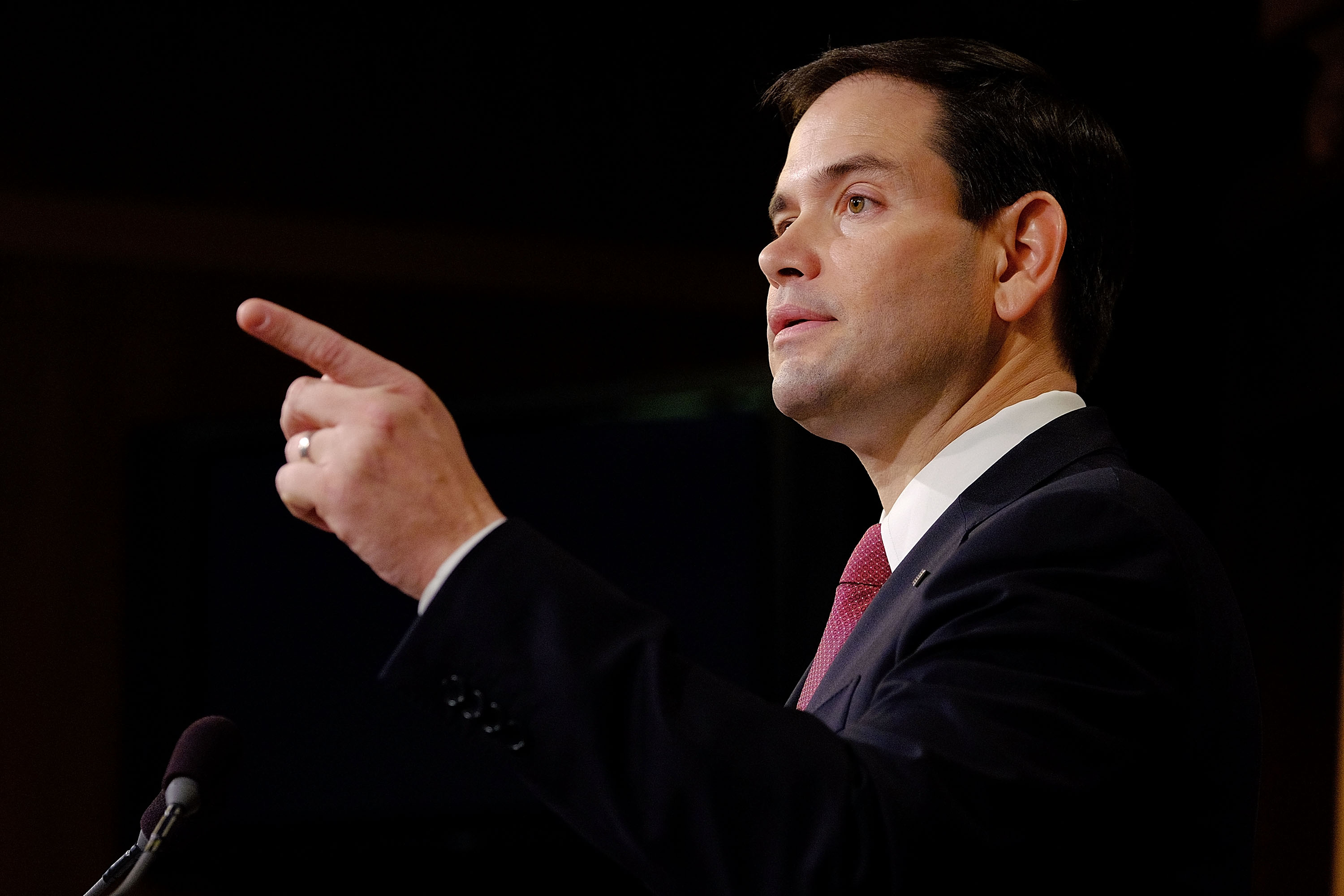 At Tuesday's debate, immigration took the stage with Texas Senator Ted Cruz lambasting Florida Senator Marco Rubio for his participation in the "Gang of Eight" senators who pushed a comprehensive immigration reform bill in 2013.
That bill included provisions like a path to citizenship for illegal immigrants. It passed in the U.S. Senate but never made it to the House due to what Rubio termed a lack of votes and an inability to get it passed.
Last night, Cruz called Rubio out for his participation in that bi-partisan "gang" where he worked alongside Sen. Michael Bennet (D-CO), Sen. Richard J. Durbin (D-IL), Sen. Jeff Flake (R-AZ), Sen. Lindsey Graham (R-SC), Sen. John McCain (R-AZ), Sen. Bob Menendez (D-NJ) and Sen. Chuck Schumer (D-NY).
"You know there was a time for choosing, as Reagan put it, where there was a battle over amnesty," Cruz said. "And some chose, like Senator Rubio, to stand with Barack Obama and Chuck Schumer and support a massive amnesty plan."
Meanwhile, Rubio said Cruz had supported "legalizing people who are in this country illegally."
Last night's exchange demonstrates that the pack of candidates is looking to expose and exploit whatever weak spots exist in the competition in hopes of having them be competition no longer. This comes as the harsh reality that the packed field can't stay packed forever becomes more and more clear. The Iowa caucuses are on February 1. The New Hampshire primary is on February 9.
In New Jersey, the results of Rubio's immigration vote are telling. Obviously, Menendez voted "Yes" on the legislation as a member of the gang. What is interesting is that former Senator Jeffrey Chiesa (a Republican who served temporarily in 2013 after the death of Frank Lautenberg and was appointed by Governor Chris Christie) also chose to vote "Yes" on the measure. Current Senator Cory Booker would undoubtedly follow suit if a vote on immigration were to be revisited.
While the issue never made it into Congress, New Jersey's primarily Democratic delegation would likely fall in line with Menendez and approve in the majority. Republican congressmen Rodney Frelinghysen (R-11), Leonard Lance (R-7), former Congressman Joe Runyan (R-3) and Scott Garrett (R-5) went on the record in 2013 not supporting the reform despite never getting a chance to vote on it. Frank LoBiondo (R-2) never declared either way. Though Tom MacArthur (R-3) was not yet elected during the 2013 vote, statements since then suggest his views might favor Rubio's immigration plan.
That roll call puts the majority of New Jersey's Republicans in the House on Cruz's side of the fence. As he continues to gain momentum—particularly with evangelical voters in Iowa—and Christie's poll numbers continue to stay mostly stagnant (though he has seen somewhat of a bump in New Hampshire), the immigration vote could point to the candidate that NJ's Republicans support after Christie's seemingly inevitable withdrawal from the race. But, as no plan is currently in place to revisit this reform, that issue might not be a central one for NJ's elected officials as they align themselves with candidates post-Christie.
Right now, most of New Jersey's Republican establishment is standing with the Governor as he pursues the presidency. In order to nullify Christie, Rubio would have to beat him in New Hampshire where the governor is currently hovering in forth place. Rubio would also need to beat former Florida Governor George Bush in New Hampshire in order to solidify his position in the race. However, Cruz's strength in Iowa—which surpasses even GOP frontrunner Donald Trump—means that Rubio may have a hard time gaining ground even if he is able to pull from the support bases of Bush and Christie.