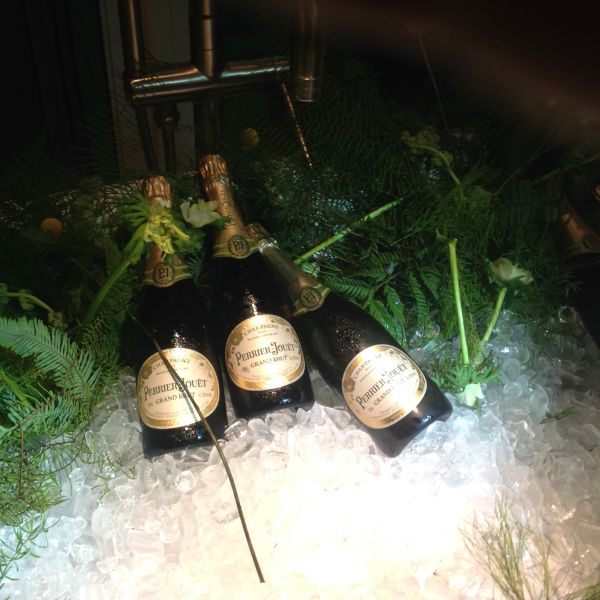 If you were a veteran of Art Basel Miami Beach who had been to it for each of its 14 years, you might worry, as you head down to this year's iteration, that it will all be over. That this year will be sensible, restrained. That the jig is up.
Then the very first party you head to upon landing, straight from the airport, has a giant gold-encrusted mastodon skeleton on view from the lobby of the lush new Faena Hotel, a crowd that looks exactly like the impossibly chic extras in the 'New Year's in Havana' scene in the Godfather when Fredo betrays Michael, and a particularly striking penthouse In the penthouse's white marble bathroom the size of a Manhattan studio, there's a bathtub filled with vines, white flowers, ice cubes and bottle after bottle of Perrier-Jouet Champagne. A spectacular cabaret singer is torching in the background as party guests (all attending an event called "L'Eden by Perrier-Jouet") pose for photographs on a swing.
Someone asks: "Would you like a truffle?"
You sigh with relief. It's all going to be okay.
There's going to be a lot of whining and finger wagging over the next few days over the scrum that is Art Basel Miami Beach and Miami Art Week, but you won't find any of that here at the Observer. Nothing succeeds like excess, and access, and there's no need to apologize for luxury. This event rightly has the rep of the Olympics for the 1% but there are still tens of thousands of people paying off their credit bills monthly having a grand time. You know them, you were them: the college students 15 years ago who played music too loud and drove from Connecticut or Jersey to Chinatown at 3 a.m. just a little too fast when they got the munchies.
It's all lubricated, elevated and justified by a great American city entirely filled with spectacular art. (That mastodon, by the way: Damien Hirst).
Today is something of the first official day, the opening of Art Basel Miami Beach fair at the Convention Center, a glorious 260-booth display of some of the world's, and the past two century's, best Contemporary Art. Leo (di Caprio) is already here, and he stopped by Sylvester Stallone's dinner. Last night, artist Rashaad Newsome had a parade. We joined a collector's dinner at Jean-Georges' Market restaurant in the Ian Schrager Hotel, Edition. (Tip: order the crisped-rice salmon sushi.) Somewhere, there was probably a conga line, and it was probably at the Surf Club, but we were asleep by then.
It's raining, by the way, and gray, so don't fret if you're missing it – we will keep you in the loop. #ObserverinMiami