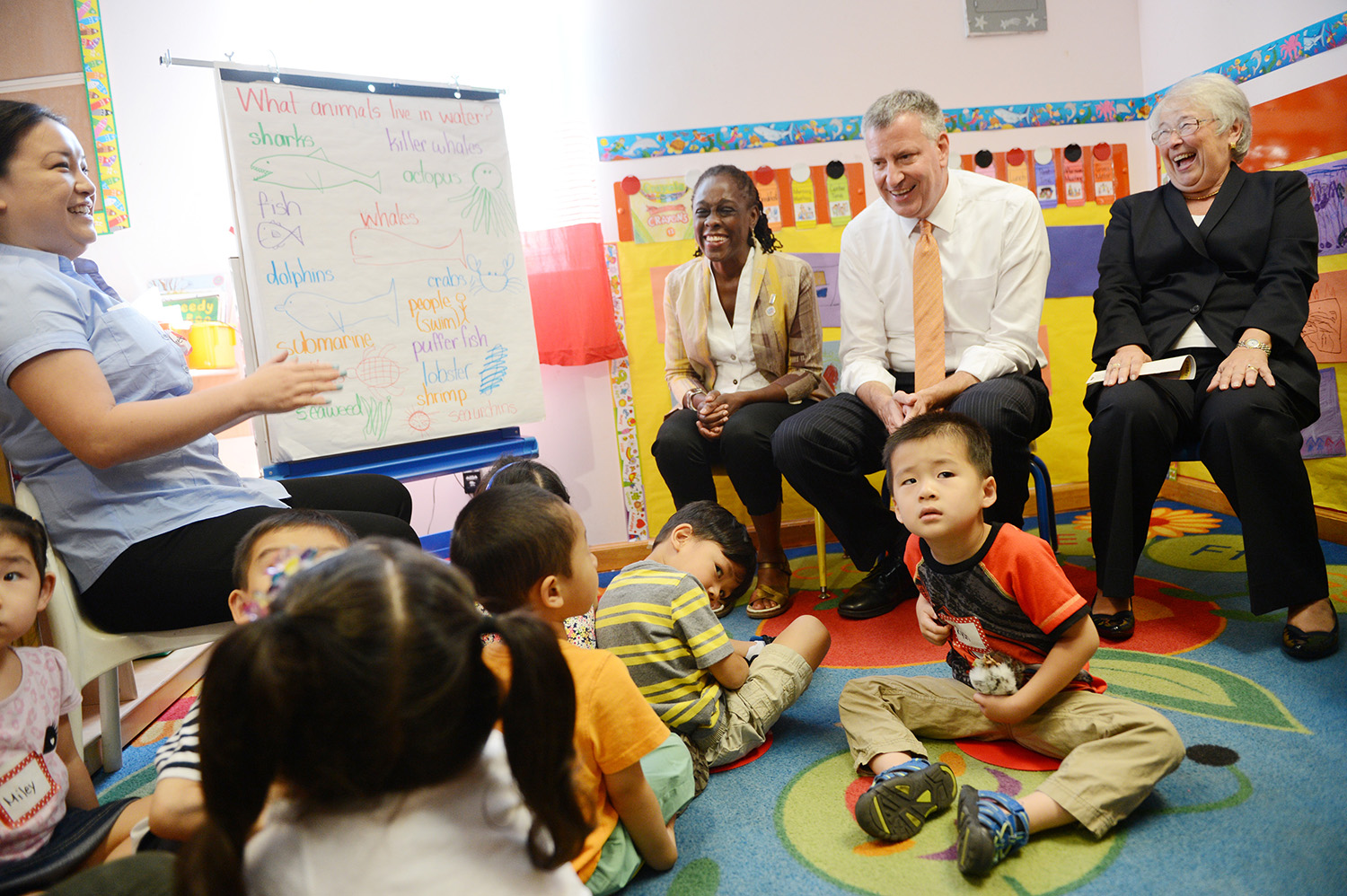 It will be an extra happy New Year for city employees who are expecting a baby: Mayor Bill de Blasio today announced an executive order that will extend six weeks of paid parental leave to non-union city employees.
"Too many new parents face an impossible choice: taking care of their child or getting their paycheck," Mr. de Blasio said in a statement. "New York City is leading by example, putting us at the forefront of paid parental leave policies around the country. This is a common sense policy that will make for healthier and more financially stable working families – making it good for employees and employers."
The new policy will match Austin and Pittsburg, which also offer six weeks of paid time off, as the most generous municipal policies for workers expecting a baby, adopting, or taking in a foster child. Combined with other types of leave, like sick time or vacation, employees will be able to take up to 12 weeks off. The new policy was first reported by WNYC.
The executive order, which will go into effect on January 1, will only apply to managerial or "original jurisdiction" city employees—those who are not represented by unions. Union employees can only receive new benefits through collective bargaining, and most unions, 92 percent have inked long-term contracts in the last two years—but Mr. de Blasio's office said the city was ready to "immediately" enter talks with unions that did want to extend the benefits to its members.
As for the city's non-union workers, they will give up two vacation days—the 26th and 27th days, earned by long-serving employees), and a .47 percent raise scheduled for July 2017 in order to pay for the six weeks of leave. Unions seeking the benefit could look to that arrangement for a framework of how they might pay for it.
The mayor's office indicated that there was indeed interest from unions in adopting the paid time policy. Speaking to WNYC, Henry Garrido, president of DC37, the city's largest municipal union, said it was "absolutely" a benefit he wanted for his members and that he would look to negotiate with the city.
Hector Figueroa,  president of 32BJ SEIU, also praised the announcement.
"Our members know how important it is to have a comprehensive paid parental leave policy that allows them to raise their families and be there for their children," he said. "We look forward to working with the administration on this policy and others to make workplaces humane, supportive and family-sustaining."
The new policy also drew plaudits from an array of elected officials and advocates, listed in the mayor's press release, starting with his wife, Chirlane McCray.
"No one should miss the sweet miracle of those early weeks because they are forced to choose between paying their bills and taking care of their baby," Ms. McCray, who also serves as honorary chair of the city's Commission on Gender Equity, said. "New parents need time to bond properly with the baby and also adjust to the new life. Having a baby can be tough, even while it is full of joy. In a place like New York City, where new parents are often far from family support, giving new moms and dads paid leave means healthier families."
Feminist activist Gloria Steinem also praised the policy, noting city's had taken the lead while the federal government's policies for parental lead have lagged behind.
"Mayor de Blasio is continuing this trend with his action to establish paid parental leave in New York City. Good for him and good for all of us," she said.