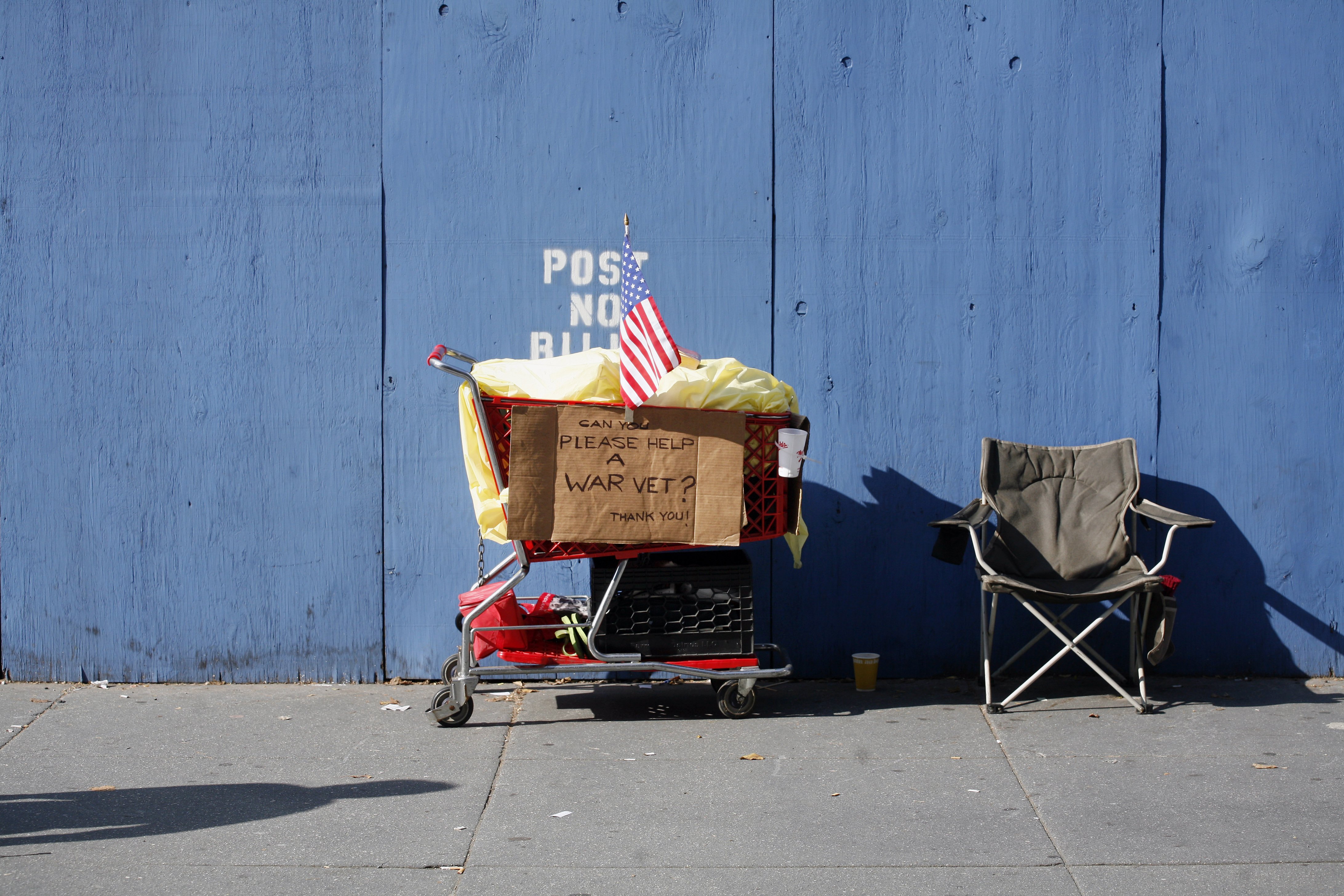 New York City has ended chronic veteran homelessness, the Department of Housing and Urban Development said today—a year-end accomplishment Mayor Bill de Blasio touted, even as some veterans advocates cautioned there was much work left to be done.
"The brave women and men who valiantly protected our nation abroad should never be left without a home," Mr. de Blasio said in a press release. "Today, we have ensured that those in the veteran community who have struggled to find and remain in housing time and time again will have a stable place to call home."
The designation came in a December 29 letter from the U.S. Department of Housing and Urban Development, the Department of Veterans Affairs, and the United States Interagency Council on Homelessness. It refers to a specific definition of chronic homelessness: an individual with a disability who has been homeless for at least a year, or has experience four separate episodes of homelessness in the past three years.
There are actually still five chronically homeless veterans in the city, the mayor's office said, but they have been offered housing assistance and have not accepted it—though the city will continue trying to reach them. The term does not count veterans who are in homeless shelters—within shelters, there are still 760 homeless veterans in the city: about 100 in federally-funded emergency residential and transitional housing; 60 in programs run by not-for-profits; 400 in city Department of Homeless Services shelters; and another 200 veterans in DHS shelters that will have a permanent place to live and move into by January, according to the mayor's office.
"Our veterans, those who have bravely served our nation in uniform, deserve nothing less than a safe, stable home. New York City has today reached a critical milestone by effectively ending chronic veteran homelessness," HUD Secretary Julian Castro said in a statement. "I congratulate Mayor de Blasio and his team and enthusiastically anticipate New York City declaring an end to all veteran homelessness in the coming year."
Veterans Affairs Secretary Robert McDonald also praised the city, saying the VA would "remain focused" on ending all veteran homelessness "For VA, it's about helping communities put a system in place that can house every Veteran experiencing homelessness today and prevent it in the future."
The distinction also drew plaudits from several veterans advocates, who were included in Mr. de Blasio's press release, including Todd Haskins, who chairs the mayor's Veterans' Advisory Board, and Vince McGowan, founding president of the United War Veterans Council.
"The difficult, long talked about goal of ending Veterans homelessness is finally moving along the path to resolution," Mr. McGowan said.
But Joe Bello, founder of Metro Vets and a member of the city Advisory Board, said some veterans are skeptical of the idea that every street homeless vet from the Bronx to Staten Island had been helped. He noted the strict definition of "chronically homeless," and said the announcement today is essentially a "technicality." He also wondered whether it was a function of a "point in time," saying chronic homelessness could creep back up in months ahead.
"There seems to be this messaging issue here, and nobody from the administration is actually explaining it, so the community itself is just having its own thoughts about what's going on—and you look at this overall homeless problem, and he needed a victory," Mr. Bello said.
The growing population of homeless people on the city's streets has dogged the mayor all year, and in recent weeks he has sought something of a reset on the issue, with the abrupt departure of the head of the Department of Homeless Services, a 90-day review of the city's services, and the roll-out of a new plan called Home-Stat. Likewise, the mayor has struggled on veterans issues, for months saying he was opposed to creating a Department of Veterans Services before finally signing a bill to create it last month.
Paul Rieckhoff, president of the Iraq and Afghanistan Veterans of America and a frequent critic of Mr. de Blasio on veterans issues, agreed with Mr. Bello that the federal government's definitions surrounding homelessness were problematic and that it wasn't something the community could "afford to play semantics with."
"This is a great example of spiking the ball before you cross the goal line," Mr. Rieckhoff said. "There's been tremendous progress, but there's still a long way to go—and there's a big difference between ending chronic homelessness and ending functional homelessness and ending real homelessness."
Mr. Rieckhoff said he'd met two homeless veterans in just the last two weeks on the streets,and that the IAVA helped almost 3,000 clients this year in New York—14 percent of whom were homeless.
Ending veteran homelessness has become a popular issue, he noted—but in other cities, like Los Angeles, promises of ending the problem have had to be walked back as progress was slower than mayors hoped.
"There's still a huge challenge and a long way to go, and the mayor should be really careful about premature celebration," Mr. Rieckhoff said.