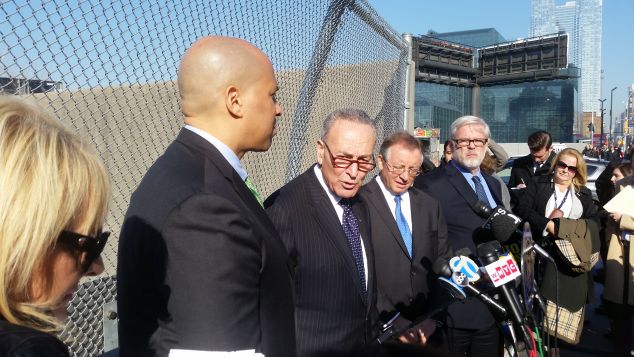 A pair of Democratic senators called for increased drone strikes and "boots on the ground" from other nations to eradicate the Islamic State.
Sen. Charles Schumer of New York and Sen. Cory Booker of New Jersey, speaking today after an unrelated event in Manhattan, called for "constant reconnaissance, intelligence and drones" to attack ISIS leadership, along with American special forces and troops from local Middle Eastern countries.
Mr. Schumer also asked for providing "greater" military aid to Kurds and Sunni Arabs fighting ISIS.
"We should do more drone strikes than we do now," Mr. Schumer said. "We will need some boots on the ground. I am against American boots on the ground as are most Americans because that is what ISIS wants. They want to be able to show this as the second Crusades, a classic conflict."
"They want to show that it's the West against the Islamic world which we know is not true but that's [how] ISIS, in their perverted ways, thinks of this," he added.
Mr. Booker said a "global coalition" should battle ISIS, which has taken credit for or inspired recent terrorist attacks in Paris, Beirut and California.
"Other Middle Eastern countries need to up their commitment," Mr. Booker said. "There needs to be a global coalition to make sure we deal with the ISIS problem and ISIS crisis in Syria and Iraq."
How to prevent future ISIS-inspired terrorist attacks has become a central challenge for the Untied States, Europe and the Middle East, as the young Islamist terrorist group shows it's capable of killing civilians around the world. Many Republicans want a ground war, with a major influx of American troops, to eradicate ISIS in the Middle East, while President Barack Obama and Democrats, wary of another protracted engagement after the Iraq War, prefer a combination of drone strikes and coalition-building in the region.
Mr. Schumer, unlike Mr. Obama, was a supporter of the Iraq War. However, he argued today, as some close observers of ISIS have contended, that a ground war is what the apocalyptic terrorist group wants. ISIS has used the possibility of an ultimate war with the secular west as a recruiting tool for marginalized Muslims in Europe and the United States.
"Fear is a natural response to such a crisis," Mr. Booker said. "We have to be a nation of courage and resolve that the American way will not be assaulted by these terrorists."