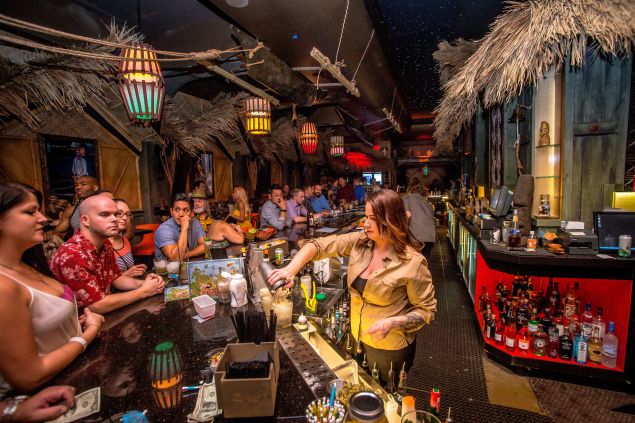 You can party like a pirate any hour of the day when you visit The Golden Tiki, Branden Powers' fantastical drinking den in Las Vegas' Chinatown. The new lounge, open 24 hours a day, slings potent tropical cocktails in a beachcomber-meets-burlesque setting. Here's a typical Friday night/Saturday morning at the bar that never closes in the city that really never sleeps:
5 p.m. Manager Jim Kleiss checks in 10 cases of tiki mugs to cover the weekend's drink demands. The Golden Tiki features 12 different mug designs, several of which are limited editions. Mr. Kleiss also logs an alcohol delivery including artisanal rums.
8:10 p.m. Ms. Redd introduces herself as the server to a bachelor party in the Pirate's Lair. The bachelor is taken aback because he's seen her perform on the burlesque stage and literally told his friends walking in, "This looks like the kind of place Ms. Redd would hang out at."
9:18 p.m. The Son of Lord Baltimore, The Golden Tiki's official greeter and mascot, offers a couple a tour of the premises, including Headhunter Village, Seamen Falls, Mermaid Cove and even the shrunken head of his father Lord Baltimore.
10:30 p.m. San Diego punk-surf band Deadbolt takes the stage in Mermaid's Cove. Asia, another server, hands out free Dole Whip samples to everybody in the bar, because, hey, it's Friday.
11:46 p.m. Award-winning mixologist April Simms mixes her 17th Banana Batida of the night. It's a crowd-pleaser, but building each one from scratch isn't a breeze.
12:15 a.m. Asia assists Ms. Redd in presenting a Martinique Ti service to the bachelors. The Golden Tiki is the only bar in Las Vegas to offer this traditional rhum agricole presentation.
1:22 a.m. The late-night shift begins as Ms. Redd's fellow burlesque queens Melody Sweets and Roxi D'Lite pay a visit. Before they leave, they'll do an impromptu photo session in the "shelfie" booth.
1:50 a.m. Bartender Alona shakes up her 25th Three Dots and a Dash. It's actually not the most popular cocktail on the specialty menu. That would be the signature Golden Tiki.
4:45 a.m. A group of pit bosses from the Strip arrive, and after some discussion, end up getting the Treasure Chest experience, a bottle service of champagne and rum. It's been a good night.
9:30 a.m. As the night's revelry is mopped up, The Golden Tiki's regular day-drinkers arrive for their video poker fix. Another day in paradise.