Should one find it necessary to leave their cozy New York apartment to do some shopping this winter, why not have a final destination that is actually quite similar to the place they just left? That was exactly the idea behind Diesel's new store concept, which quietly opened its doors on the corner of 59th Street and Madison Avenue on Black Friday.
Artistic director Nicola Formichetti wanted his shoppers to feel as if they walked into an apartment that embodied the Diesel aesthetic and he tapped architect Masamichi Katayama, from the Japanese firm Wonderwall, to complete his vision. The esteemed creative has previously designed stores for Uniqlo, Nike and Colette.
In an interview with Fashionista, Mr. Formichetti noted that Mr. Katayama was his absolute favorite architect, so it should come as no surprise that this duo, along with Diesel's president Renzo Rosso, all worked together well. "The concept was born so naturally. I guess nobody remembers who said what. This process was the true value of this store design," Mr. Katayama told Observer via email, from Japan.
As it turns out, this shop does looks like an apartment, with hefty wooden armoires and stone tables, a patchwork of Persian rugs and a cozy, small perimeter. Even the fitting rooms are like tiny portals into an apartment, each one with a different décor, from romantic to utilitarian and even a military-esque design. However, we doubt the average New York dwelling has racks made for sheer shirts and studded leather jackets, plus scores of shelves for kitten heels and combat boots. Diesel's apartment even has a foyer featuring hi-def screens where creative films from the art collective Field are on display.
Further, this would be a sparse home, as there is only one of each style of clothing on display. This scarcity forces the shopping experience to have a focus on customer service, allowing the sales associates to disappear time and time again down a glass-enclosed staircase to the stock room.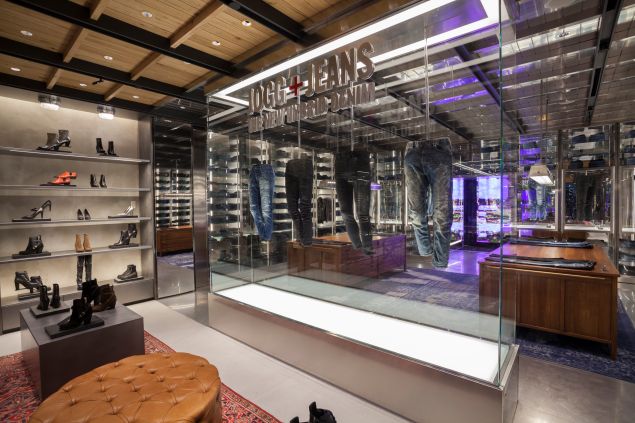 The back of the store is, in my opinion, the best part of the entire space. It's where the Denim Temple is housed and really, don't we all already worship there? Diesel's Temple was fashioned after a home's wine cellar and it displays jeans and jean jackets in a similar manner; the super high end pieces are enclosed behind glass, but more attainable shelves of skinny and boyfriend jeans are open for the perusing. "We did great deal of research on modern cellars and the lighting effect to enhance clarity of the glass," said Mr. Katayama.
But this area is big on customer interaction as well. Mr. Katayama explained: "In the center of the Denim Temple, there is big map cabinet (the cabinet with thin drawers) where you can find varieties of denim. The shop staff can show customers different styles, while telling stories. I also imagined the interaction with shop staff, customer and products."
The Apartment concept will soon be rolled out to the rest of Diesel's shops, which Mr. Rosso is beyond ecstatic about. "I'm enthusiastic about the future-forward change the brand is spearheading in retail," he said in a press release. "My only advice to the brand's fans is: go visit the Madison store and live the brand's new shopping experience." We agree, and promise that you won't be let down.