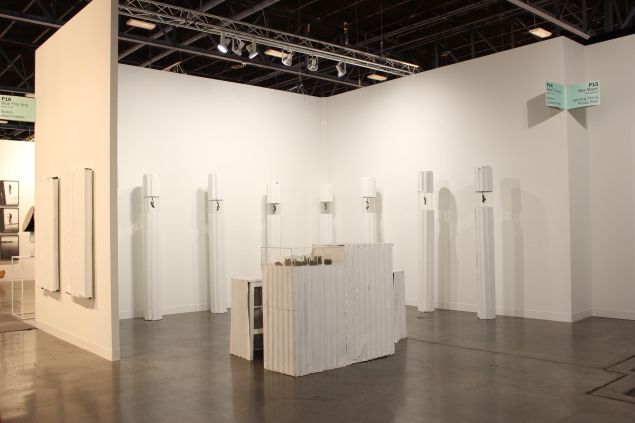 Basel Positions was a "high point" of today's VIP preview of Art Basel Miami Beach 2015 thanks to young artist Andrei Koschmieder.
Brooklyn gallery Real Fine Arts' booth at the headline art fair of the week was fashioned as a showroom—for marijuana. The artist, through a meticulous process of printing, crumpling and folding paper, recreated an underground pot seller, complete with Kush, Phazer and Warlock buds (coincidentally, many of the installers were able to recognize the "flavors," by sight).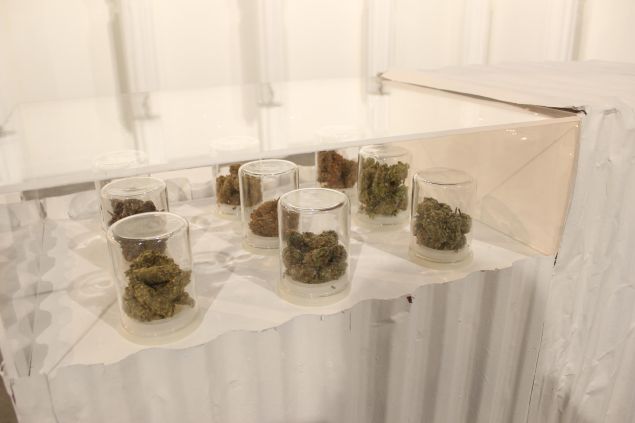 Crafting these paper works wasn't easy said RFA co-owner Ben Morgan-Cleveland. "We stayed up late a few nights ago working on some small buds that aren't in the booth," he said, "and it was a difficult process." He also added, jokingly, that the artist felt good about producing marijuana for once, since he had so often consumed it.
But how did it work transporting large amounts of fake but highly realistic marijuana buds from New York City to Miami? Didn't the team get wary looks when they were unloading this stuff? "Police dogs were in here early this morning," said Mr. Morgan-Cleveland "but we checked out as clean."
Many works had sold by noon, but the large "front desk", which was made to look like a makeshift corrugated aluminum counter with seats and a display case of bud variants, was still available, with an asking price of $14,000, when the Observer stopped by RFA.
The real question is, what would make RFA more money? Selling this artwork or an equal amount of the real stuff? With a strong art market, it's hard to know. "We are hearing a lot of jokes about us being 'dealers,'" said RFA's other co-owner Tyler Dobson.