"It was terrible before!" Stribling broker Barbara Evans-Butler declared of a 10th-floor, east-facing unit with terrace at 30 East 85th Street. "The sense of flow was terrible! It just didn't work at all, it had to be redone."
After a year-and-a-half-long renovation by Desai/Chia Architecture, completed just two weeks ago, Ms. Evans-Butler is quite certain that the condo, listed for $7.2 million, has overcome its past reign of terror.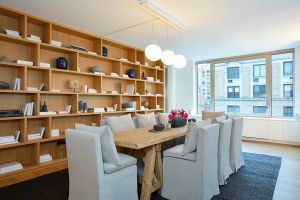 "These are plank floors, there are no knots in them, they're hand-selected wood," she informed us as we stood in the foyer. "There's a theme of the American white oak," she added, pointing to the built-in shelves that take over an entire wall of the living space, up to the 9.5-foot ceilings.
Amid the world of oak, which includes an eight-person dining table, a large concrete column acts as a divider between the living and dining spaces. "It's an original column; it's like an anchor in the building. It gives it kind of an industrial, downtown vibe," Ms. Evans-Butler  opined, though the beige, gray and mauve furniture and decor throughout the 2,150-square-foot abode most decidedly do not.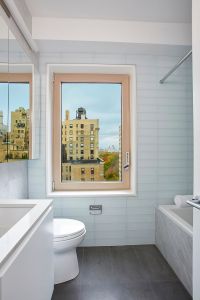 "We said, 'we have to have huge closet for his and hers,' " Ms. Evans-Butler noted as we walked into the master suite, complete with a marble- and mosaic-tiled bath. "This is 'her' closet, I think," she said of the significantly larger walk-in. "Or two 'his.' Or two 'hers,' or one person," she added diplomatically.
Two additional bedrooms are on the opposite side of the apartment, one with an en-suite bath. "I call this the loo with the view," Ms. Evans-Butler announced as we peered into the unattached bath. "That window looks out onto Central Park!"
"It just has that clean, Zen minimalist feel to it," Ms. Evans-Butler said, though there is one thing she'd still change. "On two higher floors, the residents came together to redo the hallways," she said. "I wish they'd do that out here. It's a bit Art Deco."