In the wee hours around 4 a.m. one night, the Specular team went to the L train to capture three-dimensional sound, using a borrowed sculpted head and six silicone human ears. While riding the train late at night and recording driver announcements, ambient subway noise and the rumbling of the car in the tunnels, they also took time to take measurements of different features of the passenger area. It all helped them to make an accurate, immersive world for, Blackout, a virtual reality film about a delayed L train, the line that connects Bushwick to Manhattan, currently seeking support on Kickstarter.
Today, EEVO, a company focused on distributing virtual reality content, announced a co-production and distribution partnership with Specular, committing an additional $20,000 to the project, if the film meets its December 17 goal of $30,000 in pledges, the Observer has learned. "We thought in terms of people who know how to tell stories with this new medium. They really do have the right idea," EEVO CEO Alejandro Dinsmore told the Observer in a phone call.
Blackout will be a virtual reality film where the viewer will be move through a stuck subway car and find that he or she suddenly has the power to read the minds of other people on the train. The other people will be real VR images of actual human beings. The team created a set of tools called DepthKit that lets it capture real human beings, in motion.
In versions distributed by EEVO, viewers won't be able to control their own movement through the train, according to Mr. Dinsmore, though they will be able to control where they look and which fellow riders' thoughts they listen in on. "Blackout will be the first project we'll be distributing using this interactive technology we've been developing. Depending where you are looking in the video, it will activate different things," Mr. Dinsmore said.
"We're taking a video file and when you look at a person in the video it's going to cue an additional audio element," he explained. Directors set it all up in a user interface they call a VR composer.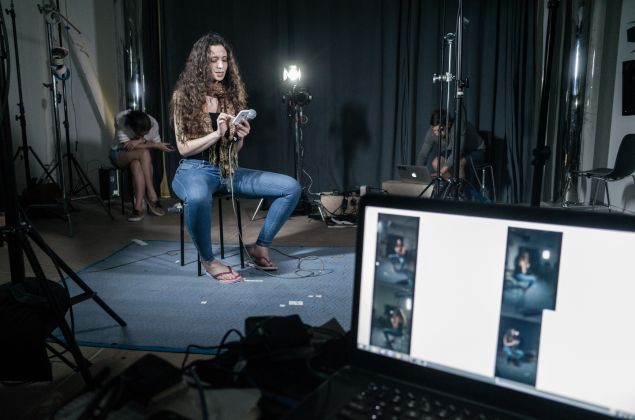 For Blackout, this will mean that looking directly at a passenger in the car will cue an audio track of the character's thoughts. With the 3D sound, the audio should sound like it is coming from the place where the character in the film is sitting.
"EEVO's platform allows the smartphone mobile edition of Blackout to take advantage of a higher level of immersive 3D sound and user interactivity than is available on competing platforms," said Blackout co-creator James George (who previously worked on VR documentary Clouds), in a release.
It will be the fourth film that EEVO has invested in. The company hopes to launch on the Samsung Gear VR app store in the next couple of weeks. The EEVO app will be a very curated space for finding the best content using this new form.
Versions of Blackout on some other VR platforms, such as the Oculus, should allow viewers to chart their own course through a stuck subway car. A car that has been very carefully rendered for accuracy.
As of this writing, the film has raised roughly $22,000 toward its $30,000 goal, with seven days to go.