Last night, shoes were the topic of conversation at the 76th Annual Two Ten Footwear Foundation dinner, the first of a two night celebration that aims to raise over $3 million for footwear employees and their families.
In light of the evening's celebration of footwear, we asked Carol Lim, Creative Director of Kenzo, to consider her most beautiful, yet uncomfortable pair of shoes. "My most beautiful pair of shoes is a pair from Rodarte," Ms. Lim admitted to the Observer last night. "The whole back of the heel was hand-carved. They're really high, and pretty uncomfortable, but they're worth it."
Fergie's response to the same question alluded to something a bit less conventional. "My most beautiful yet uncomfortable pair might have been a naughty pair that I got for a sexy evening with my husband that were not worn out of the house," the chanteuse confessed. "I wouldn't say [they were] beautiful, but definitely sexy." For this particular evening, she left the house in a glittery pair of heels from her namesake Fergie Shoes holiday collection, and mentioned that proceeds from that particular set will benefit amFAR.
Also on the red carpet was New York Giants' cornerback, Prince Amukamara, who divulged details on the team's certified fashionisto. "I would say that Victor Cruz definitely leads the way in our fashion off the field. He pretty much sets the trend in the locker room as well," Mr. Amukamara shared. "Every Saturday, the day before the game, we travel and have to wear a suit and tie. Dominique Rodgers-Cromartie (DRC) always has something fancy, and everyone always looks to see what he wears." Mr. Amukamara, who was wearing Wingtip Oxfords by Cole Haan, admitted that's his favorite footwear brand, though Adidas is a close second. You can find Prince preparing for his big game against the New York Jets until Sunday.
Last night, Two Ten presented three prestigious awards: Debbie Ferrée of DSW was awarded the A.A. Bloom Award, the late Vince Camuto was awarded the T. Kenyon Holly Award posthumously, which was accepted by his wife Louise Camuto. Finally, Kevin Donahue of Quabug Charitable Foundation was granted the first-ever Social Impact Award.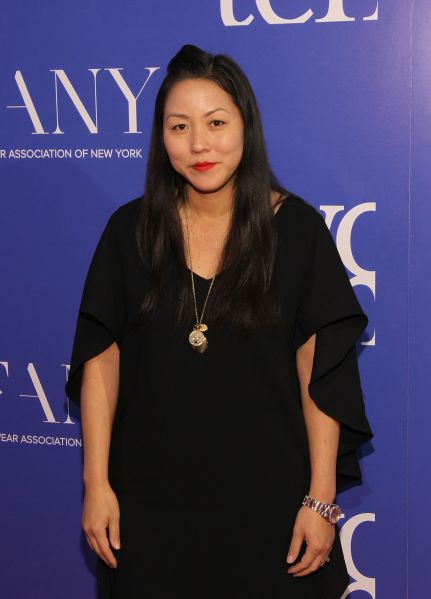 Glittering awards aside, what is on everyone's holiday wish list?
"We actually sold out of it but it will be coming back to Opening Ceremony: our knee high boot," Ms. Lim mentioned, referring to the Kenzo boots that stormed the runway this past fashion week. Fergie told the Observer she already got a head start on her Christmas shopping by taking advantage of Cyber Monday, and has a growing list of goodies for her son, Axl. Although, we think Mr. Amukamara and his wife have the sweetest item on their list: they are hoping for a baby.