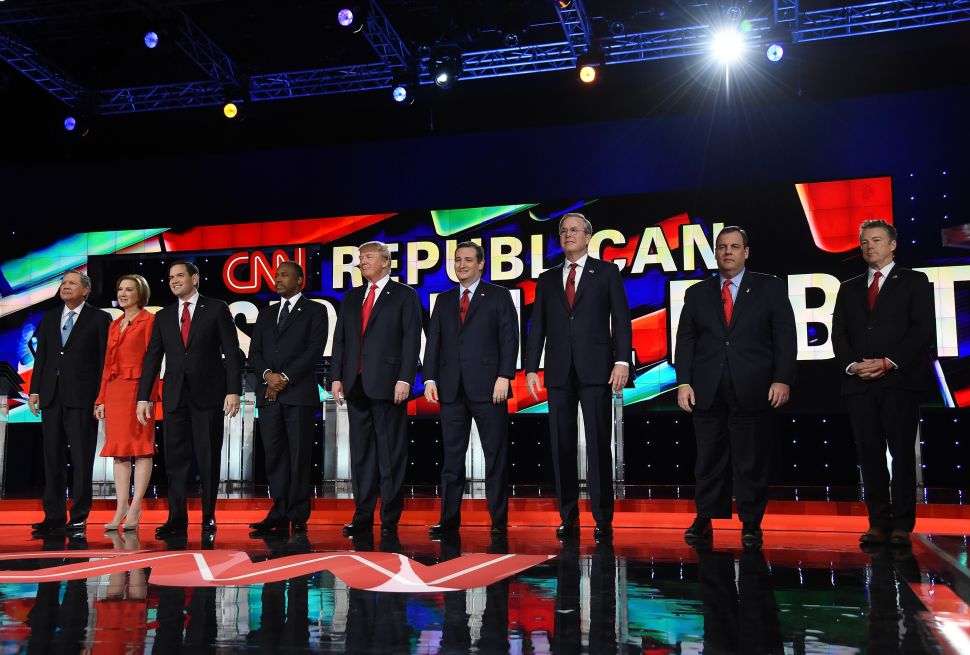 We did it guys, we made it through all of the 2015 Republican presidential debates. Take a break, have a couple holidays, then we'll reconvene on Jan. 14 to get right back on the train.
At the final debate of the year, an expected focus on the Islamic State and foreign policy came after the terrorist attack in San Bernardino, Calif. It's a notable focus as this is where the candidates differ the most.
With that in mind, let's take a look at where each of the nine main stage candidates excelled and floundered. 
Donald Trump 
Where he floundered: He and former pediatric neurosurgeon Ben Carson both made a point about dictators in the Middle East, but Mr. Carson made the point better. His constant sniping at former Florida Gov. Jeb Bush came off as petty. Mr. Bush isn't doing well, Trump doesn't need to point it out. 
Where he excelled: He's Mr. Trump and he continues to be Mr. Trump and people love him for it. 
Ted Cruz 
Where he floundered: While Sen. Marco Rubio, Mr. Bush and former Hewlett-Packard Carly Fiorina are able to rattle off specifics about the Middle East and the Islamic State, Mr. Cruz relies on broad talking points. 
Where he excelled: He might not be leading Mr. Trump overall, but he is currently catching up and leading in Iowa. He was the person to target tonight and he needed a strong performance to keep his place. He did well. He weathered battles with Mr. Rubio and walked away untarnished. His poll numbers should continue to climb. At the very least, he shouldn't see any drop. 
Marco Rubio 
Where he floundered: I'm not keen on the idea of taking constitutional rights away from American citizens, even if they do join the Islamic State, yet that's what Mr. Rubio proposed Tuesday night.
"If you're an American citizen who joins ISIS, we're not going to read you your Miranda rights," Mr. Rubio said. "You're going to be treated as an enemy combatant, a member of an army attacking this country."
He also talked tough on Syria when he voted against airstrikes in the country when Bashar al-Assad was killing his own people. 
Where he excelled: He ran to the right of Mr. Cruz when he knocked the Texas senator for voting against the defense bill. He also came off incredibly knowledgeable about the Middle East, especially Syria. 
Ben Carson 
Where he floundered: I'll say it yet again, he does not come off as tough or energetic. He allowed conservative commentator Hugh Hewitt to push him into saying he would kill children in the Middle East. Mr. Carson's response was actually frightening – he compared the children killed in war to the children he used to operate on.
"Well, interestingly enough, you should see the eyes of some of those children when I say to them we're going to have to open your head up and take out this tumor," Carson said. "They're not happy about it, believe me. And they don't like me very much at that point. But later on, they love me."
Um, what? 
Where he excelled: His poll numbers kept rising after the polls, as people consistently say he does well in the debates. He didn't do any better or worse than any of the other debates, so maybe he'll get a boost after this. 
Jeb Bush 
Where he floundered: Nothing he said tonight will give him a boost in the polls. His campaign has stalled and there's just no saving it at this point. 
Where he excelled: His response to Mr. Trump's plan to ban all Muslims from coming into the country was poignant. Mr. Bush said that banning Muslims would keep potential Muslim allies from joining with the U.S. to fight the Islamic State.
"We need to arm directly the Kurds. And all of that has to be done in concert with the Arab nations. And if we're going to ban all Muslims, how are we going to get them to be part of a coalition to destroy ISIS?" 
Chris Christie 
Where he floundered: 
Where he excelled: He got feisty when responding to the back-and-forth between Mr. Cruz, Mr. Rubio and Sen. Rand Paul, saying that none of the three had ever had to make an executive decision in office. Whereas he, as a governor, has had to make such decisions. 
John Kasich 
Where he floundered: He's John Kasich. He's still in the debates, but no one really knows why. 
Where he excelled: He tried to smile at the beginning, that's progress, right? 
Carly Fiorina 
Where she floundered: When she first appeared at the undercard debate back in August, she was energetic and fresh. When she first appeared on the main debate stage in September, she was energetic and fresh. Now, three debates later, she appears subdued, as if she's just going through the motions. Her campaign momentum has ground to a halt, and she's going to need to wake up if she wants to remain in the fight.
In the previous debates, Ms. Fiorina interrupted the other candidates to get a word in. And the strategy largely worked. But in this debate, her constant interjections felt unnecessary, ineffective and were actually annoying. 
Where she excelled: She is exactly right about the Islamic State's technology having evolved beyond the Patriot Act and the need to update how we fight terrorism. 
Rand Paul 
Where he floundered: Mr. Paul, known for wanting to limit government, found himself to the left of Mr. Rubio when he argued for more government regulation on immigration. Now, being Libertarian or conservative doesn't mean no government, but Mr. Paul's defense of expanding the government's role in immigration seemed out of place. 
Where he excelled: Mr. Paul managed to get under the skin of Mr. Christie and Mr. Rubio. This may not have helped him, but it was effective in putting those other two candidates on defense.
Disclosure: Donald Trump is the father-in-law of Jared Kushner, the publisher of Observer Media.