While Daredevil's inaugural season on Netflix stood out thanks to its beautifully choreographed fight scenes, season two looks to up the ante by introducing Frank Castle, A.K.A The Punisher, a character who puts aside punches and kicks for straight shotgun blasts to the face.
Entertainment Weekly, in a first look at the Marvel series' sophomore season, provided a photo of The Walking Dead's Jon Bernthal as Castle, and he is…BLONDE?!
Okay, so it's way more than likely he just has a shiny, shaved head glowing under some shoddy dock lighting. That is a sweet leather jacket, although the classic skull logo is conspicuous by its absence.
Immediately, the imagery calls to mind a comic story titled "The Choice," written by Garth Ennis and drawn by Steve Dillon in 2001 inside the pages of Daredevil #3.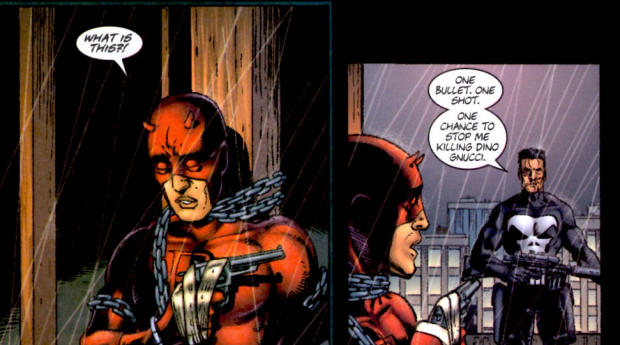 "The Choice" sees Frank Castle fed up with Matt Murdock's lack of a body count, and gives him an ultimatum: kill Frank Castle, to stop Frank Castle from killing. I won't spoil how the situation plays out, but this story-line does vibe with the comments from Daredevil showrunner Doug Petrie to EW: 
"Viewers watching the show will be rooting for this guy with a gun but we're also going to force people — the way we force Matt — to second-guess themselves…Taking lethal justice into your own hands in America in 2015 is tricky shit. We have not shied away from the rich complicated reality of Now. If you've got a gun and you're not the police you're going to incite strong feelings."
Looks like Matt Murdock might have a choice to make when Marvel's Daredevil returns to Netflix in 2016.