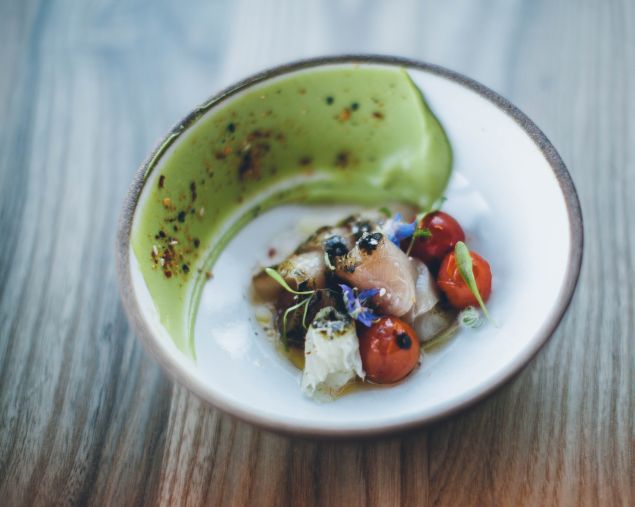 Andy Warhol. Jasper Johns. Keith Haring. Barbara Kruger. Takashi Murakami. Yayoi Kusama.
Timothy Hollingsworth.
A new era of modern dining intersecting with modern art started this week, as former French Laundry chef de cuisine Hollingsworth debuted dinner at his Otium restaurant adjacent to The Broad in Downtown Los Angeles.
This is as big as restaurant openings get in L.A. The Broad, of course, is Eli and Edythe Broad's white-hot new museum—the most coveted reservation in town. The civic-minded couple have made admission free, but scheduled viewing times for the nearly 2,000-piece collection—that also includes masterworks from Jeff Koons, Jean Michel-Basquiat and Cindy Sherman—are booked months in advance.
Otium, with its stunning industrial-chic room, its glistening oversized windows, its open kitchen, its wood-burning stoves, its Julian Cox cocktails, its vertical garden and its Damian Hirst fish mural is only adding to the beauty and the buzz.
"I'm over preciousness," Mr. Hollingsworth said during Tuesday's packed-to-the-gills lunch rush, smiling like a man who understands that L.A. prefers accessible, globally-influenced cuisine over tweezers and tablecloths. The chef had previously told us he's been amped to see both "hipsters" and silver-haired diners lingering at Otium during lunch. A lot of chefs like to say they want to run a fun restaurant for everyone, but how many places have both a kale salad with quinoa and almonds for lunch and then foie gras with funnel cake and strawberries at dinner?
Otium is serving food that looks as gorgeous as it tastes, plates that burst with color and texture to please all palates. Falafel, eggplant, cucumber, Meyer lemon and chickpeas is a dish that snaps, crackles and pops. Hamachi with nori, avocado and sweet-and-sour tomatoes is a masterful combination of ocean and farm. Pork belly, caramelized garlic, egg and bok choy is a refined rice bowl that's so on trend and also so comforting you might want to eat it for both lunch and dinner. Luckily, you can here.