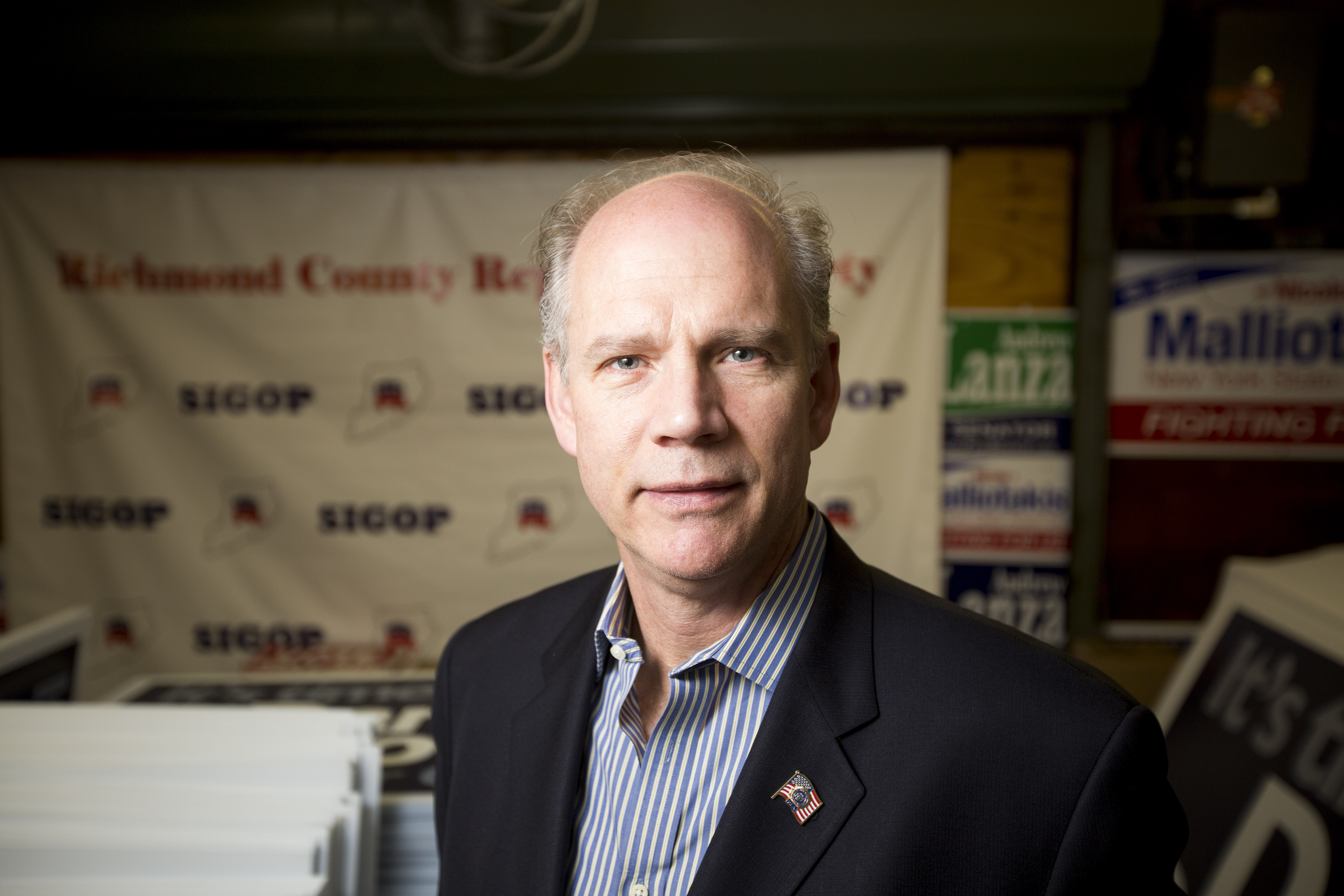 Daniel Donovan has only been a member of Congress for about eight months, but they've been a busy eight months.
"I never looked at that as a reason not to get things accomplished," Mr. Donovan said of his junior stature, chatting over coffee at the Le Parker Meridien last month. "I have been blessed with this amazing opportunity to do good—I am taking every opportunity to do it."
Mr. Donovan, 59, a Republican who represents Staten Island, was elected to Congress in a May special election and is the only Republican in the city's 13-member congressional delegation. Staten Island's former district attorney, Mr. Donovan's decision to run for Congress generated some controversy, mainly from outside the district—he was the prosecutor who oversaw a grand jury investigation into the death of Eric Garner, a black man who died after a white police officer used an apparent chokehold while arresting him. His role in the case did not appear to bother votes—who elected him by a 19.2-point margin—nor has it seemed to be a real issue during his time in Congress.
His brief tenure so far has marked by a vote with his fellow Republicans to "pause" the entry of Syrian refugees, lobbying his own party extensively to re-authorize the Zadroga Act and to provide funding for mass transit for New York City, and the passage of his first bill—to fund nuclear material scanners for cities like New York. Some of those issues pitted him against his Democratic colleagues in the delegation; others pitted him against his party, at least for a time.
"The way I look at things is: what is good for the people who sent me to Congress?" Mr. Donovan said. "The first question I always ask myself is how does this issue, how does this law, how does this bill or proposed amendment affect the people I represent?"
That led him to support a beefed-up transportation bill—poor transportation options being perhaps the biggest daily annoyance to Staten Islanders—and to vote against a June Transportation Housing Urban Development (THUD) bill that contained massive cuts to Amtrak, even after Republican leadership whipped the close vote and repeatedly tried to sway Mr. Donovan to support the measure, he said.
One legislative fight had a very direct effect on his constituents: Mr. Donovan's district has more 9/11 first responders registered to receive healthcare and compensation through the Zadroga Act than any other in the country.  Another local Republican, Peter King of Long Island—who played a prominent role in fight to reauthorize the act—has the second-highest population.
Mr. Donovan said part of the opposition to Zadroga was the "great geographic divide" in Congress.
"There are people in Congress who believe that 14 years ago, there was an attack on New York, not an attack on America. There are some people who believe that we've been funding both the compensation fund and the healthcare fund for 14 years, and how long are we going to do this?"
He added: "My position has been: find a way to pay for it. We find a way to pay for many other things."
On topics like Zadroga and transportation, Mr. Donovan said he believed his voice was particularly important in bringing the city's point of view to the Republicans in power.
"There's 13 of us in the city, theres' 12 Democrats and me. But I think being in the majority makes it very important that my voice is heard down in Congress, representing the 11th congressional district, representing New York City as a whole," Mr. Donovan said. "Even with my colleagues, we may disagree on some things, but things like transportation, I think they look towards me to say, you know, how are we gonna get this done? You guys are in the majority."
Staten Island's last congressman, Michael Grimm, was also in the GOP majority—but often not on very good terms with the leadership, particularly after he was indicted on tax evasion charges and eventually pleaded guilty, leading to his resignation and the special election that brought Mr. Donovan to Congress. The controversy surrounding the Garner case aside, Mr. Donovan's long been well-liked by almost all of Staten Island's political class, and his genial demeanor is a marked departure from Mr. Grimm's, who once threatened to throw a reporter off a balcony.
"I think that it's useful to have a Republican who is on good terms with the House leadership. I think it's pretty clear that Grimm did not work and play well with others, and so they didn't do him many favors—they wanted to do enough to keep the district Republican, but not much more," said Kenneth Sherrill, a political science professor emeritus at Hunter College, who noted Mr. Donovan seemed to be more of a team player. "I think it's always helpful to have someone who can talk to the majority."
Mr. Donovan said he gets along well with the delegation, including with people who were very critical of him as DA—like Congressman Hakeem Jeffries, a Brooklyn Democrat who once said Mr. Donovan had presided over a "stunning miscarriage of justice and was rewarded with a job in Congress," according to the New York Times.
Mr. Donovan allowed that Mr. Jeffries had been "very outspoken." But the two sat together at a meeting with Mayor Bill de Blasio recently—interestingly, both men are very critical of the mayor—and Mr. Donovan said they get along and can have differences of opinion while still working together where they agree.
"Hakeem and I have the same goals—to represent the people of New York," he said. "We may have different philosophies on how to help people."
Mr. Jeffries said he looks forward to working with Mr. Donovan on a number of issues, including criminal justice reform, on which Mr. Jeffries has been working with several Republicans, as well as environmental issues surrounding the waters off Brooklyn, since Mr. Donovan represents a small sliver of the borough that abuts Mr. Jeffries' district.
"Dan Donovan has quickly emerged as a valuable member of the New York delegation and someone that I look forward to continuing to work together with in the best interests of our districts," Mr. Jeffries told the Observer. "We disagree about the outcome of the Eric Garner case, but can move forward without being disagreeable."
Mr. Donovan came to Congress with a "much different personality than his predecessor," Mr. Jeffries noted, and has been willing to work with the delegation regardless of party affiliation.
But of course, there are plenty of areas where Mr. Donovan disagrees with his Democratic colleagues. He frequently knocks President Barack Obama's foreign policy in statements, lamenting him as "weak." While Mr. de Blasio made impassioned pleas for welcoming immigrants—holding up a dead child's photograph—Mr. Donovan, a self-described "law-and-order guy" on the Homeland Security Committee, favors a "pause" in accepting refugees.
"Our first obligation to our citizens as their government, as elected officials, is their safety," Mr. Donovan said. "All this other stuff doesn't matter if we can't keep them safe."
Mr. Donovan said the United States could continued to be a "compassionate country" and look to get the refugees out of harm's way—but also keep them in the region so they could return to Syria some day and rebuild.
"These are people who want to go back home. Syria is their home," he said. "They're not leaving because they want to, they're leaving because they're in danger."