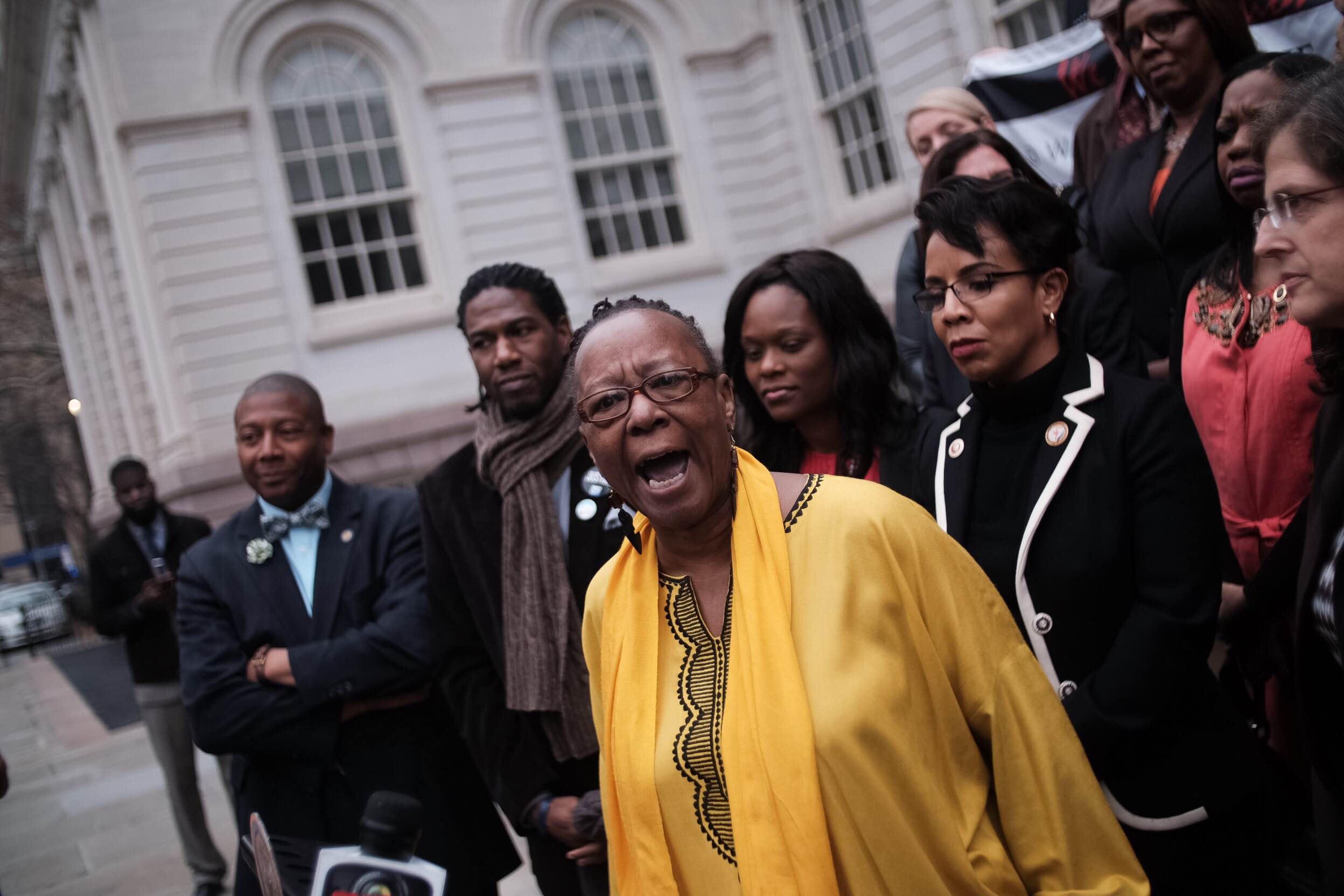 Mayor Bill de Blasio announced plans for an advisory council to promote contracting with minority and women-owned businesses today, in a press release full of glowing quotes from advocates. But at a rally outside City Hall this afternoon Bertha Lewis, founder of the Black Institute and a former ally of the mayor, wasn't glowing.
"I am sick and tired of being sick and tired. This administration is incompetent and immoral," Ms. Lewis said, surrounded by many elected officials aligned with the mayor, who had been more measured in their criticism. "Yes, I said it. As Kanye West would say, to paraphrase him, this administration doesn't care about minorities and black people."
The timing of Mr. de Blasio's announcement of an advisory council this morning was perhaps intended to dampen criticism during a City Council hearing this afternoon on city contracting with minority- and women-owned businesses, known as MWBEs. Just five percent of the city's contracts go to MWBEs, according to a recent report from Comptroller Scott Stringer.
"We're proud of the $1.6 billion awarded to M/WBEs and the record-breaking number of M/WBE firms certified last year, but we need to do more," Mr. de Blasio said in a statement this morning announcing the advisory council. "This Advisory Council will play a critical role in helping more M/WBE businesses get certified with the City and get more contract awards to M/WBE businesses."
The issue has dogged the mayor politically, and is one that is important to the African American voters and activists, like Ms. Lewis, who made up much his base in 2013. Today Ms. Lewis said she believed "absolutely" that the mayor was taking those voters for granted. And observers didn't have to look far to find a potential 2017 primary challenger at the press conference: there was Mr. Stringer, whose report card gave Mr. de Blasio a D+ in MWBE contracting; Congressman Hakeem Jeffries, and Public Advocate Letitia James.
And then there was Ms. Lewis, the former ACORN leader, who was once an outspoken supporter of the mayor's—but more recently has become an outspoken critic. In April she issued a report on the city's MWBE contracts, dubbed "Not Good Enough."
"I tried to present it to the administration as a gift. They totally turned their backs and rebuffed and didn't want to know about it. They didn't take it seriously," she said after the rally. "They didn't think that this was something they had to deal with."
"This administration has decided that it's not important enough," she added. "Well, this administration is not good enough."
Ms. Lewis said she was told Maya Wiley, "who wears four hats"—she's the city's diversity officer and the mayor's counsel—would meet with her after the April report, but that the meeting only happened after it was "forced."
In a statement, Ms. Wiley defended the performance of the de Blasio administration.
"We're putting our money where our mouth is. We have awarded $1.6 billion in contracts to M/WBEs, certified a record-breaking number of M/WBE businesses with the City, and just today announced an advisory council of experts to help us get even more M/WBE businesses certified and more contracts to M/WBEs," Ms. Wiley said.
But among the pieces of legislation being introduced in the Council today is one to make the diversity officer a full-time job.
"We need a chief, a full-time, a full-time, not a part-time, not a part-time, a full-time diversity officer," Ms. James, the public advocate, said during the rally. "Not someone who does this as a side job."
Mr. Jeffries, Mr. Stringer and others kept their criticisms largely focused on the disappointing figures regarding MWBE contracting and the importance of diversity for economic development in the city. Others pointed out the need for changes to state law in Albany to make that contracting easier in New York City.
"That is a shameful number," Mr. Jeffries said of the 5 percent figure. "That should shock the conscience of all New Yorkers."
The congressman is considered by some the most likely to primary the mayor, though he's repeatedly said he's not interested. Ms. Lewis said it was too early to discuss whether she'd back any other candidate over Mr. de Blasio in 2017, but she said she would "keep coming after" the mayor, something she said she'd made clear to him personally. Ms. Lewis said Mr. de Blasio did not take income inequality—his signature issue—seriously, and that his rhetoric hasn't matched his actions.
"Until this is fixed, and until we have some dramatic change here, whether it's housing or any of this other initiatives, he cannot be successful if he doesn't include MWBE as an important component. And I'm very clear about that, and I'm not trying to mess around or be coy. You've got to earn it, and right now he's failing," Ms. Lewis said. "Scott Stringer gave him a D+. I give him an F," she paused briefly. "Minus."