There are people who seem to be born fitness obsessed. They think green juice is delicious, they eschew carbohydrates and do workouts that would exhaust a mere mortal. If brown rice is your nemesis and boot camp makes you shiver in your sneakers, Banana Skirt offers classes that make working out legitimately fun.
While it's still possible to book a class, there's no question that it's about to be the next constantly-waitlisted ClassPass favorite. After all, with offerings that include Adele yoga, choreography to songs like Justin Bieber's "Sorry," pop pilates with Rihanna as the soundtrack and Ratchet Zooba, which is definitely not your mother's Zumba class, there are options for everyone. The lights are off and suddenly you're at your favorite club (unfortunately, there aren't cocktails). Unlike a night of indulging, Banana Skirt guarantees that you'll burn between 400 and 800 calories.
Recently, social media sensation Claudia Oshry, better known as GirlWithNoJob (she currently has 1.6 million followers), stopped by the studio. Her sister, Jackie O Problems, saw someone on Instagram taking the class, which makes perfect sense for a studio with such a strong social media presence. Tennis pro Victoria Azarenka is also a fan.
Banana Skirt founder Akina Rahmaan's marketing background is one reason classes are so sharable. Ms. Rahmaan was a force in the music industry for many years. She began her career at Violator Management, managing artists including Busta Rhymes, Missy Elliott and LL Cool J. As the Vice President of Marketing at Island Def Jam Music Group, she directed campaigns for everyone from Frank Ocean to Big Sean.
When Ms. Rahmaan returned to work after having her son in April 2014, Def Jam had just started major lay offs. After about a month off she was let go, but instead of letting it deter her, she the appreciated the time with her son and found inspiration in being a new mom (and wanting her pre-baby body back). "I heard that the people were using Beyoncé to get fit. I started thinking about why I was in the music business for 15 years, which was because I love music and how music moved me to do various things, one of those things being to move, to dance."
Combining her love of music and her fitness aspirations, she started hosting Beyoncé dance classes in New Jersey for herself and her friends. She put an ad on Craigslist for instructors (many were previously Beyoncé back-up dancers) and Banana Skirt was born.
Ms. Rahmaan quickly found that being able to move like Queen Bey didn't necessarily translate to being a good instructor. "I started treating my instructors like my artists when I was handling their marketing at Def Jam. I found charismatic instructors who had a great personality and also loved to dance." When her friends weren't enthusiastic about traveling to New Jersey, she brought classes to Manhattan.
Now, Ms. Rahmaan devotes her time to Banana Skirt Productions, where she's often spotted taking Instagram photos from the back of the room. Her marketing background is apparent, as she's glued to her phone when she's not tapping her foot, posting to Tumblr and Facebook throughout class.
[youtube https://www.youtube.com/watch?v=YxC2gln10TE&w=560&h=315]
"Ratchet Zooba" is the most popular, owing to its nightclub vibes and enthusiastic instructor. Ms. Rahmaan says, "I wanted that to be 'I'm at the club,' because I'm not at the club, I'm at home with the boy, so that's what Ratchet was all about. It was about the types of clubs I would go to when I was out with Big Sean, who was one of my artists, or even just out with friends when I was in Miami."
Unlike regular Zumba classes with a familiar reggaeton playlist, Ms. Rahmaan curates a soundtrack based on what's new. "My classes will always see what's hot in music, if it pops today, you're going to see it on our schedule this week. I started to incorporate all the different artists that have amazing music. I worked with Missy for years and I thought Missy would be an amazing class to have."
Other familiar artists on the Banana Skirt soundtrack are Ciara, Justin Bieber, The Weeknd and Drake. Anyone who has seen Ciara's moves in "Ride" knows how complex her choreography can be, but for classes it's broken down. "Some of them are intimidating but the great thing about Banana Skirt is it is accessible."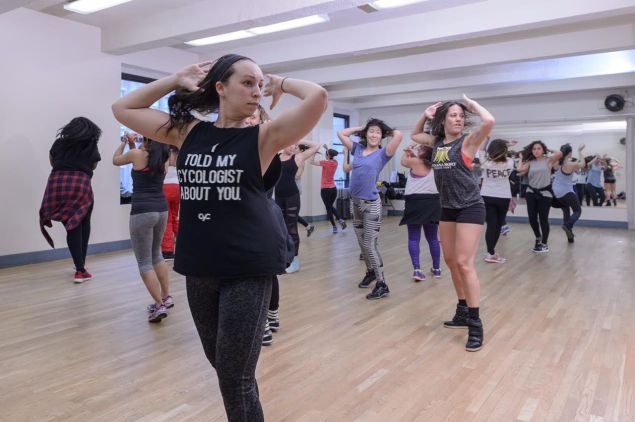 Right now Ms. Rahmaan doesn't have her own studio. Instead, classes take place at Pearl Studios and DANY Studios, with upcoming options in Brooklyn. Like Zumba, the go-to movies are easy to pick up. In some cases they're already moves you're more than familiar with, like the self-explanatory "selfie" and "twerk." Instructor Zack McFadden encourages dancers to "give face" and "werk," sounding more like a best friend at a nightclub than an intimidating boot camp instructor.
With so many social media fanatics attending classes, it helps spread the word. "Hannah Bronfman was one of our early clients and when she posted us on her Instagram—people still come to us to this day because they say, I saw you on Hannah's Instagram."
Ms. Rahmaan's mission is "to introduce people to different forms of fitness and utilize music as the platform to bring you in initially. You'll take the class because the music is good and you understand that music is a catalyst for movement, which is our whole thing."
Unlike the music industry, Ms. Rahmaan isn't expected to be on-call for her instructors 24/7, which is a welcome relief after years of 4AM phone calls. She says, "What I do with Banana Skirt is so much more—I put so much more passion into it because it's mine of course, but secondly because I'm more hands-on. When you work in music, you don't really touch and feel the artists' fans. Here, just seeing people leave the classroom happy, confident, full on the endorphin rush, it really brings me to tears."