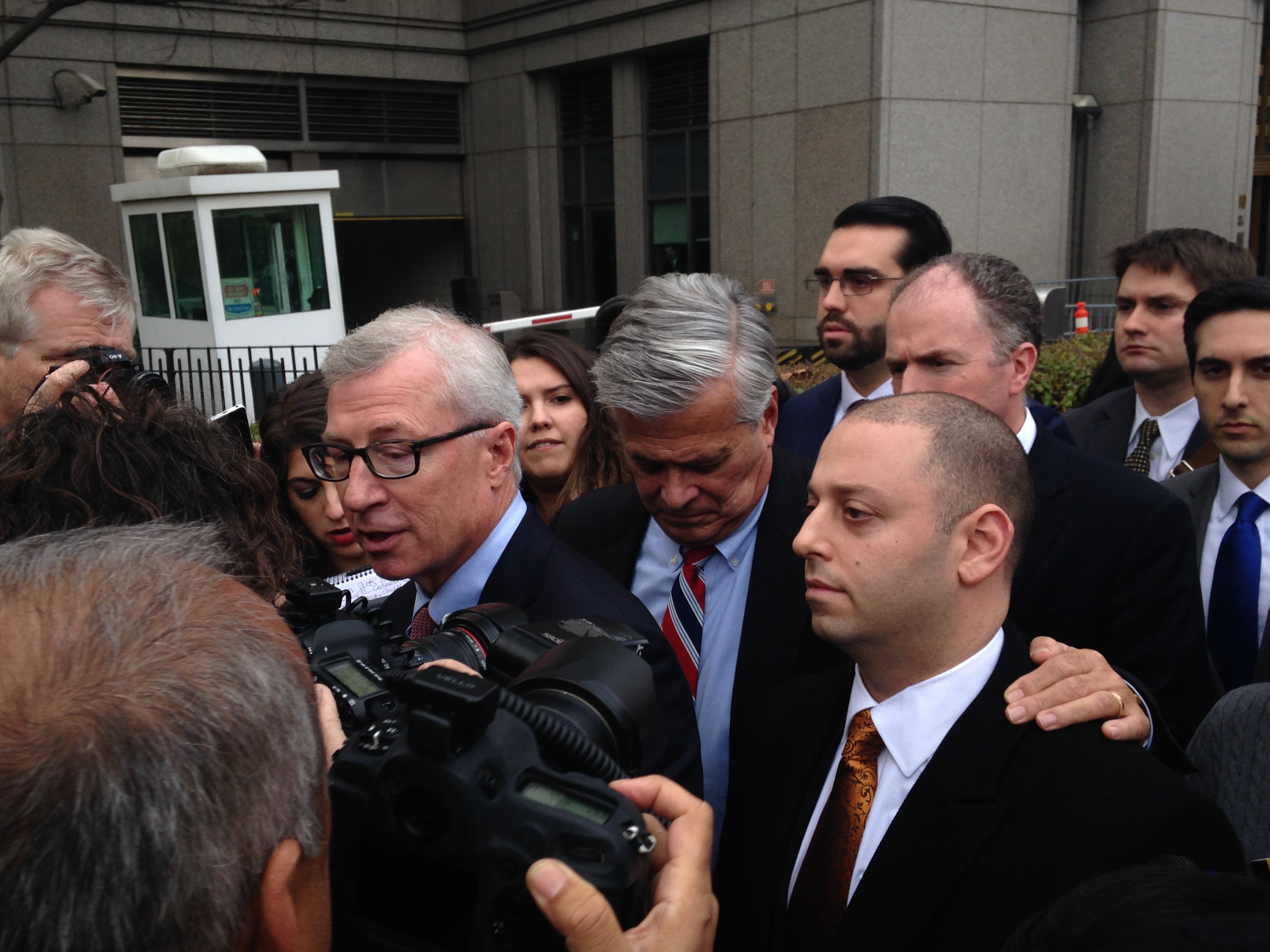 Former State Senate Republican Leader Dean Skelos and his son Adam Skelos have been found guilty of all counts in a corruption trial today—the second conviction of one of an elected Albany power-broker in recent weeks.
"How many prosecutions will it take before Albany gives the people of New York the honest government they deserve?" U.S. Attorney Preet Bharara asked in a tweet shortly after the verdict was read. Today's conviction comes just weeks after Mr. Bharara scored another major political conviction when a jury found former Assembly Speaker Sheldon Silver, a Democrat who had ruled that body for decades, guilty of corruption charges.
The trials, which have now felled two of Albany's "three men in a room" governing structure, have shaken state government and led to loud calls for ethics reforms in the State Legislature.
Mr. Bharara's office charged the former majority leader of using the powers of his office to illegally extort three companies into setting his son up with jobs and money. In the first alleged scheme, the state senator stood accused of leaning on luxury developer Glenwood Management to get work and money to his son while the builder was looking to get legislation passed in Albany.
The real estate giant arranged a $20,000 one-time payment to the younger Mr. Skelos from a title insurance sale he did no work in, and set him up with wastewater treatment start-up Abtech, in which executives from the company owned a large stake. Abtech, the prosecution argued, evolved into a second corrupt racket after the state senator's scion landed the company a contract in his native Nassau County.
The feds claimed the elder Mr. Skelos pressured Nassau County Executive Ed Mangano to accelerate payments to Abtech, and to lobby his friend Gov. Andrew Cuomo to support state funding for sewer projects that the company might benefit from.
Meanwhile, the former majority leader had his office set up meetings between Abtech and the state Department of Health so the company might persuade the agency to support the controversial natural gas harvesting method known as hydrofracking. The Long Island legislator never disclosed to anyone that his son had secured a second contract with the company to sell its technology to frackers looking to purify the chemical-laced water used in the extraction process—an arrangement that came to naught when Mr. Cuomo banned the practice last year.
In a separate alleged scheme, Mr. Skelos pressured medical liability coverage provider Physicians Reciprocal Insurers, which also had legislation vital to its business up for review in the state capitol, into providing another job for his son. The 33-year-old almost never showed up to work, and when his supervisor accosted him about his absences, he threatened him with assault—and had his father warn CEO Anthony Bonomo to make his supervisor stop "picking on" him.
When the company's executives complained to the state senator about his son's behavior, the Republican leader told them to "figure it out"—which the prosecution maintained amounted to a threat.
All three arrangements, the U.S. attorney's office argued , had the aim of propping up the younger Mr. Skelos's finances while he was attempting to secure the mortgage for his house in Rockville Centre—which the state senator had previously offered to finance personally.
Backing up the Justice Department's case were phone records documenting conversations between the Skelos family and Nassau County officials and Abtech and Glenwood executives—plus audio from wiretapped calls, seized emails and the testimony of Mr. Bonomo and Glenwood Management executive Charles Dorego.
The Skeloses' attorneys initially seemed to make a play for the jurors' sympathy, depicting the Long Island lawmaker in their opening statements as a loving father deeply engaged in his "immature and emotional" 33-year-old son's career. They appeared to abandon that strategy in their summation, instead attacking Mr. Dorego as an unreliable witness who had sought to profit from the younger Mr. Skelos's political connections, and suggesting the government had helped him fabricate his testimony.