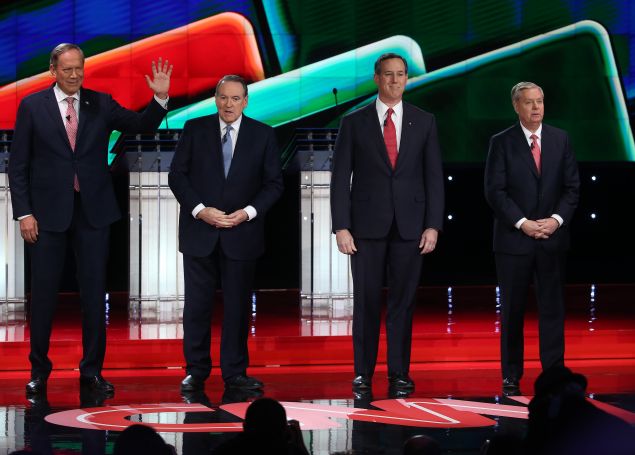 "World War III has begun."
That was the message from former Pennsylvania Sen. Rick Santorum, and from the other three Republicans—South Carolina Sen. Lindsey Graham, former New York Gov. George Pataki and former Arkansas Gov. Mike Huckabee—in the JV debate. The Islamic State-inspired killings in San Bernardino and in Paris cast a long shadow over the discussion, the last of the Republican face-offs of 2015, as did the self-declared caliphate's control of large swaths of Syria and Iraq.
But it was also clear a civil war was also underway within the GOP: between those who sympathized with front-runner Donald Trump's calls for preventing Muslims from entering the country, and those who opposed it; those who viewed Islam favorably and those who view it unfavorably; and those who wanted to send American troops to fight ISIS and those who felt the U.S. should keep its military members at home.
Defending the faith
Mr. Graham, a foreign policy hawk, openly apologized to the Muslim world for Mr. Trump's remarks, and praised the thousands of members of the religion in the American military.
"Leave the faith alone. Go after the radicals who want to kill us all," he said, insisting the United States needs allies in the Muslim world.
Mr. Santorum, a conservative Catholic with some following with evangelical Christians, on the other hand argued "Islam is different." He highlighted the political and legal aspects of the religion, and defended Mr. Trump's proposal as "a legitimate issue." Mr. Huckabee, an evangelical pastor, seemed to back Mr. Santorum up with his assertion the American president should not concern himself with the "reputation of Islam."
Former New York Gov. George Pataki slammed Mr. Trump as "the know-nothing candidate of the 21st century," but argued Democratic front-runner Hillary Clinton is even worse.
"I would rather have him be president than Hillary any day," he said. Mr. Graham agreed.
Give 'em the boot(s)
Mr. Santorum and Mr. Graham dueled again over the possibility of deploying American soldiers to fight on the ground against ISIS, with Mr. Graham being the more aggressive this time. The former Air Force colonel called for a "90 percent them, 10 percent us" formula, with the latter consisting of Turks, Kurds and moderate Arab Muslims. The alternative, he argued, was "another 9/11″—and he ripped Kentucky Sen. Rand Paul and Texas Sen. Ted Cruz for what he termed their isolationism.
Mr. Santorum warned that Salafist theology prophesied a battle between a caliphate and the West in the Levant, and argued that sending troops into Syria would build ISIS's eschatological credibility. But he agreed there are "elements" in the GOP unwilling to engage the theocracy at all.
Mr. Pataki and Mr. Huckabee, governors with limited foreign policy experience, mostly echoed Mr. Graham's arguments. But the bulk of the anger was reserved for President Barack Obama's perceived failures in the region, particularly in Iraq, and by extension his former Secretary of State, Ms. Clinton.
"I hate what Obama did. He gave away everything we fought for. And I hate what he did," Mr. Graham declared, in one of several emotional moments, casting a longing look back at the president's predecessor. "I miss George W. Bush. I wish he was president now."
War and peace
There was a general consensus among the candidates that the government must grant American intelligence some access to phones and Facebook to intercept terrorist communications. Mr. Pataki repeatedly highlighted that Tashfeen Malik broadcast numerous pro-Islamic State messages over social media in the hours before she and her husband, Syed Farook, murdered 14 people in San Bernardino.
None of them wanted to form an alliance with Russian President Vladimir Putin, "a guy on a horse with his shirt off" or with his ally, embattled Syrian President Bashar al-Assad—though Mr. Huckabee declined to repudiate earlier statements that Mr. Obama had bungled the situation by pushing for Mr. Assad to step down. And not one man wanted to grant asylum to Syrian refugees.
Mr. Pataki and Mr. Santorum argued over whether Mr. Santorum supported allowing women to serve in combat—both saying they endorsed the idea of granting female soldiers the opportunity to fight.