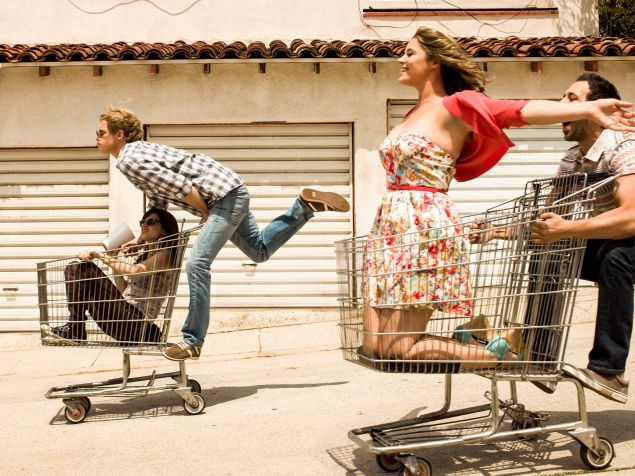 Relationships are complicated these days, but FXX is going all the way with You're The Worst. The network officially ordered a third season of the dark comedy today, while FX Productions signed an overall deal for more projects with creator Stephen Falk.
"Stephen is one of the best new talents in comedy – as funny, thoughtful and original as You're the Worst and we can't wait to see what he comes up with next," said Nick Grad, President of Original Programming for FX Networks and FX Productions, in a statement. "You're the Worst, already one of the most critically-acclaimed comedies on television, is also one of the most innovative, something Stephen and the cast will continue in the much-deserved third season."
You're The Worst, which airs on FX's sister-channel FXX, stars Chris Geere and Aya Cash as Jimmy and Gretchen, probably the most toxic and uncomfortably relatable couple on TV right now. The single-camera sitcom, still in its second season, has taken the idea of the TV comedy to some pretty dark places.
"The daring turn this season, led by the honest and respectful portrayal of Gretchen's depression, was a very courageous move for a comedy and another milestone for You're the Worst," Grad said. 
This is great news for fans, but more so for critically-acclaimed but hard to find shows. These are also known as "every comedy on FXX."
And if nothing else, You're The Worst sent TV critics a turkey baster the week before Christmas, which my dad was so excited to use. Man, my dad is going to be thrilled about all this.
You're The Worst airs Wednesdays at 10:30 on FXX.