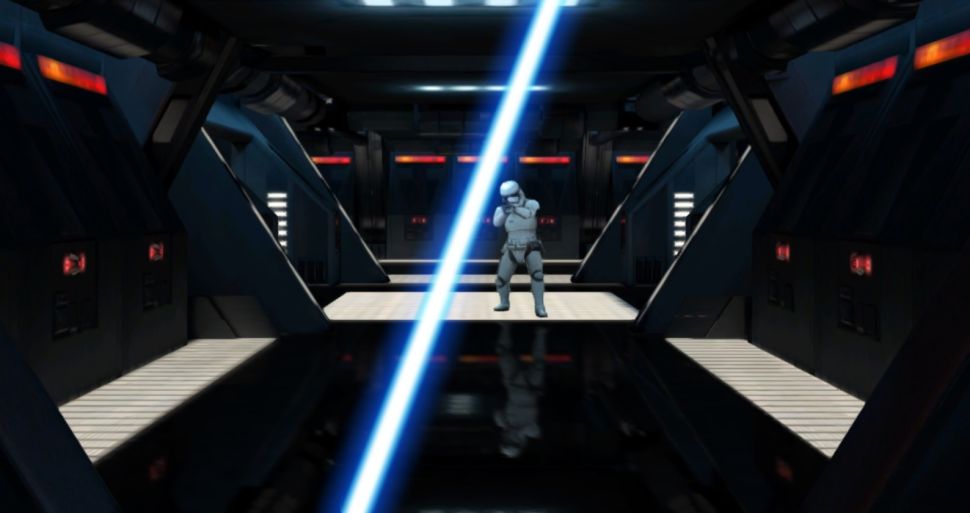 Want to feel like a Jedi, while anxiously awaiting the release of The Force Awakens? Get a smartphone ready and visit Lightsaber Escape in a browser (Google would prefer visitors used Chrome, obviously). It will generate a unique code that players will need to manually enter into their mobile browser. This will sync up phone and desktop, turning your handheld into the grip of a lightsaber. Once the game gets going, players will fight their way through enemies by deflecting stormtroopers' blaster rays back at them with the lightsaber.
It made this reporter feel like a very inept Jedi.
It feels a little bit like magic, but we think we can pull back the veil. Google did not immediately respond to a request for comment, but the game play has much the same feel as a hackathon project we reported on in June, Gregory Koberger's Produck Hunt. His game recalls the original Nintendo Entertainment System's Duck Hunt, turning  your mobile device into your gun.
As Mr. Koberger explained with that hack, Produck Hunt used the device's gyroscope to orient it with the computer's screen. We're betting that Lightsaber Escape uses the same or similar approach (though it may incorporate some other sensor as well). We'll let update should the Chrome team confirm. How it works is not one of the questions on the FAQ.
The small game has triple-A gaming quality graphics, of course, as compared to Mr. Koberger's very 8-bit tribute to the arcade classic. According to the Chrome blog, the experience had graphics expertise from Disney, Lucasfilm and Industrial Light and Magic.
This web experience is just one of many Mountain View has rolled out. Put many of your apps on the light or dark side of the force at google.com/starwars. If that's all too involved, check out MC Chris's new jam, "The Fan Awakens."
Here's a good demo from someone trying out the game work, just like we did: