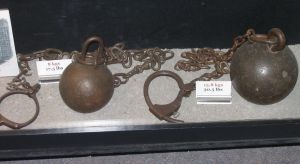 Imagine that you have just been released from the psychiatric hospital. You're standing at a bus stop, ready to return to civilization after six years as a ward of the state. Prior to that, you had spent more than fifteen years in prison, only to be civilly committed before your release. After a psychiatrist cleared you to return to the world and you were, in fact, free, staff from the state Department of Corrections found you at the bus stop and made you return to the jail, without a warrant, in order to put a GPS tracker on your ankle, one that you will wear for the rest of your life. You are instructed, as well, to make sure it remains charged.
You are 67 years old.
This is the story of Michael Belleau, as described in a court decision by United States District Court Judge William C. Griesbach. Mr. Belleau was made to wear the tracker because of a law that went into effect just before his release, but the court found that it should not apply to Mr. Belleau, because it was passed after his sentencing. The tracker Mr. Belleau is wearing is the ExacuTrack One from BI Incorporated. In very real ways, it's an electronic ball and chain.
Despite the fact that the court sided with him, Mr. Belleau is still wearing the GPS tracker around his ankle, awaiting a new trial by the U.S. Court of Appeals. The Electronic Frontier Foundation submitted a brief to the appeals court in support of Mr. Belleau's petition to have the GPS tracker removed from his ankle.
Mr. Belleau was convicted in 1992 of sexual assault of a child. That's why the state had him committed to psychiatric care at the end of his prison sentence. He was released at the advice of a psychologist, who found, given his age, that he was very unlikely to assault a child again.
Besides reporting his location to satellites every 17-22 seconds, here are some other ways in which wearing a GPS tracker that he can never remove makes staying alive just a little bit lousier for convicted felons like Mr. Belleau:
The tracker can talk. If you go anywhere or do anything that makes your state supervisor nervous, a speaker inside the tracker can play one of several pre-recorded messages outloud, notifying anyone within earshot that you are wearing a tracking device. Its most common announcement is its low battery warning, which brings us to…
Charging I. The ExacuTrack requires about an hour of charging per day. If its battery gets low, it will announce this fact through the speaker. Since it can't ever be removed, the user basically needs to sit somewhere near an electrical outlet, with the device plugged in, making the ball-and-chain metaphor more real.
Charging II. The law permits the Department of Corrections to charge a fee to those it monitors. Mr. Belleau's only income is Social Security. He was initially told he would have to pay $240 per month, but given his income the cost was lowered to $50 per month.
No shorts. The tracker looks like the second version prototype of one of those calculator watches that everyone thought were so cool in the 80s. Mr. Belleau never wears shorts and finds that sometimes people notice it even when he's wearing pants. In other words, it works something like a modern day scarlet letter, causing people he meets to become reluctant to interact with him.
Mr. Belleau has been wearing the tracker for eight years now. He argues, alongside the ACLU of Wisconsin, which is representing him, that the tracker is a new punishment, not included in his original sentencing, which he has served. He's also arguing that it violates his Fourth Amendment protection against unreasonable search. Ironically, Wisconsin has a law that recognizes that the use of technology to monitor someone in their home without a warrant is not permissible.
The Electronic Frontier Foundation argues in its brief that the public should understand that this use of GPS trackers is only the beginning:
Many new police surveillance tools at first are applied only to the 'worst of the worst,' and then are expanded to cover far more people who are far less culpable. For example, DNA was once collected only from people convicted of the most violent offenses, but now in many states it is collected from people, including juveniles, merely arrested for a much broader range of offenses.
And that's why all of us should be interested in whether or not this 75-year-old man will be permitted to leave his "prison without walls."