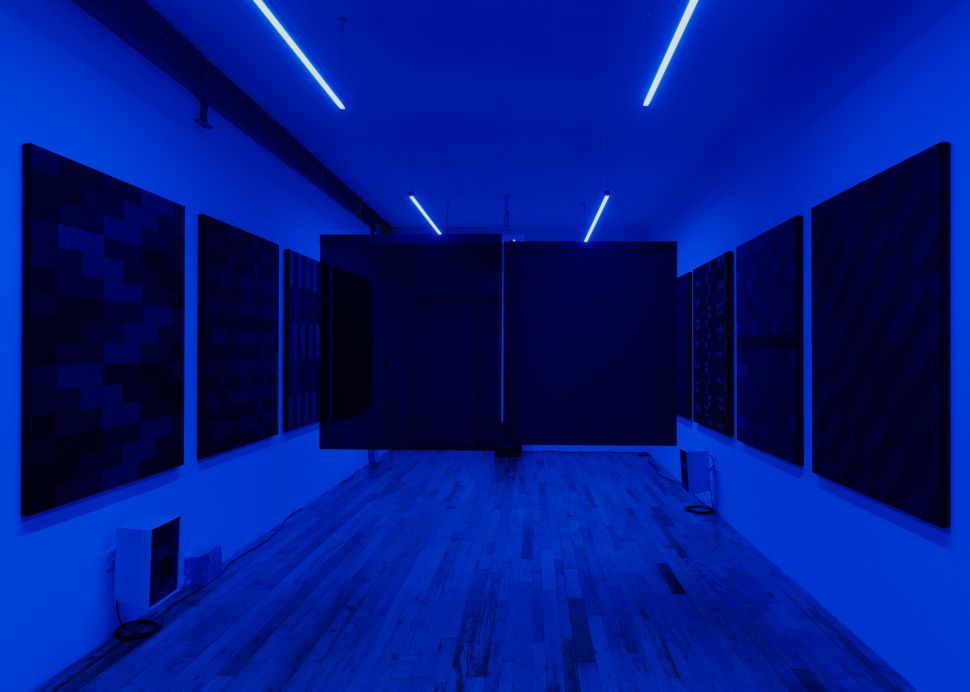 Love is a bitch. The fights, the freeze-outs and the ennui can be brutal. But past relationships can sometimes live on in a state of perpetual perfection in our minds.
After a breakup, we start to craft narratives—complete with good guys, bad guys, and a central crisis—even as we're packing our bags and saying our final goodbyes.
Glen Fogel, like you or me, has lived through terminated relationships, but in his new show at the Lower East Side gallery JTT (at 170a Suffolk Street and up through January 17), the artist directs an ingenious remake of an old lover's tribute to their 13-year-old affair. Is this exercise masochistic? Maybe. But it's also a beautifully moving interpretation unlike any other you'll see.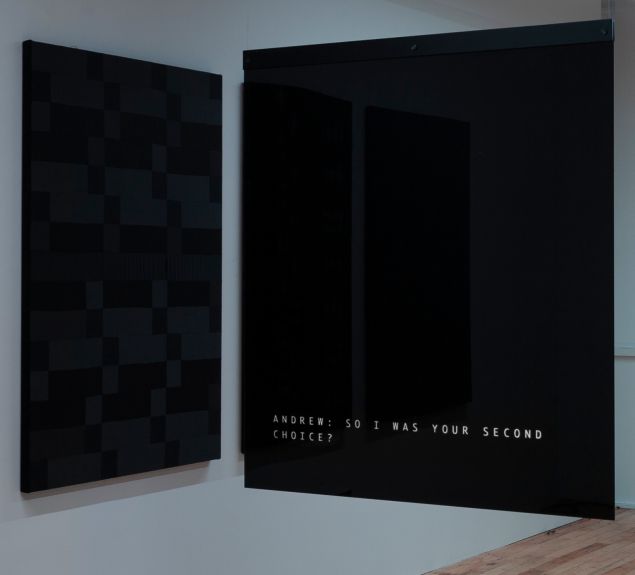 The centerpiece of the show, a sound and video projection titled Why Don't I… Pretend to Be Your Dad?, is a romantic retort of sorts. It is Mr. Fogel's personal reclaiming of a relationship that was first immortalized by his former fling, a film director who turned their brief relationship into a cult classic.
"Earlier this year a mutual friend told me that you had in fact based the film on our encounter," Mr. Fogel says in an email to the director that doubles as the show's press release. Upon learning this, Mr. Fogel did what practically no one would do: make an artwork out of his ex-boyfriend's film about their relationship.
The piece is projected from both sides of the darkly lit gallery, so that as you read one character's dialogue in script across black glass, you also see the other character's dialogue in reverse on a second glass partition.
All of the dialogue is edited from the original film (which the artist did not name in the press release, and he only gave the director's first name: Andrew). The video is synchronized with lighting changes (the room turns blue, purple or red at certain points in the dialogue) as well as instrumental versions of popular love songs that break up the pained discussion between the two characters "Glen" and "Andrew" (Andrew is the actual name of the director that Mr. Fogel uses in the piece eschewing the anonymous "Russ" that stars in the film version.)
It's a powerful rebuttal, ironically of such artifice, that it sears all of the senses with one's own memories of failed loves.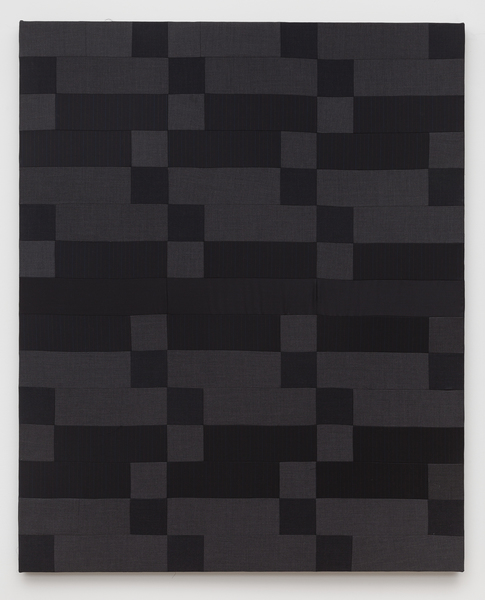 Surrounding this tour de force is a series of gridded "paintings", which are actually comprised of stitched-together pieces of formal wear from important men in Mr. Fogel's life.
For works like Man Quilt #6 (Lucas), 2015, Mr. Fogel asked one of his ex-boyfriends if he could use his wedding suit (he married someone else after their relationship) to make one of these grids. The result is a somber dirge that mourns a man of the past; a funerary Agnes Martin/Gee's Bend mashup (unbelievably, the former paramour said 'yes' to the request.)
This is just one example of the lengths to which this artist will go to in order to concretize both his past loves and the man he is because of them; be it in video, painting, quilting, or found object work.
Formally, all of Mr. Fogel's works tend to have a hands-off approach (the construction is usually jobbed out), but this exhibition rivals even Jeff Koons on those terms. 
In fact the artist shares some similarities with Mr. Koons, another artist who had originally spoken of love—and lust—through a veiled consumer language (the vacuum cleaner as hermaphrodite, the basketballs as a pair of breasts, etc.) But Mr. Fogel is of a generation that naturally employs a spectrum of industries for the purpose of making art. His process is not a conceptual ideology, but simply the most modern means for making a deeply personal art.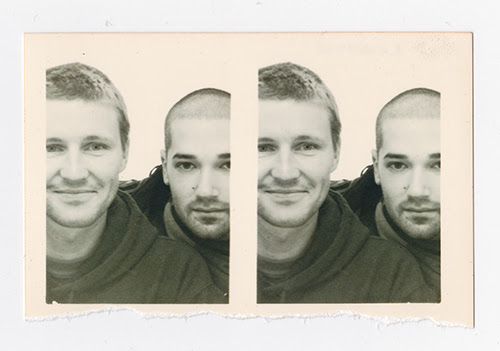 But the real question is: what did the artist's ex think of the show?
Perhaps we'll never know. But for Mr. Fogel, life starts to imitate art when, upon completing his ritual installation, he emails his former lover with an invitation, stating, "…in the film, you promise Glen that you will come to his exhibition of this work. Will you keep your promise?"