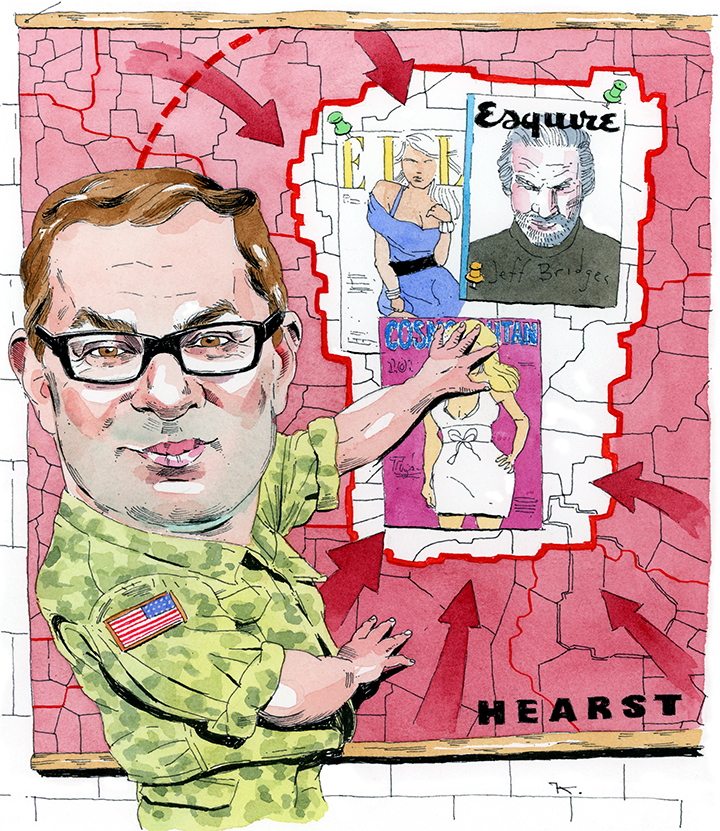 David Carey, president of Hearst Magazines, first fell in love with media at the Daily Bruin, UCLA's newspaper, where the son of a grocery store clerk served as publisher to help pay his tuition. "Classifieds used to be a big thing," he recalled the other afternoon at Hearst Tower, "And we pioneered…animated classifieds with hearts and everything—that's the way that kids used to send flirty comments to one another." Mr. Carey, who speaks in media-trained soundbites often punctuated with a summation sentence, has come a long way from selling primitive emoticon ads to college sweethearts. He sits in a swish 43rd floor office that overlooks the Hudson River and presides over more than 300 publications worldwide, including, most recently, Harper's Bazaar Chile and digital editions of Cosmopolitan in Nigeria and Scandinavia.
Less than 10 percent of Hearst publications are based in this country; have you faced cross-cultural challenges? In China one of the long-standing practices is that they have "company days," where senior executives get up and do skits and look kind of silly.  You see these photographs, for example, of Jack Ma of ALIBABA in these crazy, outlandish outfits, wigs and costumes because that is an important tradition for Chinese companies. That part of global scale we'll hold back on.    
You once told Samir Husni, aka Mr. Magazine, that you have "entrepreneurs out there who wake up wanting to take down Advance, News Corp, Time Warner, Hearst, and they do so fearlessly, and they do so by not following the normal rules of what can and can't be done." Name some of these nimble startups.
Well, some of them we've invested in many of them, as you know, with the Hearst Corporation level, we have stakes in Complex Media, Refinery29, Vice Media, BuzzFeed, AwesomenessTV, and so, and those are the major ones.
What about one that you haven't invested in? I think Vox is a very interesting company.
Why? The analogy is a little wonky, but maybe three years ago The New York Times ran an article about aircraft carriers. Of the 12 that belong to the U.S., five are stationed around the Persian Gulf. The U.S. did war games, and the question was, could sets of [Iranian] speedboats working in a coordinated fashion bring down an aircraft carrier, and the answer was "yes." And I thought, this is a metaphor for the media business. Look at the success of Bleacher Report relative to Sports Illustrated. That's an example of one that broke through. What Vox did with their CMS [Content Management System] product informed our thinking around what we have done. Small companies—the reason it's important to pay attention to them—is because they do everything they can to not go out of business; they'll endlessly pivot.
So, you're watch the speedboats? Constantly. And working with them, and, in some cases, investing in them.
'We're mindful that if you establish leadership, you can make the most amount of money. And if you're trying to bat No. 4 or 5, you're likely not to be in a good place.'
You've had successes with HGTV and Esquire TV. Why not Cosmo TV? It's a good idea. It'd be great to think about that for some point down the road. I think all of our brands have more opportunities on TV.
As a Jack Welch fan, what strategies have you borrowed from him? The age-old rule that all the profits go to No. 1 and No. 2 in a category. And so as we think about different categories, we're mindful that if you establish leadership, you can make the most amount of money. And if you're trying to bat No. 4 or 5, you're likely not to be in a good place.
Football players often get up for a game against their old teams. Do you enjoy battling Condé Nast. People love to say Condé Nast and Hearst are arch rivals. While it's the job of our line-selling executives to go at it every day, and the job of our editors to compete for talent, at the parent company level, Hearst and Condé Nast have always been close. When I got my job, Si Newhouse was in the UK, so I didn't get the chance to tell Si that I was going to Hearst. And so I received a handwritten note on Claridge's letterhead: "Dear David, We're sorry to see you go. You've added much to the corporation, but I'm glad you're going to Hearst, a company that we trust and admire."
You are the father of two sets of twins; who's easier to deal with, your children or editor in chiefs? My children until age 14 and then editor in chiefs, absolutely.