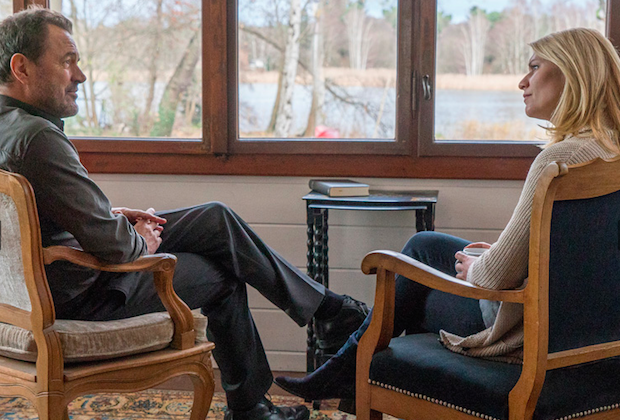 So that's where all the character stuff was hiding!
We've reached the end of another season of Homeland, and the party is definitely over. The terrorist plots have been thwarted. The stolen documents have all been secured. The turncoats have been executed or mortified into silence. And all that business only takes about 20 minutes of episode time!
We begin with Carrie, charging down a subway tunnel towards Bibi and his sarin canisters. She runs into Qasim and spends almost thirty seconds flipping him to the side of right before they team up to thwart Bibi's plans. They manage a haphazard takedown that leaves Qasim and Bibi dead, the air free of noxious gasses, and the forward action of the season ended.
Saul still has to avenge himself upon Allison, and he has only one thread left to pull: Ivan Krupin. Now that Allison has betrayed the West and disappeared, Ivan can no longer claim that he was her informant, and thus has no legal cover. Saul wants to know Allison's escape plans, and Ivan really doesn't want to give them up. Even after Saul offers Ivan asylum in the states, he won't budge. Something in Saul's tone sets him off, though, and at the last minute, Ivan flips, primarily for the opportunity to sneer at Saul over the fact that Ivan and Allison had played his loneliness and sexual longing against him. This suits Saul well enough, and as Allison races towards the border in the trunk of a Russian car, Saul sees the car stopped and riddled with machine gun fire. He'd been mortified sexually and professionally, and his revenge was extrajudicial and Corleone-level theatrical.
The BND scoop up Laura Sutton, search her computer for Numan's identity and throw the two into adjacent jail cells. The German government now has pretext to send Numan off to a sure execution in Turkey, and so to save his life, Laura relents, publicly retracts her earlier threats, and, most brutally, sells out the memory of Marwan Faisal as a terrorist in league with the subway attackers. Once again on Homeland, the perfidy of women draws a strong rebuke.
The ladies and minorities having been swiftly dealt with, the majority of the episode is given over to Carrie and The Four Men You Meet In The Homeland Season Five finale. Homeland began as a dance between Carrie and Brody, and upon his exit, it began auditioning new men through whom we might understand the person at the center of the story. Saul has always held the inside position, but "A False Glimmer" demonstrates the extent to which the show conceives of Carrie as a person defined by her relationships, personal and professional.
First up is Jonas, the new kid on the block. Carrie, immediately upon thwarting another terrorist attack, heads back to their apartment and collapses into bed. He wakes her for some post-crisis thrill sex and then begins the process of writing her out of his life. He won't carry on with relationship that's jeopardized the safety of his child, and very reasonably suggests that their circumstances argue against carrying things forward. He's certainly throwing away the possibility of future semi-intentional bipolar freak-outs, and Carrie is heartbroken.
She has much better news waiting on the professional front. Saul not only wants to restart her career at CIA but seems to be offering her all the power and autonomy she wants. She rebuffs him repeatedly, telling him that she's "not that person anymore," but that assertion feels more like aspiration than fact. Otto Düring, too, wants to put Carrie on a throne. Even after deriding her to Jonas as unstable, here he makes her a proposition halfway between a business partnership and a marriage proposal. She doesn't make him explain himself, and saves her answer for a thrilling reveal in the Season Six premiere. It's almost baffling that a show that revolves entirely around Carrie's agency and heroism would boil itself down to the question of Which Suitor Will She Choose? It's like Twilight for the Bill O'Reilly set.
Because Carrie's heart always heads where matters are most hopeless, though, she and the episode settle into orbit around Quinn. He's had another setback, will likely be left with permanent brain damage, and may never wake up at all. Carrie stands vigil over him and reflects on her guilt. Twice the proceedings swerve towards Nicholas Sparks territory: once as Carrie's emotions overcome her in the hospital chapel, and once over a letter Quinn left for her in the case that he died undercover in Syria. He attests to their bond and forgives her and the world for whatever's happened to him. He knows himself well enough to see that he's responsible for the hazards that he faces. Fortified with that message, Carrie visits his hospital room with the apparent intention of unplugging his life support, but the season ends before we see her decision.
It's telling that Homeland would highlight this moment as an inflection point in its and Carrie's story, even as, just two episodes ago, Carrie and Saul were dragging Quinn's body around the hospital causing these problems with barely a moment's consideration for his safety. From one perspective, it's not Homeland that's stretched taut between high melodrama and decisive, all-business spycraft– it's Carrie, and the shifts in tone just describe the tragedy of her life in the spy business. She feels deeply, and the same sensitivity that makes her a powerful tool at the CIA makes her a miserable person.
For better or worse, though, her curse is the show's as well. When Carrie could pursue Brody both as a terrorist and a fellow lost soul, the romantic and the tactical converged right under Homeland's crosshairs. Since then, though, the show has to swerve a bit to reveal Carrie's full character. There's no going back: Homeland will not be one story told from its beginning to its end. Even individual seasons of the show now operate as picaresque. In some ways, the tone validates subject material, calling on Carrie and the gang to meet challenges that are alternately personal and political, global and private. Neither the viewer nor the characters can see the next blow coming.
Here's to being surprised in Season Six.