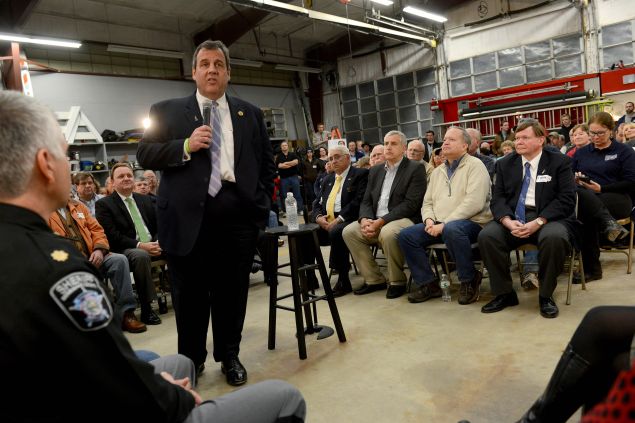 There is a tendency to act tough here in the Granite State as the motto "Live Free or Die" suggests. Everyone likes that phrase. When people who are not tough want to appear tough they come visit New Hampshire, as President of France Nicolas Sarkozy did in 2007, the year of appearing to get tough, a few months into his new job. I've been to Paris and I've been to Lake Winnipesaukee and can't imagine it myself. His wife couldn't stand it here and went back to Paris. They even made one of those Bruce Willis tough guy movies with the double-entendre title about New Hampshire, Live Free or Die Hard.
The truth is we are not as tough as we used to be. The roads are too good today and the cars too luxurious. It is very possible now to live in the Manchester region in the southernmost part of the state where most of the campaign events take place and work daily in Boston, taking advantage of New Hampshire's low tax rate by living here and at the same time, the wealth and good life of Boston by working there. I'd suggested in 2007 that the poorer mountain regions that rise above Manchester divide from the lower industrial, political and business counties to form a new state to called "New Hampshire" while the bottom be called "North Massachusetts". The idea caught on for a while almost everywhere else but here.
The northern hills—bewitched, according to Nathaniel Hawthorne—are where you find old Yanks on the rare occasion: tall, lean, handsome pure-blooded Englishmen into their eighties, still throwing hay bales, turned back to their fields now with maybe 40 cows at the most. Getting another year out of the truck with the help of Bondo. Turned inward now and mostly silent, away from the action and passion below, and psychologically, turned away from everyone else who moved up since the Civil War.
The New Hampshire primary is not a harbinger of how America will vote—it is a harbinger of how Massachusetts will vote.
The gritty New Hampshire reputation suggested in a college song—"the granite of New Hampshire in their muscle and the brains"—is mostly a wish today. To get an echo of it a seeker of higher office might give a talk at the Veterans of Foreign Wars post in Littleton, where former Texas Governor Rick Perry spoke last spring, the best forum I've seen representing the North Country, or head further north to where the first votes take place, in dead of winter to Dixville Notch, just along the Canadian border.
"I've never been so cold in my life," said General Wesley Clark when he ran in the Democratic primary against Massachusetts Senator John Kerry in 2004.
Mr. Clark's race tells of this race. New Hampshire in the hills loved Wes Clark, handsome, heroic; badly shot up in Vietnam and smart as paint; a Rhodes Scholar in Tommy Franks' army with a vision of war regarding Iraq and and later Libya which holds true today. For a long time he did extremely well in the polls, especially in places like Dixville Notch.
But then when the voting came, Massachusetts Senator John Kerry won big in New Hampshire.
Because "the granite… in the muscle and the brains" is what we feel we should be, what we might wish to be, what we once were perhaps and what a few still are. But south in the state we will vote like they do in Massachusetts. The New Hampshire primary is not a harbinger of how America will vote. Today it is a harbinger of how Massachusetts will vote.
But the call of the rustic hill farmer of New England's rural days of yeoman independence is a cry from the heart; a cord of an ancient memory perhaps, a calling back to the earth and a call for nobel revival, for restoration; a wish to be born again as a full and natural man, like Thoreau's yeoman country man who guided him through the North Woods.
Likewise, we seek a guide today. In that regard, real estate entrepreneur Donald Trump is a perfect fit for us because Mr. Trump in his own way brings a calling back, a wish to find within ourselves again that singular and primal force which brought victory in the crusades in Europe, in Asia, to the world all at once in one astonishing historic moment and put everything straight again. But it is no longer there. So in the end we pay our taxes and commute to Boston for the two-professional family salary of maybe a half million a year.
This yearning; this true and noble yearning turns away when we go to the voting booth and vote for Mr. Kerry over the archetypal warrior/scholar Wes Clark. Likewise, we will turn from the wish and vote for New Jersey Governor Chris Christie this time over Mr. Trump.
Because in New Hampshire today we live the same way everyone else in America lives. The hills are settled, the heroic and adventurous have mostly moved west to better farmland in western New York or Ohio, or to Alaska if the urge to be free and alone in the woods still tempts.
But the tattoo on the left forearm "Live free or die" today would more likely be seen on a commuter from Nashua or Salem to a high tech office building in Boston to reinforce the make believe that she is not really one of them, but something more, something vital, noble and alive to nature and to the original spirit of New England in spite of all appearances. But she is not.
And if and when the vote comes and declares Mr. Christie to be the winner of the New Hampshire primary, he will carry that across America and have that rugged New Hampshire cache himself, even though he speaks really for New Jersey on America's behalf. And we will return again where we started going into 2012 when the big money of the Eastern Establishment envisioned Mr. Christie as POTUS and Jeb Bush for his VP to get things rolling again.
It is today through a glass darkly but after the New Hampshire primary it will suddenly make sense, as everything makes more sense after the New Hampshire primary. We might think of doing it differently next time.
Disclosure: Donald Trump is the father-in-law of Jared Kushner, the publisher of Observer Media.