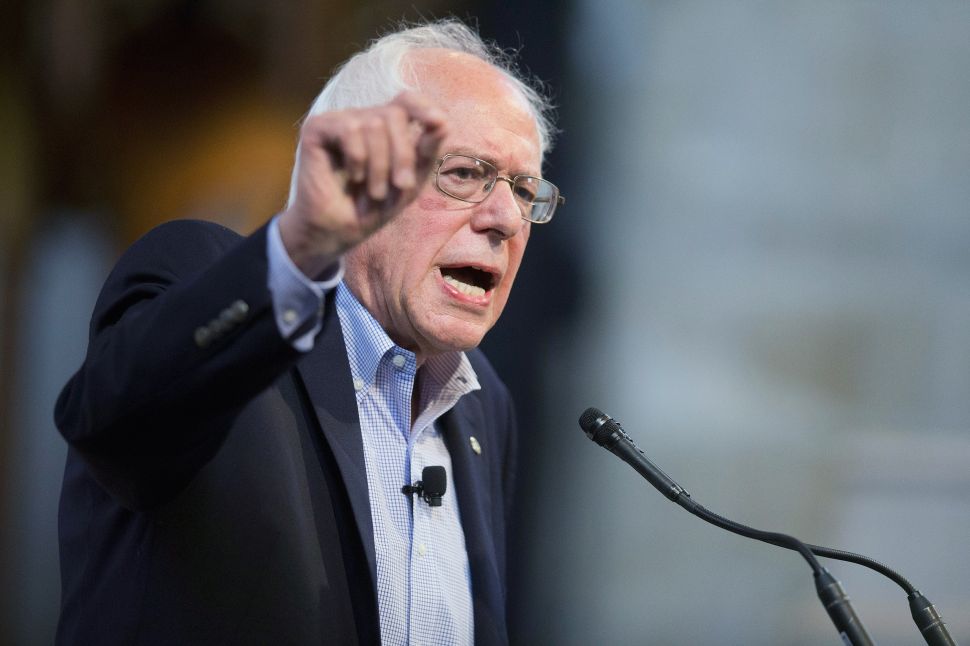 In a must-see interview with Chris Cuomo on CNN on Thursday, December 24, Bernie Sanders launched an all-out attack on the mainstream media in which he charged that the sensational negative political attacks by Donald Trump have become an obsession with major media that dominates their coverage of the campaign, while his substantial and detailed calls for economic justice have by contrast been mostly ignored on political television.
Mr. Sanders is obviously correct. One of the reasons I write so often about the Sanders campaign is that I believe he has the most compelling message and platform of any candidate in either party during this campaign, and as a media and political insider myself I make some effort to give Mr. Sanders and his supporters some of the attention they have earned but not received.
Here I offer an entirely different perspective than the trite and in my view usually wrong analysis offered by the insider princes of the American punditocracy.
In Miracle on 34th Street Kris Kringle, who was ultimately found by a cinematic court to be Santa Claus, told the little girl brilliantly played by a young Natalie Wood something to the effect that there is the French nation, the German nation, and imagine-nation.
Far too many columnists and pundits view their job as offering superficial analysis about what they tell each other, or to predict what happened yesterday.
In the spirit of Kris Kringle today, lets enter the world of imagination to imagine what I believe will happen if Mr. Sanders wins the Iowa caucus in a few short weeks, which I believe has nearly a 50-50 chance of occurring.
If the morning news after the voting in the Iowa caucus reports that Mr. Sanders has won a stunning upset (which will not be so stunning to readers of my columns), the mainstream media will breathlessly parade into New Hampshire with two stories, not just one. No doubt on the GOP side the media will follow the unsavory accusations between Mr. Trump and his various opponents.
But—and this is the most important "but" in American politics today—the media time currently spent on such matters as what Mr. Trump thinks is so disgusting about Hillary Clinton's visit to the ladies room during a presidential debate will suddenly be spent discussing whether the Sanders surge can carry him to victory in New Hampshire.
If Mr. Sanders does win the Iowa caucus I would place his odds of also winning the New Hampshire primary as above 50-50. Suddenly CNN will no longer to be able to breathlessly break into every Trump speech with a "live report" as "breaking news" without also breaking into speeches by the surging Mr. Sanders. Meet the Press will no longer have Mr. Trump on so often that I have privately told its host Chuck Todd that they should change their promo to "It's Sunday, it must be Donald Trump" and will have to give Mr. Sanders the attention he deserves.
Give a microphone to Mr. Trump and he will give the audience another taste of which individual or group he chooses to insult and berate. Give a microphone to Mr. Sanders and he will give the audience another taste of why the American economy must become more fair, why wages should rise, why big Wall Street firms should be broken up, why a public college education should be free, why social security benefits should be increased, and why a Medicare for all health care system should become the law of the land.
Imagine a media world that is not consumed with whether Fox News host Megyn Kelly is a bimbo, whether a disabled New York Times reporter should watch his disability mocked on television by a presidential candidate, or what Ms. Clinton does in the ladies room and suddenly—like magic—is forced to report even on the "boob tube" why Mr. Sanders believes that workers should be treated more fairly and that black lives do indeed matter.
Granted that most of my colleagues in the mainstream media believe that reporting on income inequality and social justice is less appealing than eating spinach on a hot summer day. But—to use again the most important word in American politics today to imagine the events that will indeed occur if Mr. Sanders stuns the establishment with an Iowa victory and storms into New Hampshire with a head of political steam—they will have no choice.
If the Iowa-New Hampshire scenario I suggest unfolds in the coming weeks:
Suddenly the media will be forced to report the tidal wave of small donations surging into the Sanders campaign, which I've been discussing all along.
Suddenly the media, against its will and despite its elitist inclinations, will be forced to report in ways it refuses to now what Mr. Sanders is saying and doing and proposing to lift the lot of American workers and to lift the lives of America's poor who are non-persons in our political debates today.
Suddenly the Democratic National Committee will face excruciating pressure to allow presidential debates designed for the most voters to actually watch them, and to stop trying to rig the nominating game with debates designed to reach the smallest audience.
If Mr. Sanders shocks the political establishment by winning the Iowa caucus and storming into New Hampshire with a head of steam, suddenly the campaign will become a true battle of ideas which is what presidential campaigns are supposed to be.
In this column I am not offering an opinion about which party or candidate I support but offering a political analysis that imagines events that might well occur, which are not being discussed elsewhere in the political media.
And the spirit of Kris Kringle, whether you applaud or boo the words I write, I thank you for reading them and wish you a Merry Christmas and joyous holiday season!
Disclosure: Donald Trump is the father-in-law of Jared Kushner, the publisher of Observer Media.