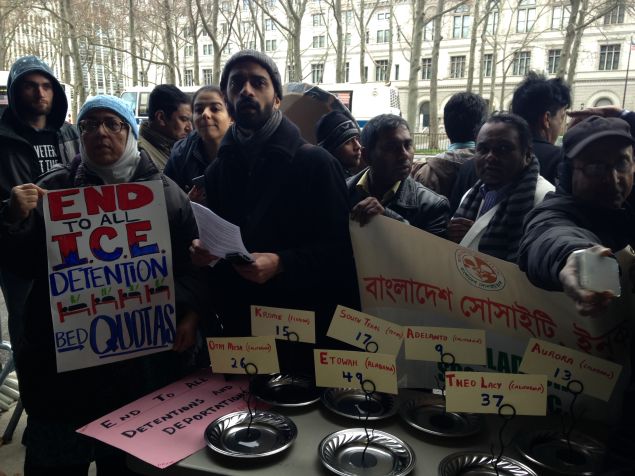 Roughly two dozen protesters picketed the Brooklyn headquarters of former Secretary of State Hillary Clinton, hoping to inject the ongoing series of hunger strikes at federal immigration detention centers into the presidential race.
Like the roughly 150 people refusing food at eight Immigration and Customs Enforcement facilities in the south and southwest, most of the protesters outside the Democratic frontrunner's base of operations had roots in Bangladesh. They complained that those seeking refuge from the South Asian nation's mass political violence are being held indefinitely, being asked to post enormous bonds and being forced into solitary confinement when they protest—and believed the presidential candidate should take up their cause.
"We want to see her stand. What does she do for us, our community?" said Faruk Hossain, vice president of the Bangladeshi Society, a Queens-based group that claims 12,000 members in the New York area.
The protest included a half-dozen people who said their hunger strike had gotten them released from ICE centers in the past month. Those the Observer spoke to through a translator described arriving in Central America in 2014, and using human trafficking services to cut through several Central American nations and across the Mexican border into Texas.
There, U.S officials picked them up and held them for nearly a year in a detention center at El Paso. They said they began a hunger strike in November that lasted a week before ICE officials allowed them to sign release paperwork and trek to New York to stay with their bond guarantors.
They said they hoped to see a future president grant them, and other detainees, asylum in America.
"I want to see if people get elected, if they take care of this issue. A lot of people in detention centers are waiting for freedom," said Kamran Ahmed, a former El Paso detainee. "They are supposed to let us live in this country."
Organizers, however, said they had not selected the Clinton campaign headquarters for any reason other than it happened to be in New York City.
"I don't think we're making a differentiation between the candidates. The Clinton campaign is the only one we're aware of that has a New York presence" said Fahd Ahmed, executive director of Desis Rising Up and Moving, who emceed the protest—and who added his organization "should" hold similar protests at the offices of Ms. Clinton's rival Democratic candidates, Vermont Sen. Bernie Sanders and former Maryland Gov. Martin O'Malley.
The Clinton campaign did not immediately respond to requests for comment. ICE officials said that they have taken pains to grant all detainees access to food and medical care.
"U.S. Immigration and Customs Enforcement takes very seriously the health, safety and welfare of those in our care and we continue to monitor the situation,"
Updated to include comment from ICE.