Like freight trains, museums can be slow to get moving in a different direction—or to get moving at all. But the museum field has finally been seeing a decided effort to collect and exhibit the work of African-American artists.
Next year, the Smithsonian will be opening a national museum devoted to such art, while the Brooklyn-based Museum of Contemporary African Diasporan Arts is in the process of moving to a larger space within the borough. The Baltimore Museum of Art recently renovated and expanded galleries for African art. The Studio Museum of Harlem is planning a new, larger building for its collection, and a retired phone company executive with a multi-million dollar collection of African art, Eric Edwards, is looking to open his own African art museum.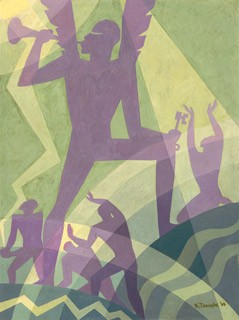 At many museums across the country, collecting in this category has been picking up a head of steam. Most of the pent-up spending attempts to address something of a bias, or a snobbery about what is fine art or who mattered in art history, in past collecting. Other acquisitions addressed specific holes in a collection, or in history, with some of the works directly or indirectly related to slavery. And, by and large, the additions were blockbusters.
The paintings of Harlem Renaissance artist Aaron Douglas (1899–1979), for example, are on many museums' wish lists, and both the Metropolitan Museum of Art and the National Gallery of Art were able to land one in 2015. The Met purchased the c.1935-9 Let My People Go, a work influenced by both Art Deco and Egyptian Art, while the National Gallery scored the 1939 The Judgment Day. Both institutions bought these works from a private collector who had purchased them directly from the artist.
Sheena Wagstaff, who chairs the Met's Department of Modern and Contemporary Art, noted in a statement that the acquisition was a good fit with the institution, "given the museum's close proximity to Douglas's adopted home of Harlem," and added that the artwork builds on the department's 2014 gift of 57 artworks from the Souls Grown Deep Foundation of works by African American artists of the South, "as well as recent acquisitions of significant works by Hale Woodruff, Sam Gilliam, and Kerry James Marshall."
Meanwhile, 2015 marked the fifth anniversary of the Brooklyn Museum's Fund for African American Art, which looks to acquire pieces from the 19th and early 20th centuries, and one of the pieces purchased by this fund was Beauford Delaney's 1945 oil on canvas Untitled (Fang, Crow, and Fruit).
A Kehinde Wiley painting, Napoleon Leading the Army Across the Alps, is also new to the permanent collection of the Brooklyn Museum but probably not new to the museum or its visitors.
The 9'x9' oil painting had hung over the lobby for a number of years and "has become one of the most popular and beloved works in the museum. So it was a huge cause for celebration when the museum was finally able to acquire this iconic painting," said Eugenie Tsai, managing curator of Contemporary art. "The acquisition strengthens our holdings of Wiley's work and reinforces our commitment to collecting the work of diverse artists." The artwork was acquired as part-gift, part purchase. The painting is currently at the Modern Art Museum of Fort Worth (Texas), part of an exhibition, "Kehinde Wiley: A New Republic," up through January 10th.
When the Corcoran Gallery of Art closed in late 2014, after a takeover by the National Gallery of Art, a broad transfer from the Corcoran's 17,000-work collection began, and among those artworks is Aaron Douglas' Cubist-tinged 1936 canvas "Into Bondage," which reveals the march of a group of chained Africans toward slave ships. That painting is one of only two surviving panels from a series of four that Douglas created for the Hall of Negro Life at the Texas Centennial Exposition in Dallas.
Melissa Chiu, director of the Smithsonian's Hirshhorn Museum and Sculpture Garden in Washington, D.C., has been pushing the institution to acquire works in the "underexplored areas of American art over the past few decades, particularly the work of African American artists," she noted recently. Among the museum's 2015 purchases in this realm were a 1976/2014 sculpture consisting of knotted nylon stockings weighted down with sand titled "R.S.V.P. X" by Senga Nengudi, who was born in Chicago in 1943 and lives in Colorado Springs, and two triptychs consisting of photographs and drawings by Charles Gaines (b. 1944) – "Walnut Tree Orchard: Set 13" (1975–2014) and "Walnut Tree Orchard: Set 14" (1975–2014).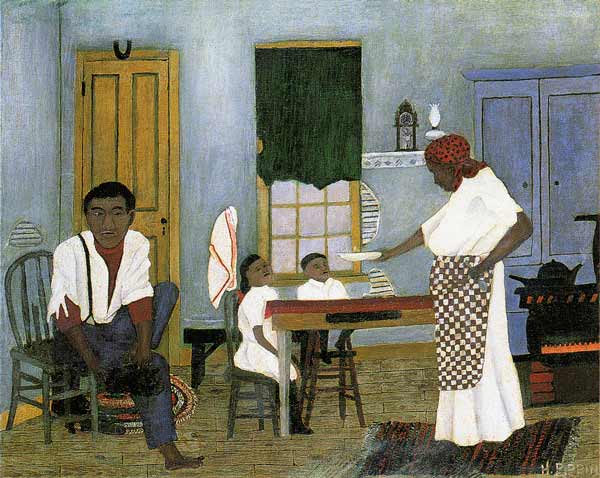 The St. Louis Art Museum has sought for some time to expand its holdings in African-American art. Add to an already impressive collection a Horace Pippin, whose 1943 painting Sunday Morning Breakfast was purchased from New York's Alexandre Gallery – the asking price was $1.5 million.
Pippin (1888-1946) lost his right arm during the First World War, taking up art afterwards as a form of therapy. His painting first garnered attention in 1937 at a West Chester (Pennsylvania) art show and was included in a 1938 "Masters of Popular Painting" exhibition at the Museum of Modern Art.
Collector and philanthropist Barbara Lee donated 20 works by 12 female artists to Boston's Institute of Contemporary Art, a gift valued at $42 million. One of those works is Kara Walker's 2010 The Nigger Huck Finn Pursues Happiness Beyond the Narrow Constraints of your Overdetermined Thesis on Freedom – Drawn and Quartered by Mister Kara Walkerberry, with Condolences to The Authors, which consists of cut paper and paint.
New York's Michael Rosenfeld Gallery was the source of the Newark Museum's purchase of Norman Lewis 1953 abstract painting on untreated canvas, Untitled (Too Much Aspiration). The painting is part of an exhibition, which continues through April 3rd at the Pennsylvania Academy of Fine Art in Philadelphia. The estate of Norman Lewis (1909-79) is represented by the Rosenfeld gallery.
Another active museum buyer in 2015 has been the Crystal Bridges Museum of American Art in Bentonville, Arkansas. Founded by Walmart heiress Alice Walton, the institution purchased from an auction of the late poet Maya Angelou's collection a painted quilt Mayas Quilt of Life by Faith Ringgold. The price was $461,000.