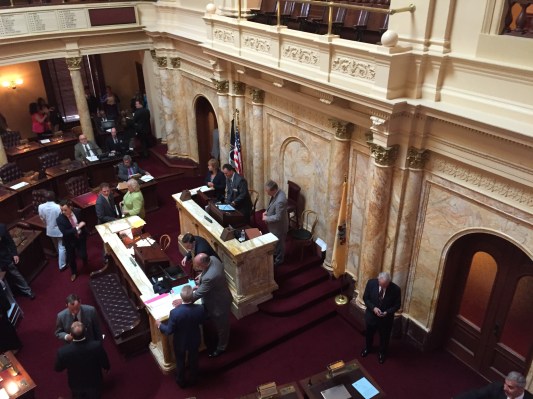 As Governor Chris Christie continues to dominate the spotlight at home during his presidential bid, experts are pointing to early signs that 2017's gubernatorial and legislative elections will do more to tip the balance of power in New Jersey than even a successful primary season for Christie. With Democrats slated to dominate in a year that will likely see the end of Christie's tenure, the north-south divide will take center stage.
"The political maneuvering by potential nominees on the Democratic side started earlier than ever," said Rider University political scientist Ben Dworkin. "Conventional wisdom says the next governor will be a Democrat, largely because it is assumed that there's a sense of 'Christie fatigue,'" said Dworkin, adding that the growth of Democratic-leaning communities of color in the state will also give Democrats an edge as Republicans struggle to rebuild the Christie coalition in the legislature.
As the sole office in the legislature entitled to making wholesale changes to legislation without the burdens of committees or additional readings, candidates have good reason to salivate. Dworkin said that with one of the most powerful governorships in country ripe for the taking, strivers are taking full advantage of Christie's much-lamented absence.
"His absence is noticeable. And in this power vacuum, all these people who want to replace him are maneuvering in order to place themselves in the best position."
Montclair State University's Brigid Harrison names several early gubernatorial favorites like Jersey City Mayor Steve Fulop and Senate President Steve Sweeney (D-3), but said former ambassador to Germany Phil Murphy has distinguished himself in fighting tooth and nail long before the starting gun.
"He's spent some money supporting some of the down-ballot candidates and county parties, much in the way that Jon Corzine had, developing a certain sense of indebtedness," said Harrison.
"The question is whether that indebtedness will carry over across regional lines. In this scenario I think there may be a tendency to take the money and run, particularly when you have the South Jersey bosses pressing for one and the North Jersey bosses pressing for another.
"During the Corzine era there was this ability to sit down at the table and negotiate legislative leadership because the governor was perceived as not really being either one. I think that to a great extent that has dissipated," she said.
Though mingling between northern and southern delegates was minimal at this year's League of Municipalities in Atlantic City, Harrison said that she sees the caginess on either side as a manifestation of that split and not a line in the sand on gaming's expansion into North Jersey. Citing the powerhouse Essex, Hudson and Bergen county parties, she said the fracture was more likely a product of their roles in the coming campaigns, and of their clash with South Jersey's George Norcross III.
"If and when they unify behind someone like Fulop, I think that's a really formidable obstacle for a South Jersey candidate to face," she said.
Harrison didn't mince words on which way the winds will blow if Sweeney wins the gubernatorial nomination and creates a similar vacuum, saying that the next Senate President will be from North Jersey.
"If Sweeney is the nominee, you're going to have a North Jersey Senate President. The only way around that would be if Norcross convinces Sweeney to back down," she said.