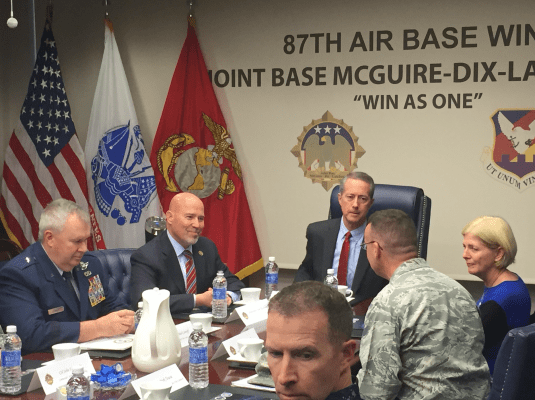 WRIGHTSTOWN – U.S. Representative Tom MacArthur j(R-3) oined Mac Thornberry, chairman of the House Armed Services Committee, on a tour of the McGuire-Dix-Lakehurst joint base Friday in a victory lap for preventing the retirement of several mid-air refueling aircraft for two more years. The visit was a skillful display of MacArthur's power as he approaches his 2016 reelection campaign with no clear rivals in the primary, or the general election.
MacArthur's ability to bring Thornberry to the joint base and bring his home district into the national conversation on military spending speaks to his being a candidate who can attract federal interest in an often neglected region. Already known to be a ferocious campaigner, the visit seemed design to send a clear message to any potential rivals: that MacArthur has become a known quantity in D.C. and has considerable pull on matters of defense.
Speaking from the economic engine of his district in Ocean County, MacArthur said the five provisions he and Thornberry fought for in this year's defense bill will go far in keeping New Jersey's second-largest employer vital as the federal defense budget undergoes spending cuts. The base, which includes army, navy and air force operations, is the only such military base in the country and lags only behind the state in the number of people it employs.
"Without the Armed Services Committee getting that done, these planes would be at risk today. It's a long process and then it took all year, it took various iterations," said MacArthur. "We had to get past the presidential veto and keep them in there."
"It's a great victory for national security and it's a great victory for South Jersey," he added, saying that the trip had done a great deal to show Thornberry the effect of their negotiations have had on the ground.
MacArthur, a former insurance executive, trounced his last challenger Aimee Belgard in 2013, when he outspent her nearly four-to-one with close to $5 million in out-of-pocket funds. Governor Chris Christie recently nominated Belgard for a judgeship on the state Superior Court after she lost her seat on the Burlington County freeholder board this November. Whether the Democrats can drum up a candidate who can unseat him before he becomes a fixture remains to be seen.