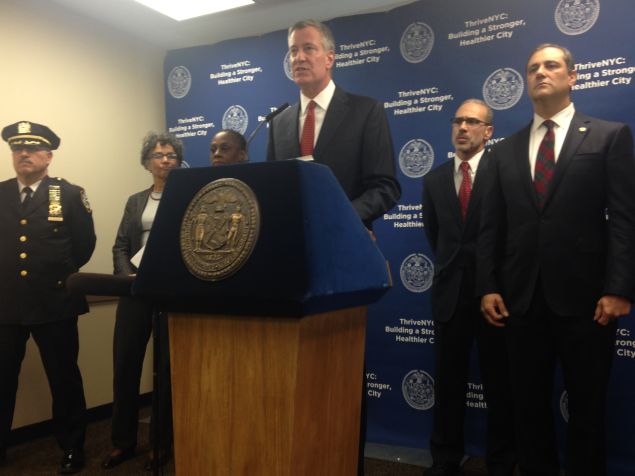 Mayor Bill de Blasio announced today the formation of a new task force to tackle opioid addiction—and a universal prescription for New Yorkers to obtain the drugs used to revive overdose victims.
The liberal mayor made a rare appearance on Staten Island's conservative south shore, and appeared beside Republican Staten Island Borough President James Oddo—who will co-chair the task force—and Staten Island State Senator Andrew Lanza, along with First Lady Chirlane McCray and the task force's other co-chair, Health Commissioner Dr. Mary Bassett. The mayor noted how heroin and painkiller addiction had ravaged the borough, which led the city in overdose deaths last year, topping even the Bronx where deaths have historically been high.
"We know lives have been cut short. We know it's our mission to stop that, to turn that situation around, to not leave families with the pain that can never be answered," he said. "And we do not accept that as our fate."
Dr. Bassett, noting her role as "the city's doctor" presented an over-sized prescription for the naloxone, issued to a person during an overdose through a shot in the arm or a nasal spray. The drug is already available at most Rite Aid pharmacies, and most CVS locations will have it by the end of the month.
Ms. McCray  said the new effort to address heroin addiction was part of her larger mission of discussing and treating mental illness and drug through the ThriveNYC initiative. In addition to making naloxone widely available to everyday people, the first lady also announced that in January the administration will launch a three-year effort to train 1,000 healthcare providers to prescribe and administer another drug, buprenorphine, which reduces the compulsion to use opioids.
"I hope this news will be an enormous relief to any New Yorker who worries about a loved one who is struggling with an addiction," she said. "And I'm talking about anyone who has nightmares about walking into a room and finding their child or spouse passed out on the floor."
The crisis on Staten Island dates back over the last decade, as relatively cheap heroin gradually surpassed increasingly expensive—and harder to get due to doctor-shopping regulations—prescription drugs like oxycodone and hydrocodone as the biggest killer. An overdose claimed a life every day on average last year, and once every five days in the city's smallest borough.
"We desperately need help on Staten Island," Mr. Oddo said