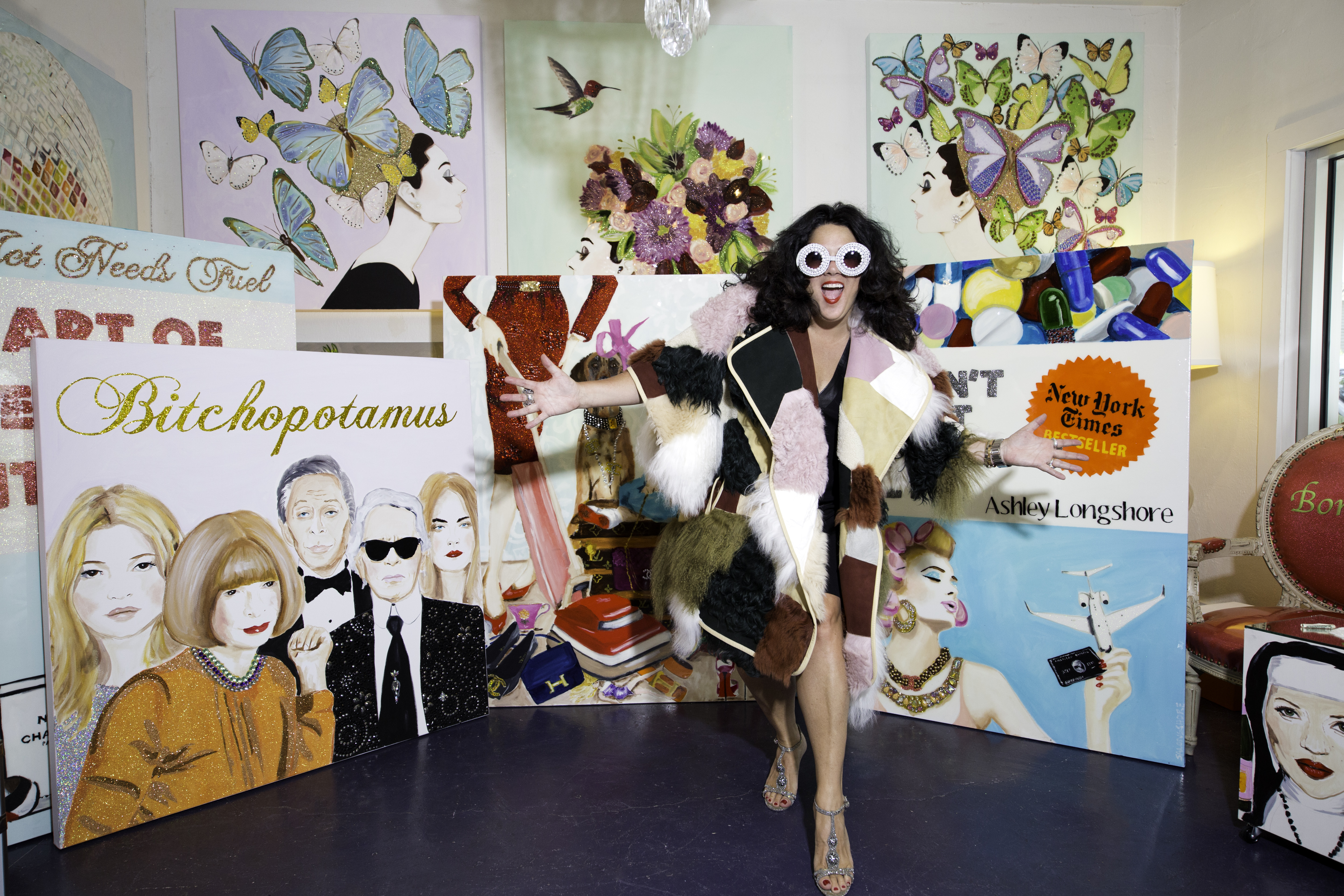 Ashley Longshore is a New Orleans-based artist who's famous for her quirky, colorful pop art takes on celebrity culture (she's been compared to Andy Warhol), which she sells for $30,000 a piece, using Instagram as her art dealer. Anna Wintour and Kate Moss are often heavily featured, alongside designers like Chanel, Hermès and Louis Vuitton. It's a look into the closets, as well as the minds, of fashion-obsessed Americans. Celebrity collectors include Penelope Cruz, Salma Hayek and Blake Lively, whom she's given art lessons. Her art is ideal for fashion girls everywhere, from the South to the city.
During a recent lunch at the Crosby Hotel, the artist sat with her husband, a photographer, at a table across from Aaron Paul of Breaking Bad, while indulging in dessert for lunch. She wore an enviable Fendi jacket and Chanel pearls, for a look that was almost as colorful as her personality. "We are what we wear. This is my armor. I don't have on a T-shirt, I don't have a ring in my nose, I don't look punk. We define ourselves through our fashion. What are you going to put on?" asks Ms. Longshore.
On an Instagram feed that features her pop art alongside cultural commentary, she sometimes faces controversy, especially with the "Holy Fuck" series. "[It's] an exploration in religion, women having to cover themselves, women having to hide their hair and their bodies," she explained. "Kate Moss has on a nun habit and is still gorgeous. You can't hide that, you can't hide that sexuality and beauty that she has. We have all these desires inside of us and Kate Moss, for me, just projects one of them."
There's also her series of Audrey Hepburn paintings, the opposite of Kate Moss and her wild child ways. Ms. Longshore says, "She is so elegant. So beautiful, so philanthropic, such a lady, that neck, that profile…I want that."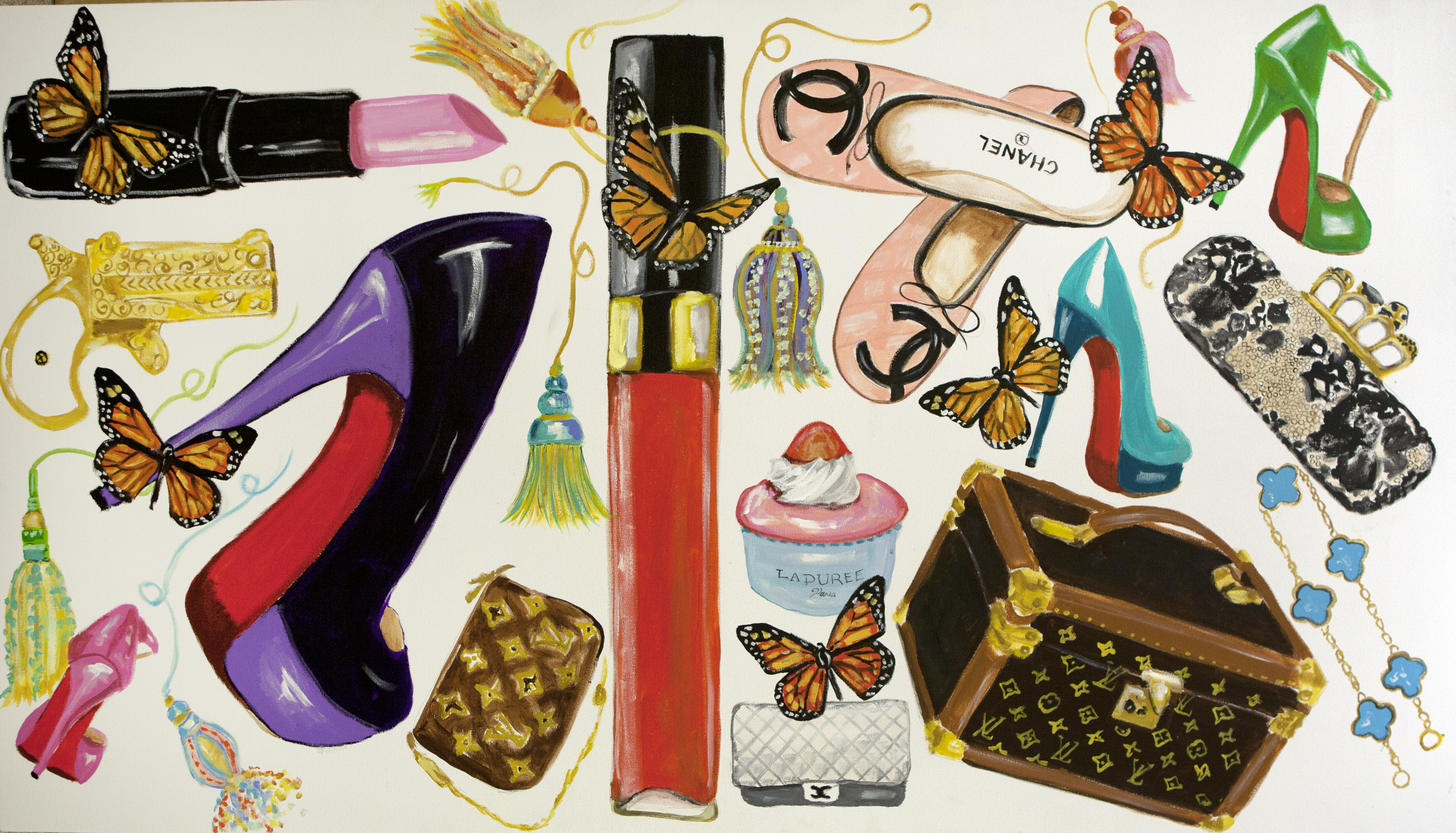 While Ms. Longshore might be a New Orleanian, her art (and love of shopping) brings her to New York often. The busy artist's work can be found at the Kirna Zabete boutique in Soho and spotted across the city thanks to THE OUTNET (Reign designer Meredith Markworth-Pollack is a fan of the site, which she uses to find period costumes). Their offline campaign is in high-traffic shopping areas in downtown Manhattan, with one particularly notable billboard at the corner of Prince and Lafayette.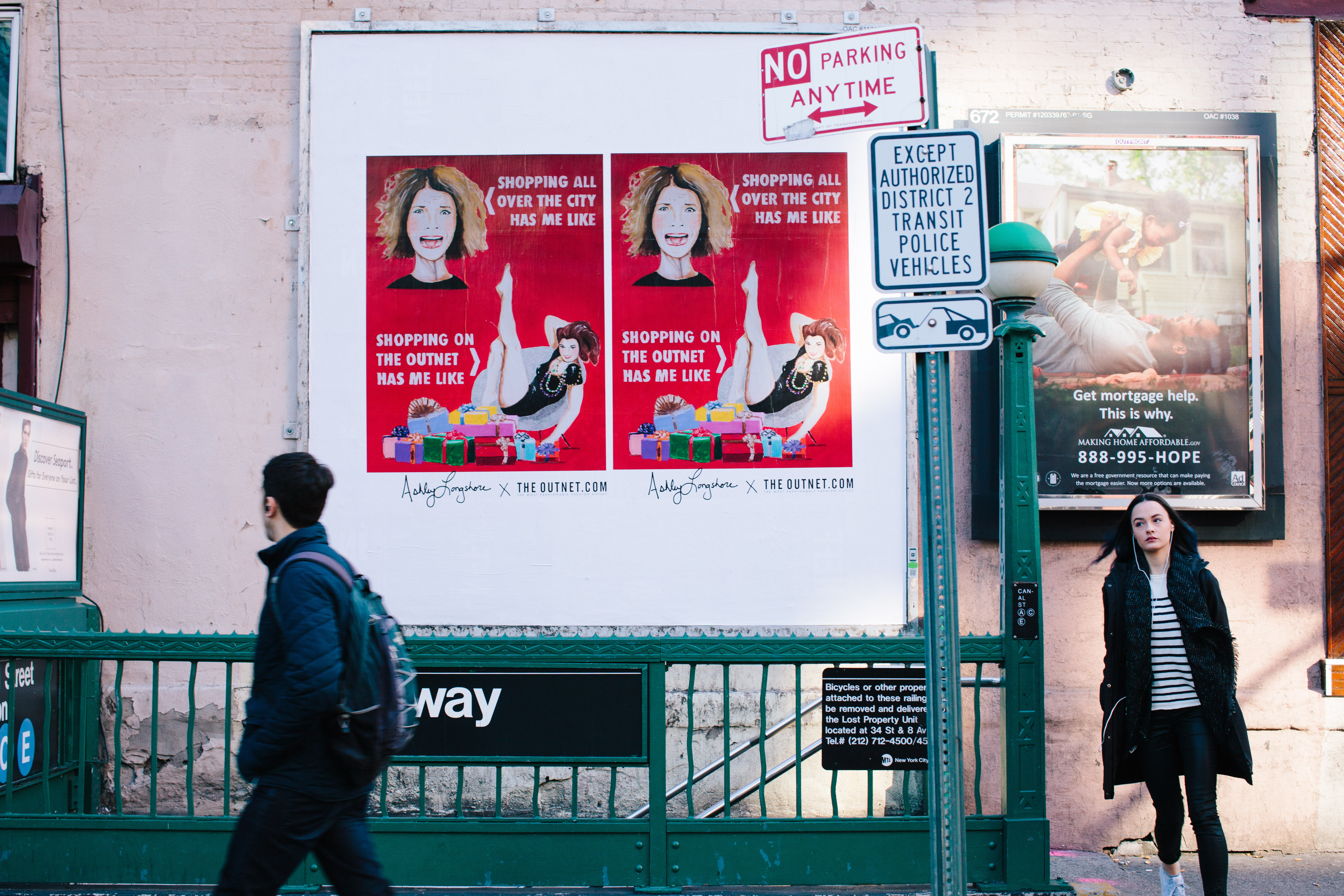 Despite her love of New Orleans, she calls New York the best city in the world. "It's validation for anyone who's ever spent a dime with me. It's about all these people that are paying my bills and the fact that these clients believe in what I'm doing and what I'm painting."
While she's constantly traveling, she's still devoted to her homebase. "New Orleans is my spot where I like to create. It's my spot where I reflect on everything else I've taken in around the world. I have to have experience and the time to reflect to know what I'm really projecting. Especially in the series where I explore status, American greed and the new role of women in society."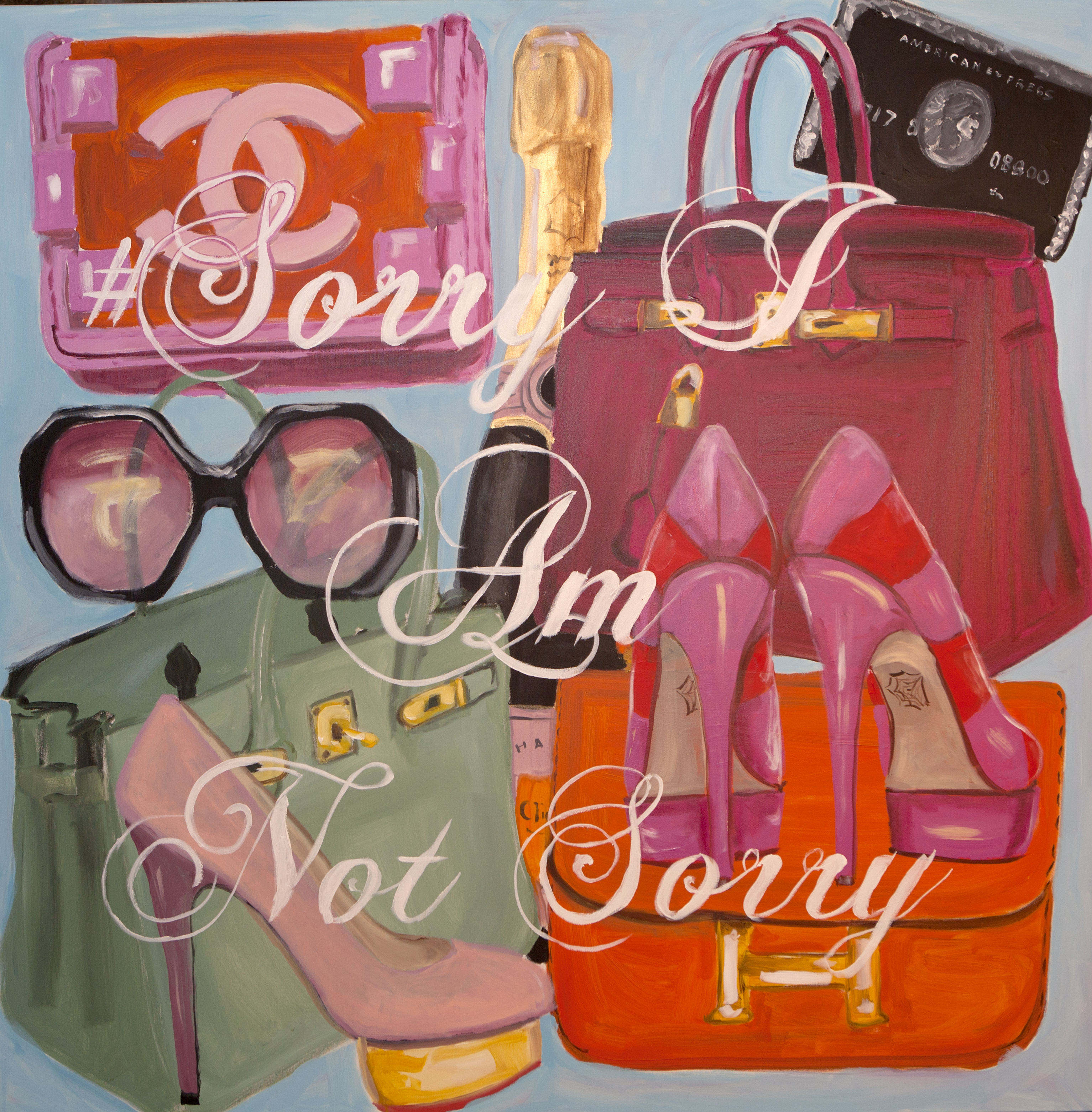 Ms. Longshore grew up in Montgomery, Ala., where she was "raised to be a trophy wife, raised to be in the Junior League, raised to be in the motherfucking garden club." Her adolescence fueled her to become fiercely feminist, often reflecting on the role of women in society, saying, "I feel like any modern man loves that women go and make their own money. I love playing with those roles. I love trophy wives, I mean, they're the most beautiful women you've ever seen, they're incredible. I often fantasize about what it would be like to be that, just a beautiful little flower that has to put your hand out for everything."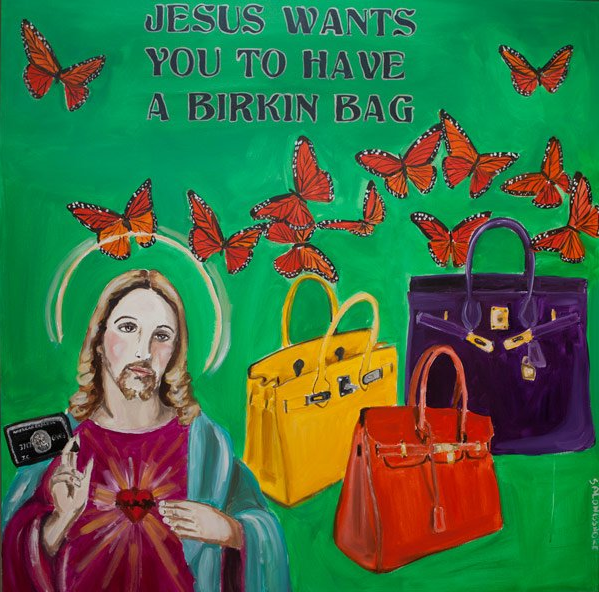 "I like to model all of my marketing just like Hermès and their Birkin."
Ms. Longshore isn't mocking the American dream—she's trying to make sense of it. "I think there's a fantasy about money and the American dream and that's what I'm exploring from a modern woman who's an entrepreneur," she shares. "As an artist, as a woman, I like to surround myself with this beauty because it gives me strength," she adds.
"I will say this, I like to model all of my marketing just like Hermès and their Birkin. Waitlisted, waitlisted, you'll have to wait. The minute you say that, people just want it even more. Can't get it. It's like the hot girl that won't put out, every man wants her." Ms. Longshore asks, "What do you do when you see a woman with a Birkin? It's like a watch on a man, or a car. We cannot deny that in this country. Status is what this country is all about."

On her piece "The Fashion Empire Strikes Back," she says, "Karl is the emperor, because he is. I love that he says Adele is fat. Well, listen Karl, we all remember when someone snapped your picture at McDonalds eating the Big Mac with cheese, sucking down the Coca-Cola. I post that on my Instagram sometimes and I say 'never forget.' At the end of the day, it's the things that are bad, and the things that go wrong, that bring us closer together as humans. It isn't all the perfect stuff. It isn't having the perfect house, it isn't being the richest, it isn't being the skinniest. It's 'I've had issues, and you've had issues, and let's relate to that,' and that's where we really grow."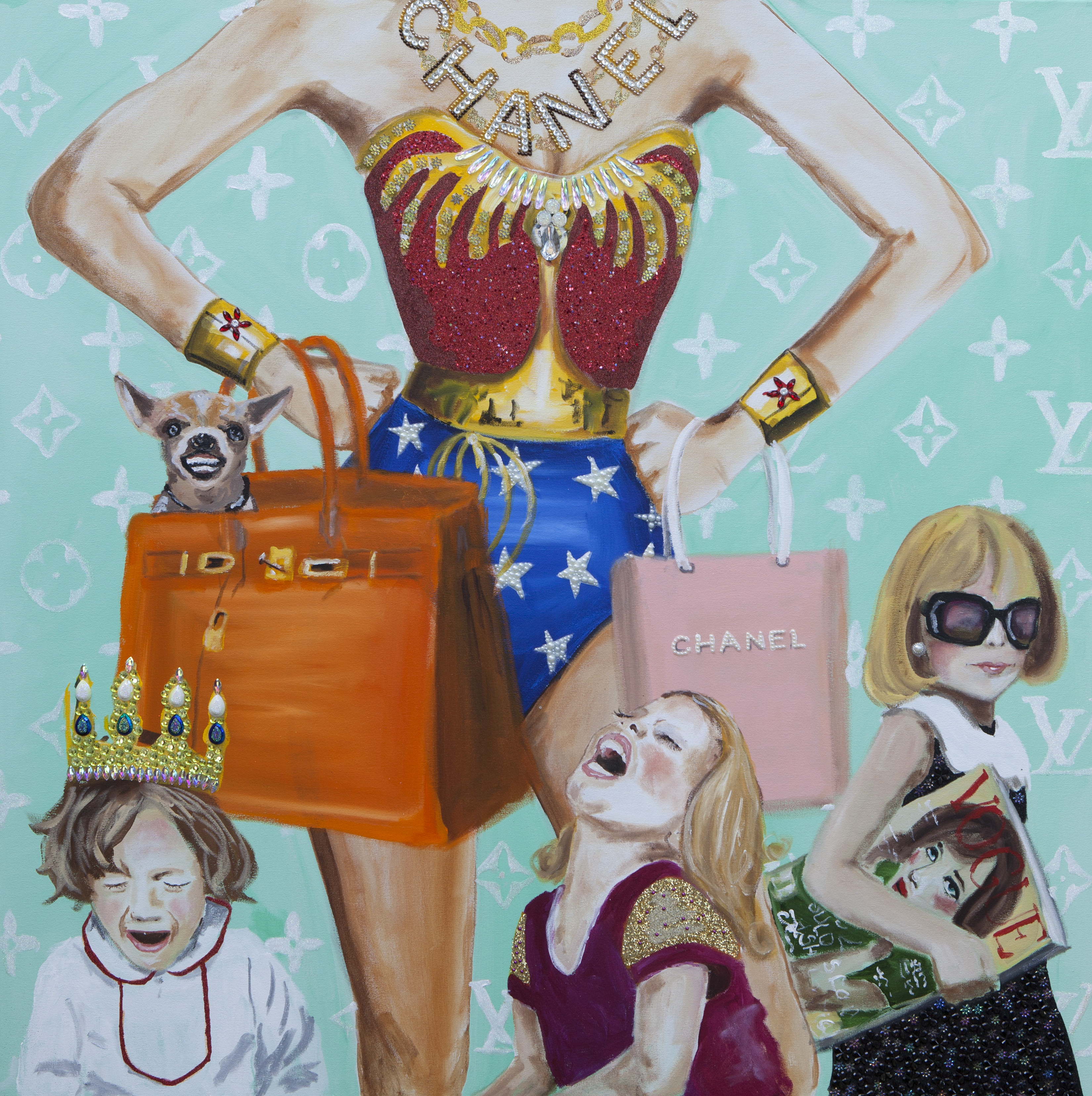 When Ms. Longshore visits New York, she makes sure not to get carried away by consumerism, despite her love of shopping. "I'm meeting with publishers, I'm meeting with clients, all chasing that, getting that press, getting that money." Despite her busy trips, she knows "There has to be balance in this city, like anything else, or it will wear you down. It will steal your soul."