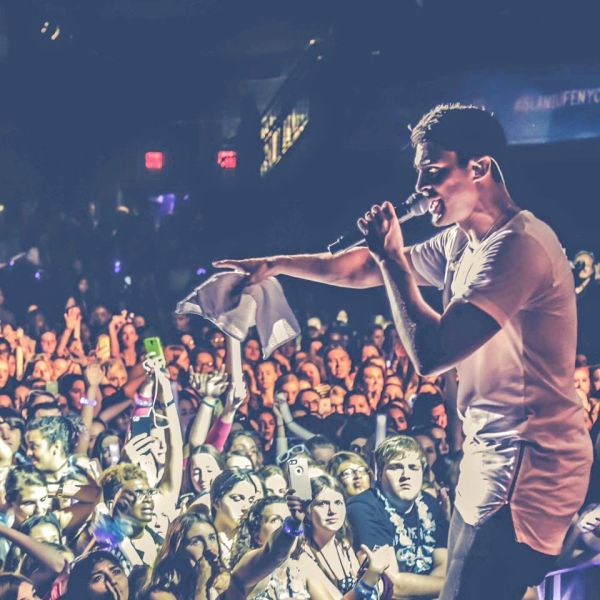 It's midway between the lunch and dinner rush at the Columbus Circle restaurant The Landmarc and Cal Shapiro and Rob Resnick, better known as the duo behind the New York-based dance/hip-hop/pop act Timeflies, are sitting around a corner table when an older woman, presumably a tourist with a Chicago accent, approaches. "Are you guys in a band?" she asks the confused table out of the blue, to which the guys reply, "Why?"
"It just looks like you are," she notes. "Just by the way you're dressed. And you're so handsome!"
Whether or not that woman was an actual psychic living among us or just got lucky, Resnick and Shapirio were taken aback by her perceptive observation. While they're a smash hit online (the guys garnered a robust fanbase via YouTube videos in 2011 and hover around a quarter million likes on both Twitter and Facebook), the duo is not a household name or familiar faces to Midwestern tourists visiting Columbus Circle just yet. However, with a new album out dubbed Just for Fun, and a seemingly chart-topping flavor of centerpiece track "Worse Things Than Love," that could change at any moment. "In certain areas of life, you can control what you can control," Resnick explains after lunch. "We love our songs, but what goes on with how they're perceived is not up to you."
[youtube https://www.youtube.com/watch?v=TdOJgt76OaE&w=560&h=315]
For a track to break out in today's splintered music landscape—especially in pop—takes a confluence of a million moving parts, many out of the artist's and label's hands. Some of the biggest bets in music go bust and even songs that seem like bona fide viral smashes have the ability to quietly fade away. On the flip-side, the unlikeliest of songs become hits and the least assuming artists rise to the top. Resnick and Shapiro know that aside from creating music they love, how songs become hits is something no one can dictate. "Our main focus has to be making the best music we have to make," notes Shapiro. "We can't change our sound to make someone else's job easier to get to radio. We have no doubt that radio success will come, we just have to keep doing what we do."
Exactly what Timeflies does is constantly changing. Even a fan of the duo would have a hard time pinning down their precise sound—a quality that, for the most part, works to their advantage.
While "Worse Things Than Love" is pure bubblegum pop, another track, "Stuck With Me" is a slow and tender ballad. Meanwhile, past singles like "Swoon" and "I Choose U" are dance floor anthems with soaring synths. It all amounts to a healthy dose of genre-bending and makes the duo a quintessential new era act in that they mimic a teenager's iTunes playlist; the tastes of today's listeners are all over the place and Timeflies reflects that. "When we're first putting together a track we have no idea what we'll end up with," explains Shapiro of the process. "We'll start singing something or playing piano or guitar, or we'll start writing the hook. But we could decide we want to trash it and then Rob will remix the beat four or five times. 'Swoon' for example was way more stripped down and an all-nighter working on it made it more dancey."
[youtube https://www.youtube.com/watch?v=klKtFvOVxX0&w=560&h=315]
Resnick and Shapiro's musical know-how works to their advantage as well. Unlike other artists who sit waiting for produced tracks to come in, the duo are singer-songwriters in the sense that they'e completely hands-on during the entire process, a facet that dates back to a weekly feature on YouTube dubbed "Timeflies Tuesday" which sees the duo upload a video of a performance once a week and helped rack up their internet fanbase. (An energetic cover of Jamie Foxx's "Blame It" dubbed "Alcohol" currently clocks in with over 5 million views.)
The tastes of today's listeners are all over the place and Timeflies reflects that.
As a result, record labels soon came a-callin' and fresh from attending Tufts University (which is where the two met), they signed with Island Records with the promise of continued freedom. "We weren't going to just jump into anything," explains Shapiro. "We waited for people we really connected with and wanted a deal specifically tailored to exactly what we wanted. It's been interesting to watch the process of how labels exist. It's a whole different side of the industry." Adds Resnick: "They've done a good job of letting us do our thing."
However, a YouTube following doesn't always necessarily translate to a mainstream fanbase—a fact the guys are well aware of. "That's something we've struggled with since we started Timeflies," notes Resnick of the video sharing service's double-edged sword of success. "We're on YouTube and we're making these videos, but we want to be making original music and competing with the best artists out there for Grammys and for ears, really." That includes consistently thinking outside the box when it comes to promotion (the guys were early adopters of having their own app) and evolving what songs they're pushing—whether it's "Worse Things Than Love" or another jam, or now moving from their home base in Manhattan to sunny Los Angeles in order tap another city for creativity.
"You never know what fans are going to connect with right off the bat," says Shapiro. "We have a new song called 'Time Machine' and the first time we played it six shows ago people knew every single word. Now we close the set with that. Seeing what people react to and are drawn to is really unbelievable."
[youtube https://www.youtube.com/watch?v=M8l8AMIt5oU&w=560&h=315]