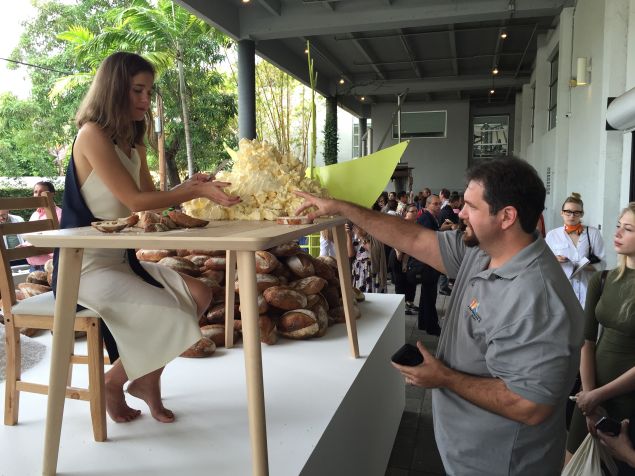 If there was a simple test for the compatibility of two people in a relationship, it may just be manning a two person assembly line of cutting and buttering bread in the hot and sticky Miami humidity during Miami Art Week.
On Thursday morning, that's exactly what Alban de Pury (son of auctioneer Simon de Pury) and his fiancé, designer Fanny Karst, were tasked with for a performance piece called Devotion by artist Jennifer Rubell.
Ms. Rubell is well-known in the art world for her elaborate food art performances, which often deconstruct the process of making and preparing meals. This year marks her 12th breakfast performance at her family's museum—the Rubell Family Collection—during the major art fair week.
Ms. Rubell worked with Mr. de Pury and Ms. Karst, who recently began engaged, to create a piece around their union. Her medium of choice: bread and butter.
"When they came to me and told me they got engaged I immediately knew wanted to do a piece around their engagement," Ms. Rubell told the Observer. "They're a beautiful, soulful couple."
'It's really about the cumulation of everyday acts over time becoming meaningful love,' said Ms. Rubell
The piece found Mr. de Pury and Ms. Karst performing an endurance test of sorts as they prepared food for an nearly endless line of guests for three hours, barefoot; he slicing large loaves of bread and she carefully buttering the pieces and handing them out. Ms. Karst was seated at a table, clad in a simple but feminine apron, and Mr. Karst stood at a wooden chopping block, sweating pouring off his shirt after an hour of sawing away at the loaves. On the table in front of her was a large pile of chunky butter, and behind both of them a mound of bread loaves and a pile of salt for guests to sample and sprinkle on their food.
"I wanted to do a piece that would capture something fundamental about their life to come," Ms. Rubell said. "It's really about the cumulation of everyday acts over time becoming meaningful love."
Ms. Rubell's past performances have predominately taken the form of the micro-level break down of a food, and this isn't the first time she's worked with a de Pury couple. In 2010 at the Saatchi Gallery in London she worked with Simon and his wife Michaela to make a "wedding portrait," where guests broke glasses with the couple, dined on meats and cheeses in bed, and shucked oysters.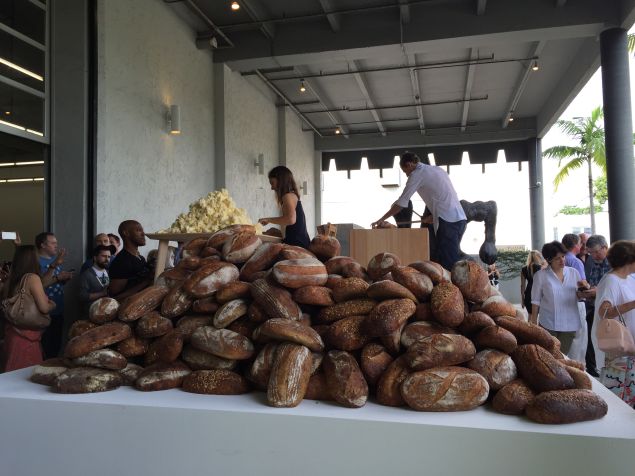 "Each piece very much captures the people it's about. Alban is an extremely and profoundly elegant, poetic person—Fanny as as well. It captures their tone together."
Last year, Ms. Rubell introduced a new format to her work, directly serving the guests with her piece 50 Cakes, and enlisted her parent's Don and Mera to spoon-fed cake to visitors. That format, which is repeated in Devotion, was also featured in her recent piece for a Performa dinner, called Fecunditas, where men in ass-less chaps allowed guests to cut brussell sprouts from phallic appendages affixed to their costumes.
"I'm very interested in the food existing as an object, and violating the boundary of viewing. The food is a prompt to that kind of transgression," she explained.
With each successive year, Ms. Rubell's performances present an awesome and engaging spectacle. So, we asked, how does she feel about food in her own life?
"I'd describe myself as a mindful glutton," she said.