Downtown darlings have spent the last 15 years faithfully trekking to John Barrett's uptown location, which sits primly on the penthouse floor of Bergdorf Goodman. Now they won't have to go so far and they can still expect the hairstylist's signature lavender terrazzo floors.
Open now on the corner of Bond and Bowery, this is the hairstylist's first standalone store in New York City, although he does have a namesake salon in Palm Beach.
With walls that are completely covered with notable artwork and a library of Assouline books to peruse through while their highlights process, this salon is a must-visit. Here the hair guru tells us all about his new space, the exclusive services offered here and his impressive expansion plan that's currently in the works.
Why did you decide to open up on the corner of Bond and Bowery? To get such an iconic building, what was formerly the Bouwerie Lane Theater, which is a gorgeous landmark building on Bond and Bowery. There's a cultural vibrancy here that's kind of crazy, but that perfectly captures us. A few years ago I lived right next to the New School on West 13th Street and I saw what the kids were doing with their own hair, which was so amazing to me. That's actually how I came up with Barrett Braids.
What is your favorite feature of the salon? Obviously the art wall; it is very special to me. We have [pieces from] Chuck Close, Richard Avedon, Andy Warhol and Annie Leibovitz. They are all pretty spectacular and some of them I covet myself. The great thing about many of these objects it that if you really want that Avedon photograph, or that Warhol painting, you can buy it.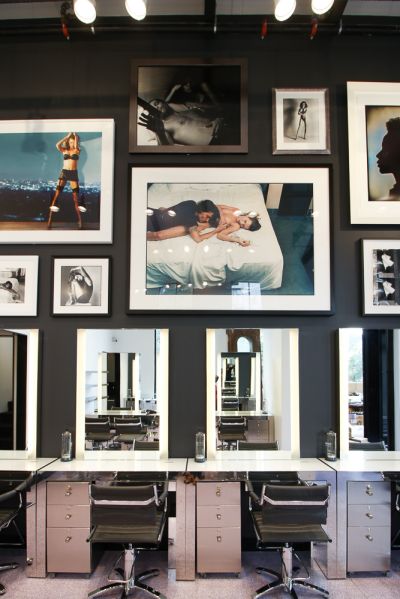 Where did the inspiration for the art wall come from? When [interior designer] Daniel Romualdez started talking about the design of the salon, the first thing he wanted to do was to see my apartment. I do have a lot of art in my apartment and the walls are pretty much covered. He even used the color of one of my walls, which is a pewter color. There are also a lot of books in my apartment, so we added a whole series of Assouline books to the salon. When somebody comes to the salon, they spend some time there and we don't just want them to have wet magazine to look at. Of course hair and beauty are our primary focus, but we also want you to have an interesting time.
What hair services are exclusive to this location? We're coming up with the Bond Street version of the Barrett Braids. We're also doing No Commitment Bangs. This is more of a party thing, so when you have a blow dry, we somehow create bangs on you without actually cutting them.
And what special beauty treatments will you have? We are the exclusive carrier of Tom Ford make-up and we offer the Barrett Fast Face. When you come in and have a service, I want you to feel very glamorous when you leave. If that means you should have a change of lipstick or your eye should be smokier, we will make that happen, at no extra charge.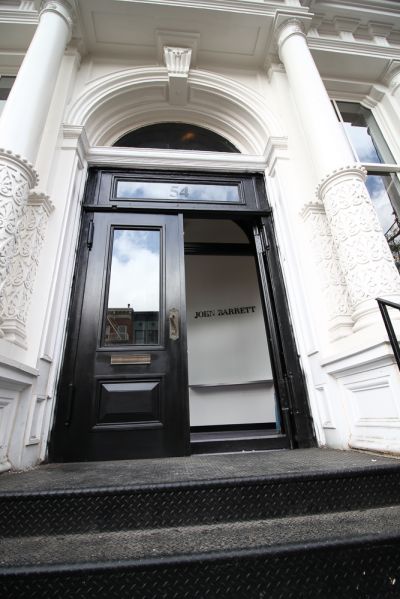 Tammy Felder will also be offering facials at the Bond Street location. How did you find her? We were introduced to Tammy Fender by Sarah Brown, the former beauty director at Vogue. Tammy is one of the best facialists in the country and we are the first people in New York to have her facials. What we've created for her is like a sanctuary room where you leave the city without leaving the city. To start off, you are presented with a tray of oils, about eight or ten oils and you sniff each one. The one you choose, based on how you feel that day, determines the facial you get. All the products are completely natural and it's one of the most luxurious facials I've experienced.
What type of expansion do you have planned for the future? Sometime next year we are going to open up at 1 World Trade Center. The salon was initiated by Anna Wintour and Condé Nast. We're going to be within 50 paces of the entrance of Condé Nast, so we're aiming to be their house salon. Then, towards the end of next year I am going to be opening the John Barrett Mansion at 10 West 56 Street. The mansion was formerly the home of Elizabeth Taylor and it will be the flagship John Barrett. Those are my standalone plans and they keep me up at night, I can assure you.