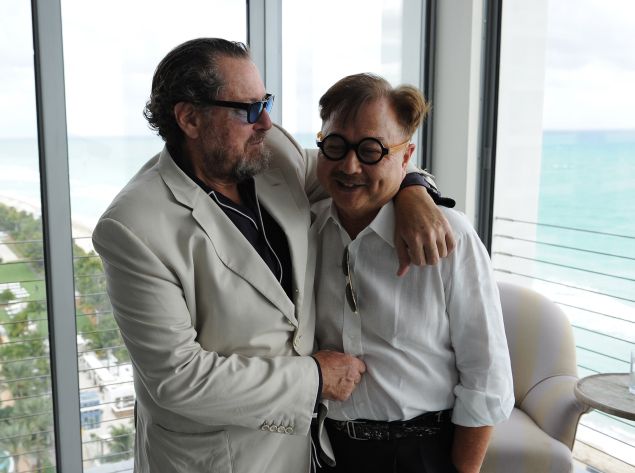 Michael Chow, of Mr. Chow's, is an internationally known socialite restaurateur who has hosted Andy Warhol, Yoko Ono, Cher and the like.
So it was a surprise that stunningly light refreshments were on offer at a Miami Beach party that saluted Mr. Chow's latest project. The fete was sponsored by Christie's auction house, Dom Perignon and US Trust, as we we're reminded more than once. But the scant nourishment was just the initial surreal aspect of the evening.
Mr. Chow's wife took the stage around 10 p.m asking for the crowd's attention so she could speak about her husband's artwork and his book, Voice for My Father. Revelers were entirely unresponsive. The din drowned out Eva Chow until none other than an angry Julian Schnabel took the stage to scold the audience.
'Ah, you shut up. That's good,' said Mr. Schnabel
"Hello?? … Hello? … Hello???" the grizzled superstar artist and director yelled into the microphone. Even then, the audience was mainly interested in downing more Dom Perignon. Mr. Chow employees clad in headsets scrambled about, yelling at each other, in a panic over the situation.
"Hello! I see you," Mr. Schnabel said to someone he recognized. "Ah, you shut up. That's good."
"Could you give just a little bit of respect?" he asked, before handing the microphone back to Ms. Chow.
Taking the stage back, she said "For the third time, I want to say thank you…This show has been coming for a very long time." She was talking about the Andy Warhol Museum's planned exhibition next year of Voice for My Father, which goes up in February 2016 and looks at Mr. Chow's heritage and journey, from Shanghai, to England, to the U.S., in essays and portraits by artists, art world luminaries and himself. But art wasn't really on the spectators' minds. Perhaps they were distracted by the coterie of celebrities at the event: Russell Simmons, Paris Hilton and Julian Lennon, to name a few. There were also art world celebs like Aby Rosen, Jeffrey Deitch, Alberto Mugrabi and Jerome Sans.
Both the Warhol Museum's Eric Shiner and Christie's Brett Gorvy took the stage briefly and made generic thank you remarks, again to an uncooperative, rowdy crowd (it's almost like Art Basel Miami isn't about the art, right?).
Then Mr. Schnabel returned, and he still wasn't happy. "Could you please be quiet for five minutes? If you could just be quiet for five minutes the world would be a better place," he told the room. He wanted to recite a poem (composed by an art historian who once stayed at his house) on the topic of Michael Chow's paintings (Mr. Schnabel said he has several Chows hanging in his home).
'If you could just be quiet for five minutes the world would be a better place,' Mr. Schnabel told the room.
"I hope I don't lose your attention in this moment," he said, while looking through his phone for the poem. "Wow you are being so good… Why doesn't this shit work when it's supposed to? Can somebody do this for me?" he handed his phone off to a woman stage right, then continued: "Anyway, Michael. Michael started being an artist in 1959… He has his big restaurant and a few other ones but what he really wanted to do was paint. The nice thing about getting older is you become older and wiser… Did anyone find my… It's an email…"
Unfortunately, partiers were again getting distracted, to Mr. Schnabel's chagrin. "Girls and boys, shut the fuck up, please," he eventually yelled.
The poem, which seemed more like a statement, read something like this: "Loss, completion, energy, exhaustion… The ecstasy of the moment … Each painting seemed to state reality. Man's greatest depth is his skin, which leads us to believe in the sterility of things and Michael's paintings… They show negation.. They include everybody, if they're ready to go. They glow. They wake us up and they say 'let us live.'"
Mr. Schnabel then welcomed Maximillian Chow, the painter/entrepreneur/food maven's son, to the stage.
"If anyone has ever met Michael, they know he has passion… Whether it's positive or negative." He has a "touch of asshole," Mr. Chow Jr. said.
Then, with no introduction, there was a performance of traditional Chinese dance and music.
Eventually, Michael Chow himself,  having been thoroughly discussed, entered—and sang a traditional Chinese song. For this, there was applause. (This crowd recognizes entrepreneurs, not "poetry," it seems). Then Ms. Chow returned, to introduce Vittorio Grigolo, the tenor who is more often performing at the La Scala Opera House. This interlude might seem random, but is in fact a paean to Mr. Chow's father, who was an opera star in China.
Mr. Grigolo performed a song from La Tosca, and two encores.  Mr. Schnabel, not to be outdone, returned to the stage to sing a short ditty himself. Mr. Shiner, who was wearing body glitter, was very approving.
After Mr. Schnabel concluded his unrequested performance, the crowd begged for more Vittorio, finally awakened from its myopic focus on Dom Perignon.
Seemingly surprising himself, the opera star obliged.
"We are in Miami," he said, as if this explained everything.