Long gone are the days of sacrificing fashion for function while you work up a sweat. The athleisure trend has become a full-fledged movement, making it increasingly easy to don stylish threads from spin class to the streets. More and more, the lines of conventional workout wear blur—paving the way for innovation and experimentation across other mediums. And New York City is the ultimate muse, buzzing with radical creative potential through music, tech, business and style. Not surprisingly, a new partnership is emerging in this ethos: artwork meets activewear. 
BANDIER, the beloved luxury shopping destination and authority on fashion-forward fitness apparel is making waves this week with the release of three new capsule collections. Inspired by the multimedia art showcased at Art Basel, they've produced gear that pairs workout-minded labels with contemporary artists. 
The first in-house collaboration unites London artist Malarko Hernandez with activewear brand Ultracor. The second joins creative director Christopher Lee Sauvé with Strut-This. And the third collection, which will be exclusively available at BANDIER for six months prior to being released to other retailers, is a collaboration between LA-based street artist Upendo Taylor and Reebok—who consulted celebrity yoga instructor and Reebok ambassador Tara Stiles to conceptualize designs for the street-art-inspired yoga wear.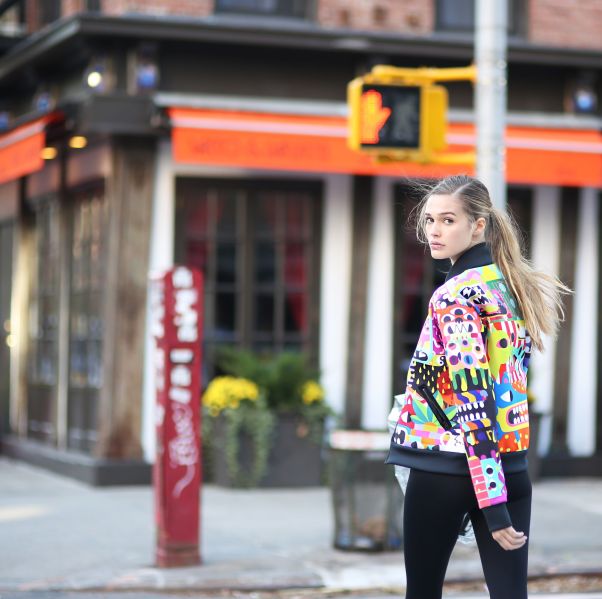 The results of these partnerships are remarkable and are sure to demand full attention whether you're jet-setting or jumping rope. Each collection has its own uniquely distinct feel. 
Hernandez x Ultracor is energetic, slightly zany, and reminiscent of video games from the 90s. The laser-print monster designs are used for two pairs of leggings, a bra, bomber jacket, and tote bag. Strut-This x Chris Sauvé presents an energetic print with a primitive-art-inspired spirit and is displayed on three pairs of leggings and two high-necked crop tops. Reebok's collaboration with Upendo Taylor resonates along similar lines. Upendo and Reebok worked closely to design a 7-piece collection, which includes a printed yoga mat and Hayasu dance sneakers. Across the board, the offerings are sporty and sophisticated, and trendsetters will look uber-stylish at the gym (or, if we're being honest, brunch).
This trailblazing concept of developing each piece to be an active edition of "wearable art" is especially timely. Art Basel Miami Beach begins this week, with gallerists, collectors, art fairs, fashion labels, and luxury brands hosting a smorgasbord of openings, dinners, and late-night bashes. It's the art world rager that just keeps growing. No doubt any selection of these active art pieces will have you easily spotted at The Edition and among the crowds perusing works at NADA Miami Beach. With the fashion and art-centric crowd you'll be IN… and Instagram-ready. 
All three collections are available online starting today bandier.com
Katherine Kerrick is a fitness instructor, model, and writer who champions a healthy lifestyle. Follow her on Instagram @fitnuzz and at www.katherinekerrick.com