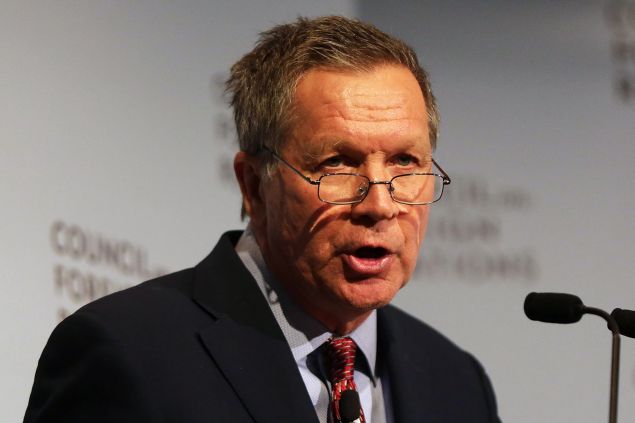 Breaking from politicians on both sides of the aisle and law enforcement officials, Gov. John Kasich of Ohio warned that creating a so-called backdoor for the government to access encrypted devices could end up aiding hackers.
The Republican presidential candidate, speaking at a Council on Foreign Relations event in Manhattan today, echoed the concerns of many cybersecurity experts.
"The minute you begin to solve the encryption problem by [allowing] our security officials in the building to get in the backdoor, it opens the possibility for criminals to be able to use that same backdoor, those who want to harm us to use that same backdoor to exploit access to that encrypted technology," Mr. Kasich said.
Law enforcement on the local and national level have said more sophisticated encryption technology makes it increasingly difficult to track terrorists around the world. President Barack Obama recently hinted that he would apply pressure on tech companies like Apple who offer encryption apps, and both Mayor Bill de Blasio and NYPD Commissioner Bill Bratton have criticized the technology for allowing terrorists to evade surveillance.
Mr. Kasich asserted that the husband and wife pair who killed 14 people in San Bernardino, Calif. last week were using encrypted phones to avoid detection from the FBI and CIA, though FBI Director James Comey did not say that encryption was used to carry out the attacks. There also wasn't evidence, beyond a few minor interactions, that the Islamic State terrorists who launched the devastating Paris attacks last month used encrypted devices to hide their communications.
Academics and cybersecurity experts have argued that a backdoor to these devices and apps would irreparably compromise their security and even economic viability. Terrorists have also been using encrypted devices, albeit less sophisticated ones, since the 1990s.
Mr. Kasich didn't have a concrete solution. He simply said he would get smart people together in a room to figure out an answer.
"There is not a single problem that we see that cannot be fixed if we get smart people in a room with good intentions, you can fix it," he said. "You get in a room and you get the best people you can to fix it."