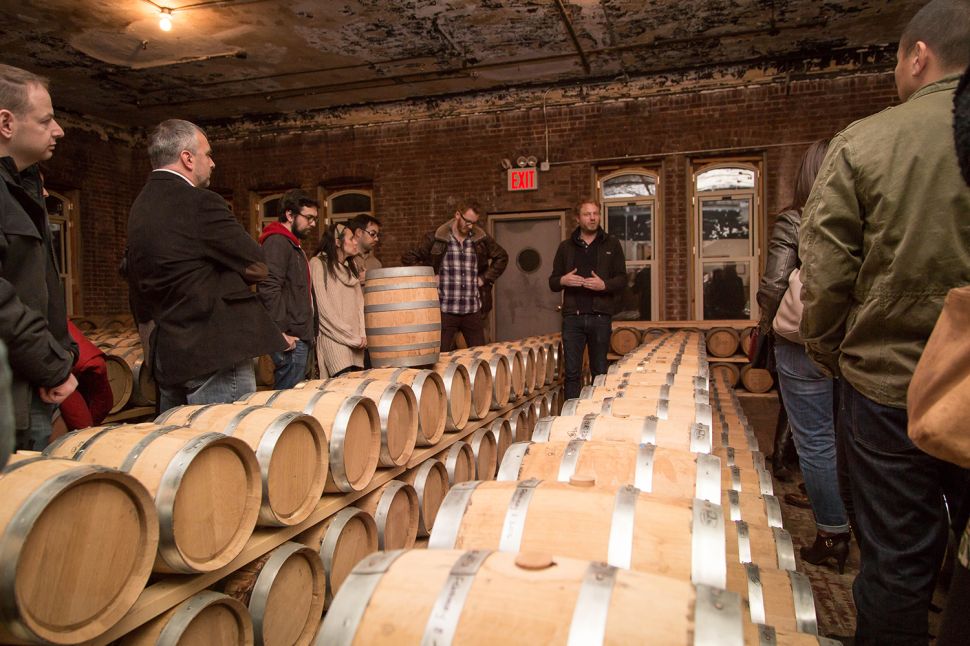 Sitting atop a bag filled with a ton of cracked upstate New York corn, Colin Spoelman told a group touring the Kings County Distillery inside the Brooklyn Navy Yard, facing out on Wallabout Bay, about the idea that pushed him to co-found New York City's first spirits maker since Prohibition. "If you remove age as a variable," he speculated aloud, "surely there are other variables that make whiskey good."
To test that premise, he first made unaged spirits in his Williamsburg apartment, while he searched for the recipe and the process that would produce a moonshine people liked drinking. Mr. Spoelman, then an employee at an architecture firm, founded the company in 2010 with New York magazine deputy editor David Haskell. The duo made their first batches in Bushwick. The Kentucky-raised Mr. Spoelman is now the company's master distiller, but his at-home experiments were completely illegal, which makes him a proud member of the borough's tradition (as well as his home state's).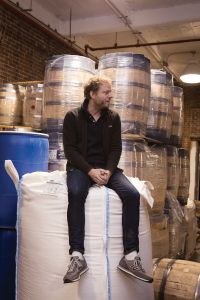 As we toured the tasting room's Boozeum, whose walls display artifacts from yesterday's liquor makers and the distillery's many experiments, Mr. Spoelman walked us through the highlights of American distilling history, which began in 1640 on Staten Island—though no one is completely sure what exactly was distilled there. Across the river, Brooklyn's first distillery, established in roughly 1767, stood near where present-day Atlantic Avenue meets the water. During the Revolutionary War, the British would seize the place to make beer for their troops. ("Alcohol was really important for warfare in those days," Mr. Spoelman said.)
As the steam ferry populated the borough with working-class families, many aboveboard and underground distilleries rose up in the area. 1869's Whiskey Wars of Brooklyn stemmed from the spirits taxes levied to help finance the Civil War (the sin tax also extended to playing cards and pianos). Later, the taxes went toward Reconstruction, and the Irish neighborhood known today as Vinegar Hill was teeming with tax-dodging distilleries that brewed some 35 million gallons each year. Federal revenue agents would meet with soldiers in the Navy Yard and head into the neighborhood to close the illegal stills.
"This is kind of the Gangs of New York era," Mr. Spoelman said.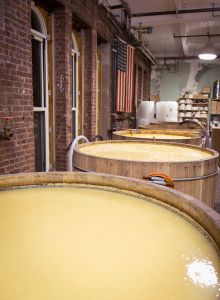 Two years of violence would culminate with a tax agent being shot and killed by illegal liquor makers, and public sentiment became more wary of moonshiners. (Later, the neighborhood would become known as the birthplace of Al Capone.)
Fast forward to the present, and a public considerably more positively predisposed to distillers. Mr. Spoelman described his process as starting with making what amounts to grits, with corn and malted barley. The liquid from the mash is strained into vats built by local water tower makers the Isseks Bros, where it's brewed into a beer and then distilled into liquor.
For bourbon, that liquor is aged in a brand-new, charred barrel for at least a year, maybe two. (American bourbon, by law, has to be made in a new barrel, because, like a tea bag, a barrel lends the lion's share of its flavor to its first cask of liquor.) Prices on larger barrels have gone up some 30 percent, Mr. Spoelman said, as U.S. cooperages struggle to keep up with the demand. (Fortunately, makers of other drinks like to buy used bourbon barrels.)
In the Kings County aging room, we saw row after row of barrels at work, giving bourbon its color and most of its taste, as the spirit moves in and out of the charcoal and wood with changing temperatures.
A few attendees grilled Mr. Spoelman about the importance of aging. "Older is better, right?" Mr. Spoelman replied, with a note of sarcasm. In fact, he said, you want to bottle whiskey when it's absorbed just the right amount of the barrel's flavor, not as much as possible.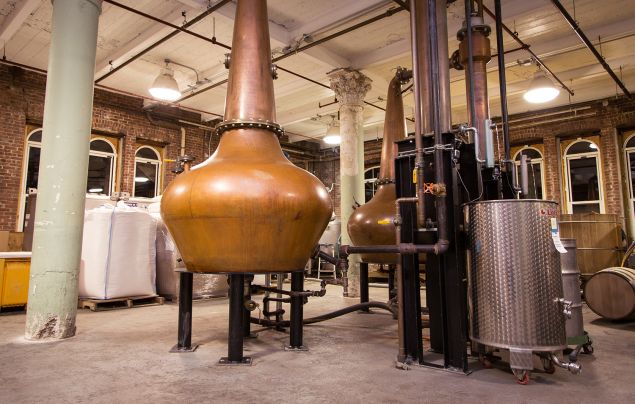 "We're always envisioning future businesses," Mr. Spoelman said, pointing out large barrels containing bourbon aging for what may be a decade or more, and others filled with an oatmeal whiskey. He is especially proud of the company's peated bourbon. It will be in stores next summer, but it's in their tasting room now (which is open most Saturdays).
We sampled some moonshine (much like tequila), a pumpkin spice bourbon and a chocolate bourbon (infused using Mast Brothers' leftover cocoa husks).
Mr. Spoelman did a brisk business as the tasting ended. The group expressed surprise at how much they liked the version with the dreaded pumpkin spice. But the straight bourbon ($40, 375 ml) stood out for its smoothness. Feel free to add an ice cube to your tumbler of Knob Creek, but to one of Kings County Bourbon? That might be a bit of a crime.