Though Ronnie Fieg and his brand Kith have reputations that precede them both, to really experience everything to do with the creative director's just-launched women's line, you need to feel the pieces.
Available online and at the Noho-located Kith Women's store, the 15-piece range is categorically "athleisure." "This is the lane we've become best for in men's," Mr. Fieg told the Observer when asked why he chose to tackle that trend for the range's launch. "And, I think there's a big void for it in the women's marketplace." To fill that void, Mr. Fieg assembled a design team headed by a Public School alum, sourced fabrics like Japanese ponte and soft satins in Italy and Japan and created a collection of elevated, functional basics. A marked difference from other athleisure brands? The absence of logos and the material choice.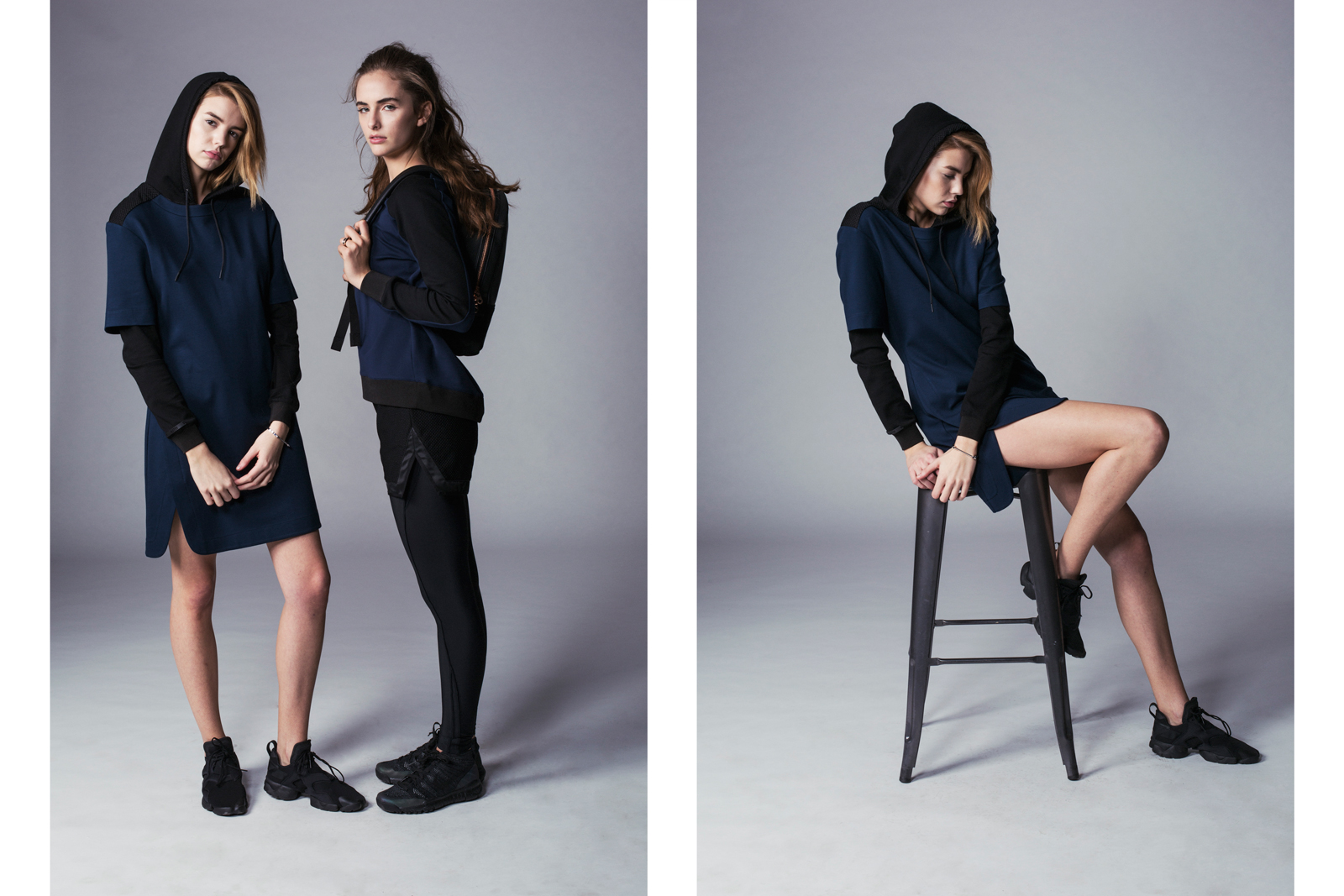 "We really [got started on this] about a year ago," Mr. Fieg explained. "I thought it was an evolution of the brand because we kept seeing smaller sizes in men's continually selling out. We saw a lot of women Instagramming and walking around in our apparel." Take Gigi Hadid: a month ago she was spotted around New York wearing a Kith Classics bomber. But, instead of just recreating those pieces, the former David Z's employee and his team decided to explore a bit.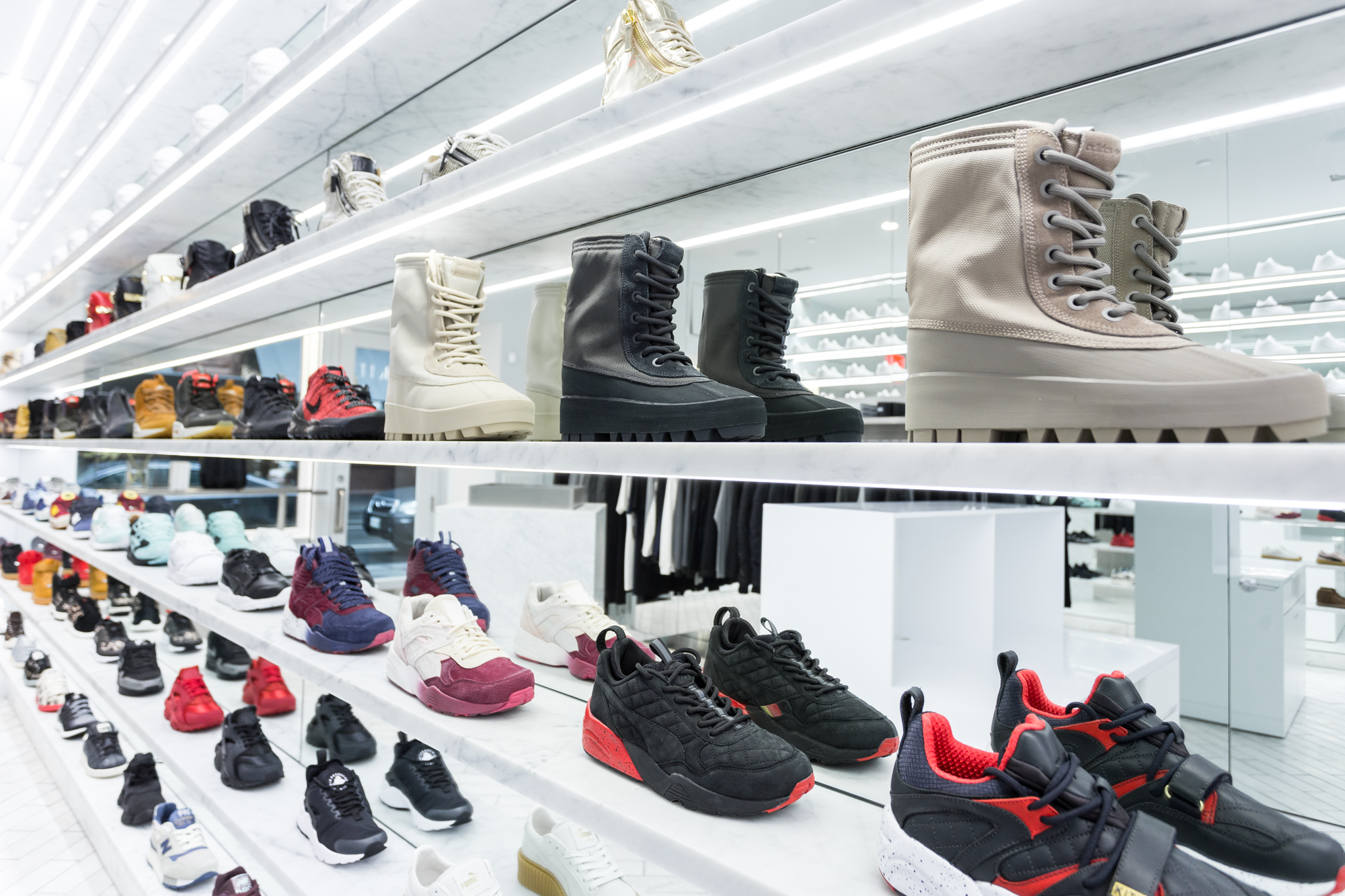 "We really wanted to just test the waters on fabrics that we haven't tried with men," he said, taking a hold of the line's Eden sweatshirt. Turning it inside out he revealed the soft, brushed lining, almost sumptuous to the touch. The detail underscored the elegant underpinning of the pieces which were all made in the "most expensive factory in Asia" according to Fieg. The same factory makes pieces for other New York brands that are marketed at the contemporary price point.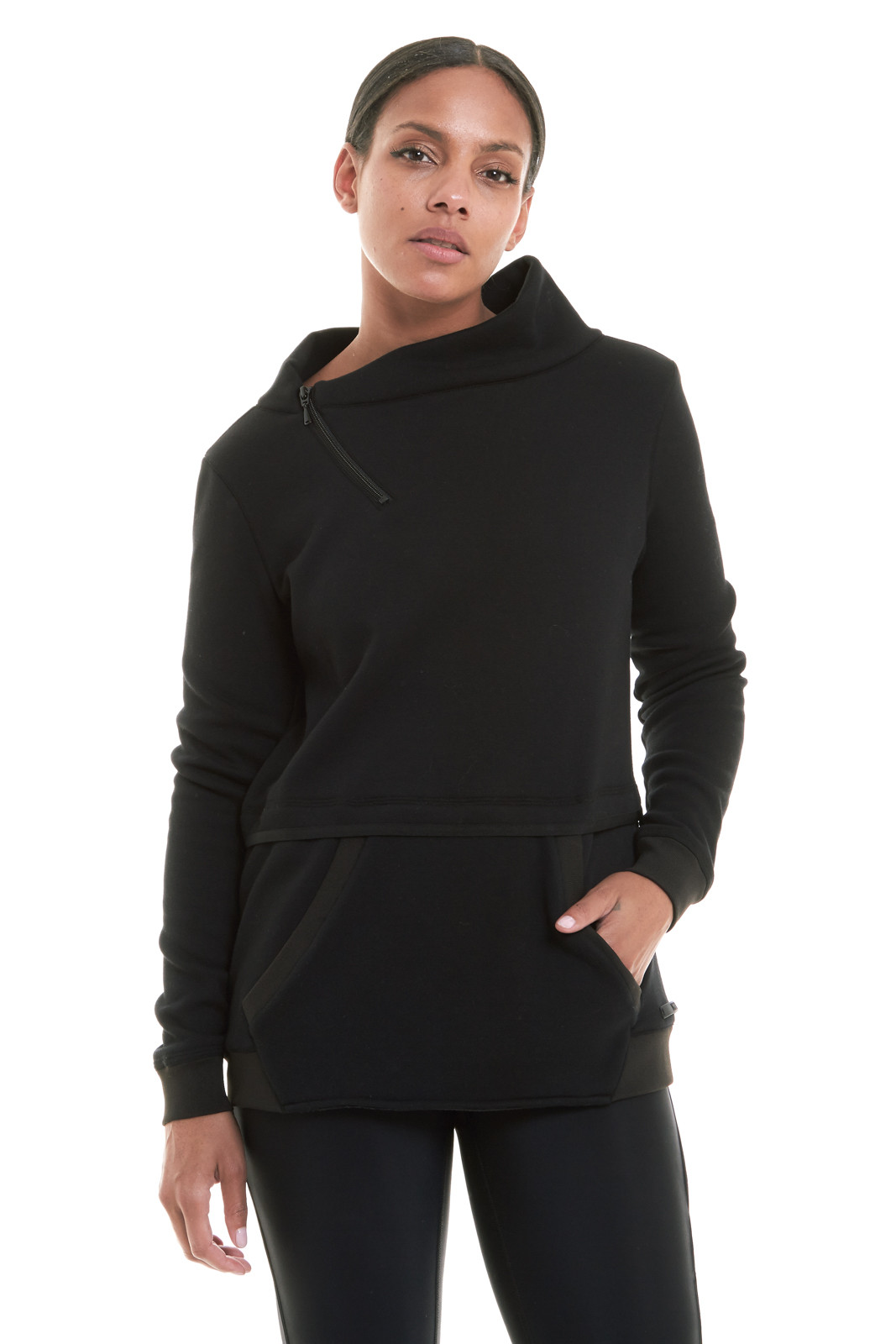 To get the full experience, shoppers can head to the brand's debut women's store at 64 Bleecker Street. Kith regulars won't find themselves too unfamiliar with the 400-square-foot space which was designed in partnership with Snarkitechture (the firm also worked on the Brooklyn and Manhattan store redesigns). Continuing with a theme started in the Manhattan location and continued in Brooklyn, the women's shop features an installation of white cast Air Jordan 3s to signify that it's the company's third retail venture. Shoes by the likes of Buscemi, Asics and Adidas (there are a few Yeezy boot leftovers) stock the shelves on one wall while the small batch, Kith Women's debut hangs on the other.
"Say you're attending college and you're in class," Mr. Fieg said when asked about his small batch-release method. "You don't want to see the person next to you wearing the same goods." And with only 75 pieces per color, per style, that's not likely to happen.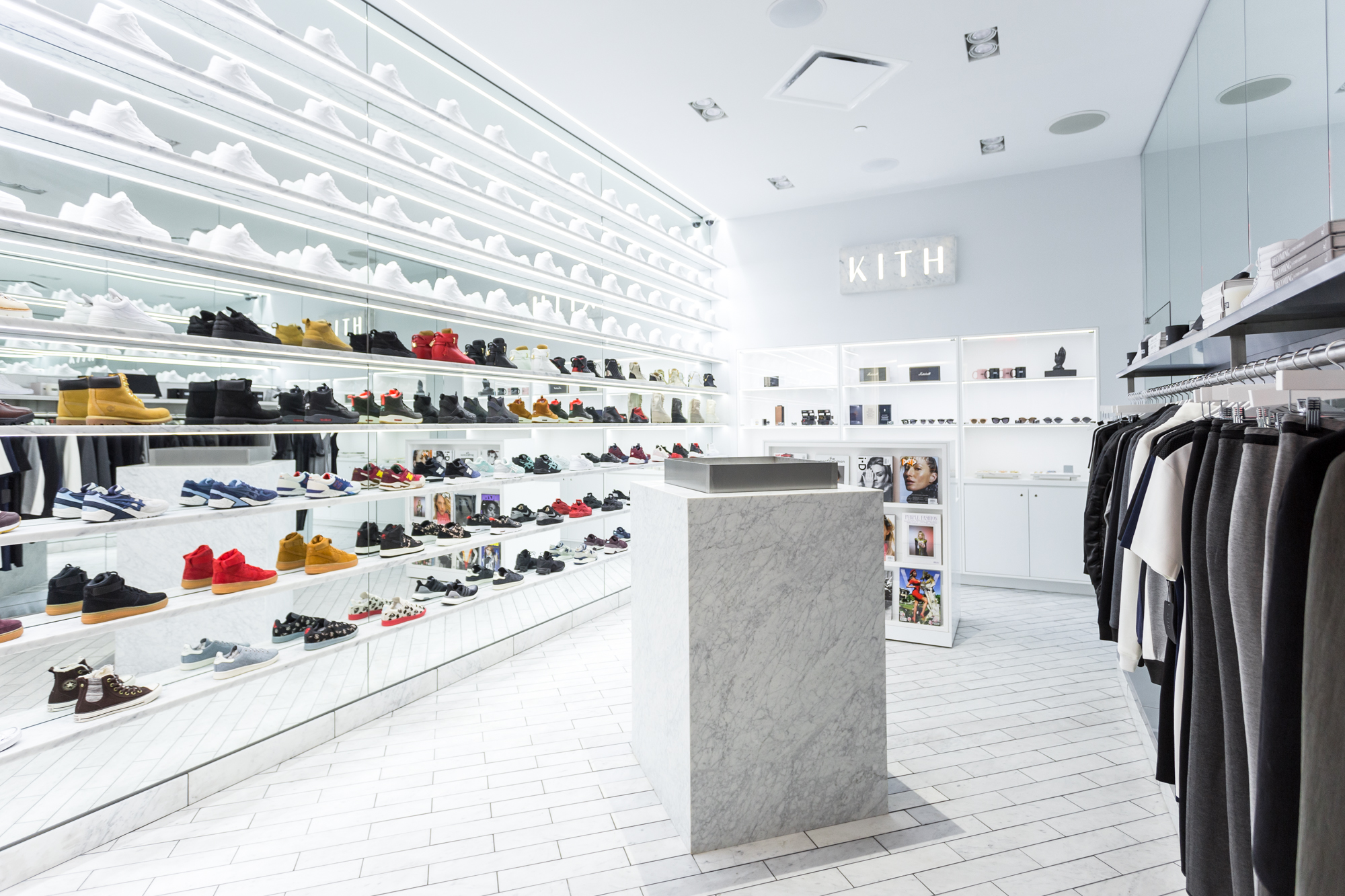 In addition to sweatshirts, the line has an enviable bomber jacket, hoodies, leggings and sweatpants. The Jordan dress leaves a distinct impression as it is a dress/jacket hybrid made from an air-injected knit fabric.That piece tops out the line's current offerings at $385 while the Danika abbreviated bomber in French satin is $295. Expect a follow up collection by May of next year.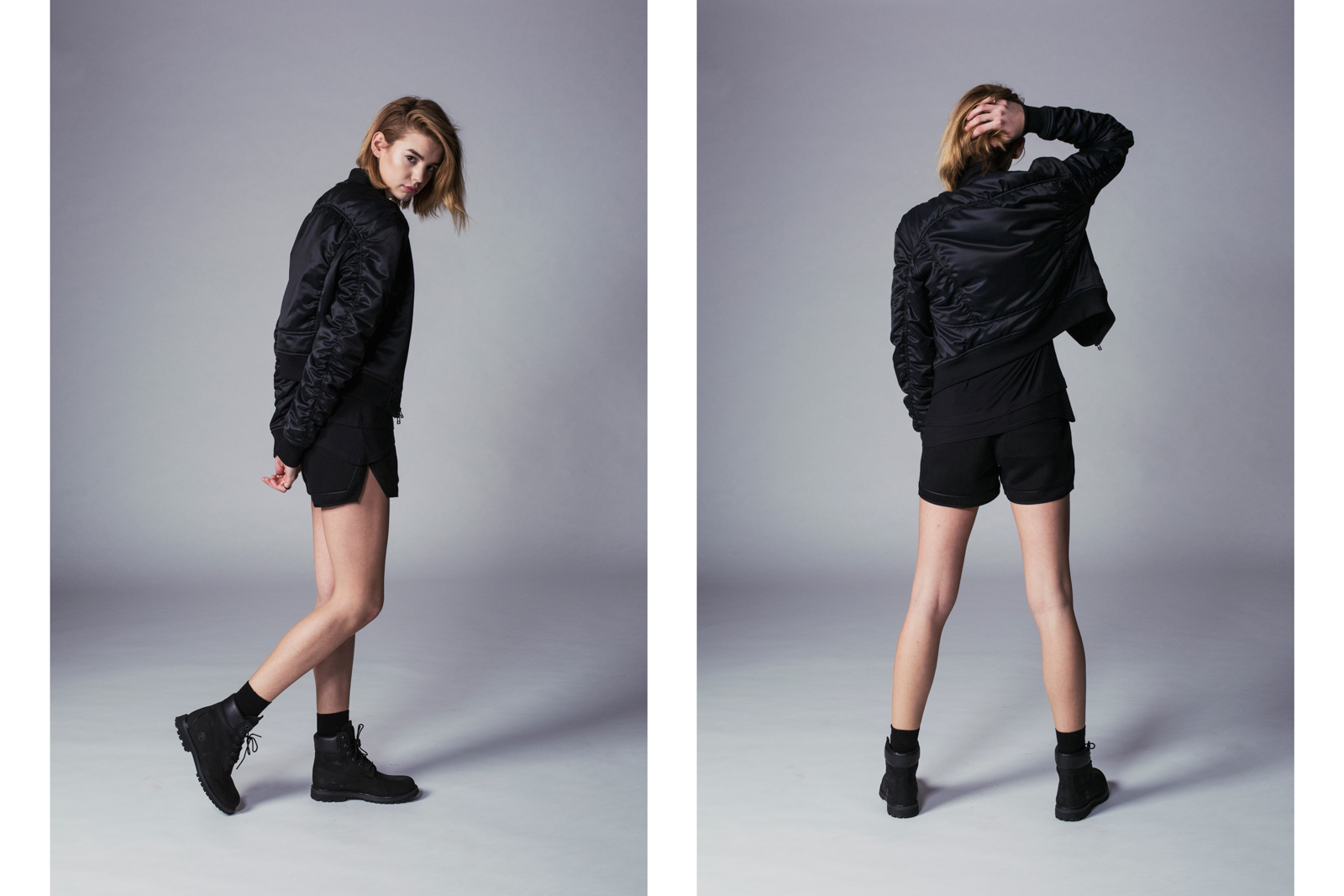 As a bit of a design flourish, the store also features a dumbwaiter at its center of the same custom white Carrera marble covers the floor is made of. The device allows sales associates to retrieve products for customers from the basement stockroom. "When you give [Daniel Ashram of Snarchitecture] time to think in terms of space, he comes up with really good ideas," Mr. Fieg said of the addition. "Me being who I am, I like to push the envelope and push the culture a little bit and make it about the overall experience; that's more important to me."