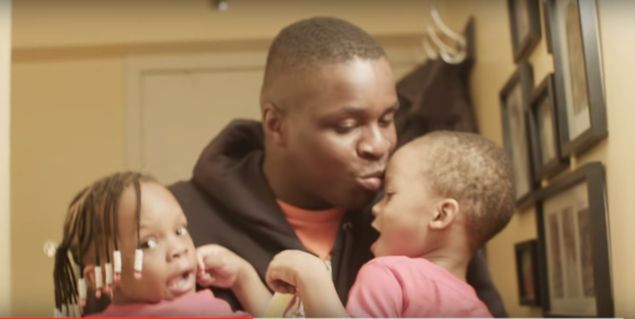 The Building and Construction Trades Council today began an online and radio campaign to highlight the benefits of union membership—especially to minorities.
The two-pronged attack is part of the labor coalition's new "Middle Class Strong" initiative, consisting of a video on its website and an audio clip going out over the airwaves. In both, a man named Justice Favor recalls how he "grew up in poverty" but gained access to a higher standard of living through his union, which he says "embraced me wholeheartedly."
"They help those that's struggling by preserving careers, and that is one way to preserve the middle class," he says. "I'm still earning a lot more than I was earning working non-union."
Mr. Favor, a black man, talks about his acceptance into a union apprenticeship program, which the Building Trades Council touted as a key part of its effort to recruit record numbers of minorities. Lack of diversity is frequent point of criticism for construction unions.
The ads come amid a spike in deaths on job sites, most of them non-union, and as construction labor is locked in two major fights. Building and Construction Trades Council President Gary LaBarbera is in a backroom tug-of-war with the Real Estate Board of New York industry group over new prevailing wage standards Albany resolved must be written into the controversial 421a tax exemption for new development.
Should labor and real estate fail to come to an agreement by January 15, the prized abatement will expire completely.
On another front, the unions are battling to get more of their members hired to build the 60,000 new affordable apartments outlined in Mayor Bill de Blasio's housing plan—which the mayor and the affordable housing industry have so resisted. Mr. LaBarbera led a massive rally at City Hall last week where Manhattan Councilman Corey Johnson announced a new bill that would obligate workers on all projects taller than 10 stories to complete a state-approved apprenticeship program—which are almost universally run through unions or through unionized companies.
"This is the latest wave in our ongoing effort to reinforce to public officials, the real estate community and the general public that union construction jobs represent a clear pathway to strong middle class careers with good wages, benefits and retirement security, as well as rigorous training and safety standards," Mr. LaBarbera told the Observer.
Critics of Mr. Johnson's proposal have pointed out that the majority of construction site deaths are on projects shorter than 10 floors.
Watch the video below:
[protected-iframe id="deb36bb137e79ee61146cd741051850d-35584880-66645959″ info="https://www.youtube.com/embed/AWugcPVNgNY" width="560″ height="315″ frameborder="0″ allowfullscreen=""]