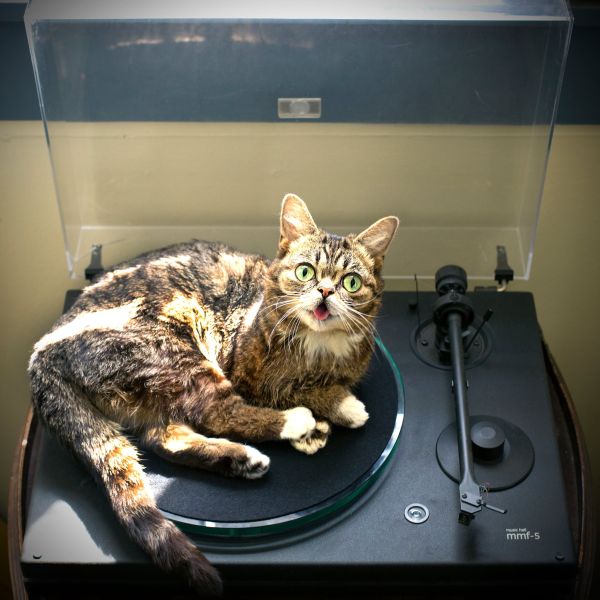 I'd just like to preface this article by saying that there are two things I love most in this world: cats and music. On the rare occasion that the two things I love combine, I have to know why, how and where I get all of the information available ASAP, which brings me to this: Lil Bub's debut record Science & Magic. Okay, so I totally lay awake at night staring at cat photos on Instagram and pretty much freak out anytime I get a message about a new photogenic cat that's going to be the next Justin Bieber (or Selena Gomez) of cats. I could look at Bub's adorable, big eyes and cute stuck-out tongue for days, but to be honest, her success in her mere four years on planet Earth has been pretty astounding. Not only does she have her debut record coming out, she's starred in her own documentary, has her own column on NYLON and basically gets to hang out with all of your favorite Instagrammable cats at festivals. That's quite a lot for a cat. I post photos of my cat to Instagram in hopes that someone will be like 'your cat will go viral,' but it's not just any cat that can have the following that Bub has garnered.
This year, with the help of her owner Mike Bridavsky and Matt Tobey, Bub's vision and enigmatic existence has been placed into a musical format—it's something that falls in between Pink Floyd and Godspeed You! Black Emperor. Prior to the album's release (you can get it today), we chatted with Bub and her human companions about all things cats and music.
So Lil Bub has a column, a documentary, a television special and now an album. What's next?
Mike Bridavsky: The big thing is this video game we're working on for her. It's really cool. As with all Bub things we do, it's not just your average video game. I don't even know if it has a name yet, but it's very reminiscent of Super Nintendo era—platformer and shooter. So, the video game is the thing I'm probably most excited about.
Do you think it'll be as addictive as the Kardashians video game?
Bridavsky: I didn't even know there was one. I don't know anything except for things about my cat at this point in my life. I didn't even realize who the Kardashians were until a few months ago probably. I've heard they're names and I know they're famous but I didn't know what they did. I still don't know what they do.
It's like asking Madonna, why an album? Well, she's good at music.
I know Bub has a lot of musical supporters. Andrew W.K. and Run The Jewels are fans. Why did she decide to do an album?
Bridavsky: Well, you'd have to ask her that. It's like asking Madonna, why an album? Well, she's good at music. The non-cryptic answer would be that we've been doing videos for a long time, and I'm also a musician and own a recording studio. Matt is one of my best friends, bandmates and also Bub's original 'bubbysitter,' since the beginning. He was my neighbor, and I lived in the apartment above the garage to his house. We're all creative people, and we like to do fun things. I needed Bub music so I asked Matt if he wanted to write some quick tunes in the studio I could use for Bub videos. They were really great, one thing led to another, people really liked the music and I really liked the music. Then we thought, let's make an album. It really just was a fun sort of project to do. My friend Karl [Hofstetter] who owns Joyful Noise asked if I wanted to do a debut album. That's the only reason why we finished the album.
So, are Bub's noises on it?
Bridavsky: Yeah, there are Bub noises on it. It wasn't meant to be a kitschy, novelty kind of thing. The music really represents Bub. It was written about Bub, and in some ways, we truly believe it was written by Bub. We wouldn't have written this record if she didn't exist and didn't require this music to be made. It would have been easy to throw a bunch of Bub sounds on there, but we did it very sparingly and right. She does appear on the album, but mostly her spirit is all over the damn thing. There's purring.
How does she respond to the music when she hears it?
Bridavsky: Well she responds to it the way she always responds to anything she creates: she loves it. On her planet, there's no such thing as modesty. If you do something good, you enjoy it.
Read more: How to photograph your cat to Internet fame
Why did you make the music so psychedelic and magical?
Matt Tobey: I think the style of the music came out in making it. When Mike asked if I would make music that embodied the spirit of Bub, I was like I'll just sit down on the computer and mess around on the keyboard. I just went with it and it was like 'this seems right.' It's just a mix between weird video game sounds, ambient spacey sounds and squanky percussion. It was whatever seemed to make sense for Bub.
How did Bub contribute to Meow The Jewels?
Bridavsky: A friend who books shows is a big fan [of Run The Jewels] and saw the announcement and put us in touch. I have a library of Bub sounds that we use for a lot of stuff and sent it to him. There's a song called 'Meowpardy' that features Bub sounds, I think.
[youtube https://www.youtube.com/watch?v=PN1ZGtwso2k]
Bridavsky: I find it to be excessively mysterious, which is exactly what Bub is.
As a cat owner, is she the most unique cat you've ever come into contact with?
Bridavsky: Oh yeah. You've got to realize that when I got her as a kitten, I genuinely believed she was the most amazing creature on the planet. It was like, 'what is this thing'? She was found as a feral litter. As soon as I saw her and got her, she was almost a different, unique creature as a kitten. Her eyes were spaced apart, but her tongue wasn't sticking out. She had this weird beak-looking thing. Everything about her—her presence and the way she deals with situations-is really unique
Tobey: She looked more like an alien than a kitten. I really don't think any other cat would be okay with being a room of hundreds of people.
Bridavsky: She gets stressed, but not from the things you would think. There's like one in a thousand people she doesn't like.
How do you guys communicate with Bub?
Bridavsky: Bub and I definitely communicate in many ways—through telepathy mostly. She doesn't speak English. We have an intuitive relationship. Musically it's a little weirder than that.
Tobey: When I normally make music, I'm always questioning myself and questioning how people will react to it. With Bub's music, it was like 'this is really fun' and it went really fast. It was nothing like anything I had ever written.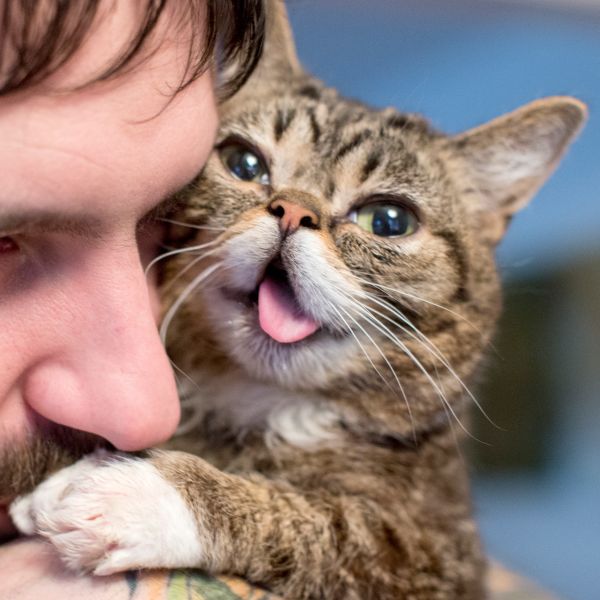 How do you think Bub has been more cathartic for you guys in different ways?
Bridavsky: My relationship with Bub is multi-faceted and very cathartic. I meditate with her. She definitely calms me down, but she stresses me out when she gets sick or is hurt. She just had surgery.
They had to shave her side.
Bridavsky: I like that part.
She's a punk-rock, badass kitty.
Bridavsky: This is the way she was able to get a cool punk-rock hairdo before her record signing tour.
What's one question you would ask Bub if you could?
Bridavsky: Why now? Why is she here on Earth? Why me?
Maybe she came into your life when you needed it the most. Has Bub befriended a lot of well-known cats with big followings?
Bridavsky: Princess Monster Truck. Well, let's say this, Bub doesn't have any pet friends, but we have became really close friends with the owners. I've met pretty much all the cats Nala Cat and Pudge.
Do you think all cats should have albums?
Bridavsky: No. Just like not all cats should be famous. It's pretty obvious why she got famous-it's because she's Bub. It's really her thing. People are always like 'how do you make your cat famous'? It's like, you don't. I have other cats who I think could and should be famous, but they definitely aren't, and I'm not going to try.
Now that Bub is a musician, what's on her rider?
Bridavsky: Well, the only thing on her rider is Brown Cow yogurt. It's actually really good for them because there's very little lactose, and it's really good for their tummies.