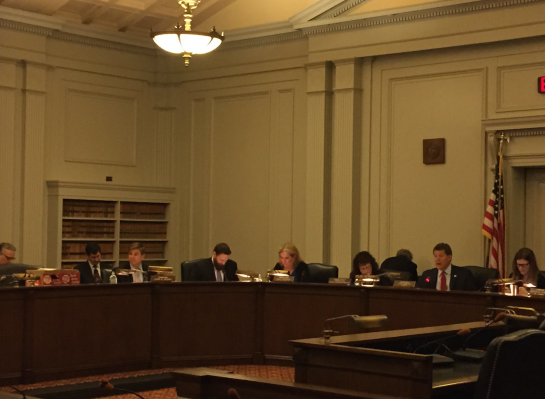 As the Assembly Judiciary Committee debates four bills this morning, South and North Jersey are facing off on gaming and Republican members are speaking out against the Dems' new penchant for constitutional amendments. The four bills would introduce amendments allowing new casinos in North Jersey, devoting gas tax revenue to the Transportation Trust Fund, requiring quarterly payments into the state pension fund, and changing redistricting standards.
Check back for live updates:
ACR2  – "Proposes constitutional amendment to allow Legislature to authorize by law establishment and operation of casinos in certain counties." – PASSED
Assemblymen Chris Brown (R-2) and Ralph Caputo (D-28) open the committee hearing with back-and-forth debate, with Caputo arguing that New Jersey is missing out in the east coast's gaming market depsite its saturation.
Brown challenges Caputo on the new casinos' likely effect on Atlantic City, citing 2010's Hanson Report, which appointed and emergency manager and established the city's tourism district: "Would you be willing to pull the resolution? Let's get the study done, let's make sure we do it right."
Caputo points to layoffs that followed the Hanson report: "I appreciate your advocacy, because you and i have had these discussions before, but I think you're in denial."
Caputo: "You're going to lose two or three more casinos. Do you have any understanding of what that means for the citizens of Atlantic County and the state of New Jersey."
Chairman John McKeon (D-27) threatens to halt the hearing if the proceedings continue to be a debate between Brown and Caputo and not a question and answer format between Caputo and the committee.
Brown cites a Stockton study claiming new casinos would siphon 49% of Atlantic CIty gamblers and asks Caputo on market saturation: "Where is this new market going to come from?"
Caputo diverts Brown by bringing up the shuttered Revel casino: "You don't need to blame me or anyone else, or any investor who wants to invest, for the failure of those properties to make a profit."
Asemblywoman Holly Schepisi (R-39) criticizes committee for "cramming" four amendments into one hearing when each deserved its own.
The bill passes committee, with McKeon qualifying his 'yes' vote by saying he believes the damage to Atlantic City is near-irreversible at this point.
ACR1 – "Amends State Constitution to dedicate all State revenues from motor fuels and petroleum products gross receipts tax to transportation system." – PASSED
Schepisi, to laughter from the committee: "I'll give you one 'yes' today."
The bill passes committee.
ACR3 – "Proposes constitutional amendment to require payments by State to State-administered retirement systems and establish in Constitution right of public employees to pension benefit; provides for enforcement of funding obligations and benefit rights." – PASSED
NJEA president Wendell Steinhauer testifies, claiming that quarterly payments would save billions compared to yearly payments: "That's by making the exact same contributions, but not waiting until the very last minute to do it."
Americans for Prosperity's representative says "You're all states-persons, and you're all above doing what you're doing today."
After AFP's rep makes a reference to someone no longer being "on the planet," McKeon says "It sounds like you had him taken out" to laughter from the room.
Schepisi: "Do I believe we should fully fund our pension system? Yes. Do I believe that we should constitutionally do something that we as legislators don't even understand the implications of? No."
Noting that she supports the intention but not the constitutional route, Schepisi said rating agencies and lenders should have been part of the conversation and votes 'no.'
Brown says he also would have supported a statuatory solution: "While I very much support the intent and the theory, and we'll revisit it hopefully with more attention in the future, at this time I will abstain."
Lagana notes contra Schepisi that credit rating agencies have pointed to the pension crisis as a leading cause of New Jersey's downgrades, votes 'yes.'
McKeon, on credit agencies and the failure of 2011's law promising full pension payments: "That might just have something to do with our downgrades, 11 consecutive times."
Bill passes committee.
ACR4 – "Proposes constitutional amendment to change membership of legislative Apportionment Commission; imposes certain requirements on commission for process and legislative district composition." –PASSED
Schepisi: "We had a judiciary meeting on Monday. There was no mention of this whatsoever." Adds that information on the bill was not offered to members of the committee until Tuesday, saying "The only information we had on this was an article from Politico."
Brown says simply "No."
Bill passes committee.