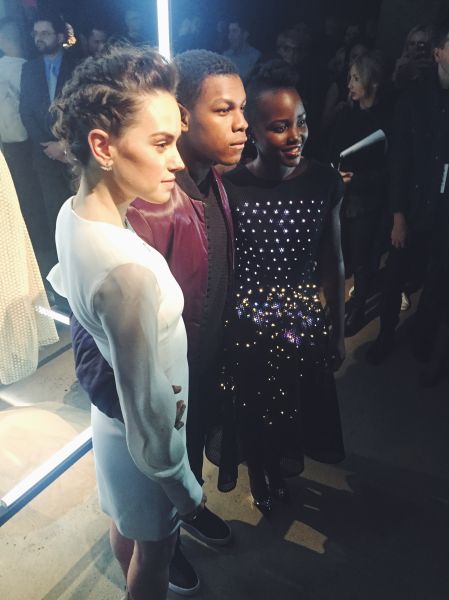 Lupita Nyong'o hit the party circuit in New York last night, hopping from a chat with Trevor Noah on The Daily Show to a soirée to celebrate the Star Wars "Force 4 Fashion" collection. Of course that all sounds very ordinary, except that her outfit for the evening was anything but. Because it was glowing, literally.
Created in partnership with Zac Posen and Google Made with Code, the not-so-simple black fit and flare frock was encrusted with tiny LED lights. Making this dress even more special is the fact that young girls from across the country were the ones that made this glowing outfit possible.
While official red carpet images of Ms. Nyong'o don't share anything spectacular, a party reveler from last night told us otherwise. "Literally, it looked like one of those t-shirts with a sound bar that changes and lights up in different patterns to the music. But her dress was meant to look like the galaxy," our party spy explained. See what we mean in the Instagram below.
As for the crowd's reaction to the lights? "People were confused in a good way," the party girl told the Observer. "They were saying, 'Oh my god, Lupita's dress. What was that?'"
Google Made with Code aims to encourage school age girls to embrace a future in coding; their website states that currently 0.3% of high school girls plan to major in Computer Science when they attend college. The Google program was created because women aren't equally represented in this field, which powers nearly every aspect of our technologically advanced lives, from filmmaking, healthcare, fashion design and beyond.
Aspiring coders (of any age and sex) can even attempt to create a version of Ms. Nyong'o's dress on the Made with Code website. And perhaps a tech-fueled career change will be in the cards.