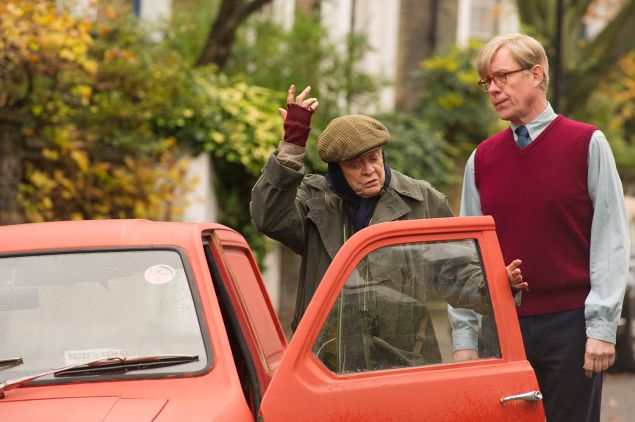 In a collaboration formed for treasure seekers, Alan Bennett, one of England's finest writers, renowned director Nicholas Hytner, and Dame Maggie Smith, one of the world's greatest actresses, team up for The Lady in the Van, a memorable and comedic slice of life that also redefines the word "eccentric." It puts the tinsel on this year's holiday tree.
---

THE LADY IN THE VAN ★★★½
(3.5/4 stars)

Written by: Alan Bennett
Directed by: Nicholas Hytner
Starring: Maggie Smith, Dominic Cooper and James Corden
Running time: 104 min.

---
Mr. Bennett, who wrote such accomplished works for stage and screen as The History Boys and The Madness of King George (both directed by Mr. Hytner), has a fondness for taking incidents from real life, embellishing them with enough flourish to make them stage-worthy and calling them "mostly true." So I don't know if we can literally take the incidents in The Lady in the Van as gospel, but you can quickly see why they were a smash hit on the London stage in 1999, and why, on face value, they add up to a doozie of a movie. This is the bizarre and intriguing tale of what happened one morning in London when the esteemed Mr. Bennett peered out of his window to see a peculiar and battered van parked in his driveway at 23 Gloucester Crescent, occupied by a strange old hag of curious origins who called herself "Miss Shepherd." Moved by a sense of charity toward the homeless and the absence of any concrete idea of how to get rid of her, the reluctant landlord tolerated her cluttered, invasive and extremely malodorous presence, thinking she'd tire of her surroundings and eventually move on. She remained there, noxious and implacable, for the next 15 years.
For reasons that should be immediately obvious, Miss Shepherd is a vehicle tailor-made for the riveting Maggie Smith. Insinuating herself into Mr. Bennett's tranquil life, helping herself to the use of his toilet, dodging the police, disguising the stench of her careless hygiene with Yardley dusting powder, the old crone sells pencils, thus justifying her station in life as "self-employed." Curious as Sherlock Holmes on a new case (and perhaps sensing the embryo of fresh material in his own backyard), Mr. Bennett investigated his new tenant. Her name was Mary. She was unreasonable, cantankerous, demanding and delusional. She said she was once a nun, then a concert pianist and an ambulance driver in the Blitz blackouts. She spoke fluent French and spent some time in a lunatic asylum. A neighborhood eyesore and a social disaster, she almost gave Mr. Bennett's mother a stroke. "What will people think?" she asks. "This is London," replies Mr. Bennett. "Nobody thinks anything!" 
The author is a bit odd himself, riding a bicycle to the National Theatre to act in his one-man monologues. Or maybe that's just the way the wonderful actor Alex Jennings plays him—as two Alan Bennetts instead of one. One lives in the house, the other observes and writes everything down for posterity. And he never seems to run out of inspiration—from the boa constrictor and four peacocks in the garden to Miss Shepherd's eventual addition of an automobile to match the van, painting them both canary yellow with a kitchen scrub brush. Mad to the end, she compared herself at her own gravesite to Bernadette of Lourdes. As Mr. Bennett began to piece the remnants of her life together to form a puzzle, a play evolved that became a sensation. The movie version is less remarkable because on film a concise piece of dramaturgy spreads like a fan. Nevertheless, the lady in the van grows on you, like a vine.
I confess I do not find Miss Shepherd as endearing or captivating as Mr. Bennett, but there is little in life more delightfully fulfilling than sitting in the audience—any audience—and watching a stage or screen where Maggie Smith establishes squatter's rights. She chews scenes like steak and crunches dialogue like potato chips. And the perfect timing of her cockeyed duet with Alan Bennett in The Lady in the Van, aided by supporting cameos from such delectable wits as Frances de la Tour, Jim Broadbent and James Corden, proves despite much suspicious poetic license, that every life—no matter how unconventional or repellent—is worth probing if you're a born storyteller, which both of these wunderkinds most assuredly are. Savor them while you can.