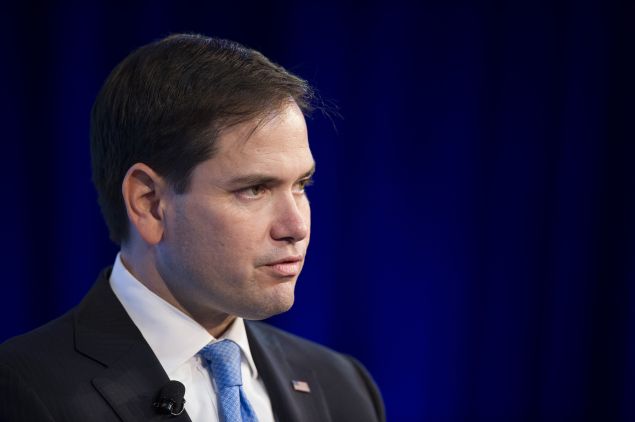 Speaking at a prominent Jewish forum this morning, Sen. Marco Rubio of Florida proclaimed that Israel is facing a struggle for their civilization against a "radical" and "apocalyptic" form of Islam.
"Israel stands on the front lines of our civilizational struggle against radical, apocalyptic Islam," Mr. Rubio said at the Republican Jewish Coalition's daylong forum in Washington, D.C, according to prepared remarks released by his campaign. "That term, apocalyptic Islam, is not an attempt at being provocative; it is rather a description of the true beliefs of the leaders of both Iran and the Islamic State: that they are living in the end times and that mass genocide is their way to honor God."
Mr. Rubio is one of 14 Republican candidates who are speaking in front of the RJC, where some of the country's most influential conservative donors are gathered. Mr. Rubio, along with his old mentor, former Florida Gov. Jeb Bush, and Texas Sen. Ted Cruz are among the top GOP candidates aggressively courting Jewish donors like billionaire casino magnate Sheldon Adelson, who is said to be leaning toward backing Mr. Rubio. Donald Trump, a fellow billionaire, reportedly courted Mr. Adelson as well, though the front-runner in most national polls has said he will self-fund his campaign.
Like all of the Republican candidates, Mr. Rubio is a fierce defender of Israel. Mr. Bush's struggles on the campaign trail have allowed Mr. Rubio to fight for the same establishment donors who were once thought to be Mr. Bush's for the taking. Today, the RJC is looking for more than just Israel bona fides: they want the candidates to show a clear command of foreign policy, Mr. Rubio's focus in the Senate, and demonstrate a commitment to bolstering national security in the wake of the Paris terrorist attacks.
Mr. Rubio joined other Republicans in continuing to lambaste President Barack Obama's approach to the chaotic Middle East, tying the Democratic Party's front-runner, former Secretary of State Hillary Clinton, to his perceived failures. "President Obama, and, I'm afraid, Hillary Clinton, have a different policy. They call it 'engagement,' but what it should really be called is 'abandonment.' Instead of standing up to those who single out Israel, the Obama administration takes the path of least resistance. It throws up its hands and says, in essence, 'not our problem.'"
Mr. Rubio said Mr. Obama should have harshly condemned the president of the Palestinian Territories, Mahmoud Abbas, for saying in a United Nations speech that Israel has occupied their land since its founding in 1948. He also blamed the president for not doing more to stop the European Union from labeling products produced in land Israel seized in the 1967 war.
"Let's take a step back and realize what this means. Discriminatory laws that apply only to Jews are now being written into European law for the first time in more than half a century," Mr. Rubio said. "I believe we need a president who is not afraid to call this out for what it is: anti-Semitism. I will be that president."
He also blasted "isolationists" in his own party who want to cut America's defense budget. "I believe those who speak about their pro-Israel views but carelessly support a gutting of our international affairs budget, including assistance to Israel, or who vote against legislation funding U.S.-Israel defense programs, need to check their priorities," he said. "You cannot be pro-Israel while also attempting to eliminate assistance that Israel uses to defend itself."