(In our issue out June 17, we predicted that cover subject Mark Ruffalo would win an Oscar nomination this year for his performance in Infinitely Polar Bear. And while Academy Award nominations aren't out until January 14, 2016, Mr. Ruffalo has been nominated for a Golden Globe as Best Actor for that performance, along with Critics Choice and Screen Actors Guild nominations for his performance in Spotlight. Here, our extensive interview with the savvy star—and our congratulations to him!)
At a modest film premiere at the Sunshine Cinemas on Houston Street, the movie's smiling star slides into the reserved row, spruced up in a tailored gray suit and lacking the awkwardness that some men used to jeans have when they dress formally.
 Pausing before he takes his seat, actor Mark Ruffalo looks back to ensure that his mother, the hairdresser and stylist Marie Rose Ruffalo, has followed him into the row and has a good seat. Then he beckons his tween-aged co-star, Imogene Wolodarsky, to sit between him and his mother. Now, having secured spots for the women in his care, and surrounded by dear friends, he turns around to wave a hello across two rows to his Foxcatcher director, Bennett Miller. When Sony Pictures Classics co-president Michael Barker rises to introduce the film, Infinitely Polar Bear, the executive notes that this is, in fact, "Mark Ruffalo's year."
"Mark is one of the great empathetic actors," he continues. "Since You Can Count on Me, This Is Our Youth, playing the Hulk, to this film, this is an actor who brings such range and honesty to his work," says Mr. Barker. "Not only is Mark a great actor, he is a great person." 
The star seems abashed. But Mr. Ruffalo's nurturing side—captured again and again, in characters with backbones and without, intact or broken, as the grounded older brother in Foxcatcher, the charismatic restaurateur in The Kids Are All Right and the self-sabotaging music producer in Begin Again—has come to define him. He seems the kind of evolved contemporary man, married with three children, who connects with modern women. And who men might look up to despite concerns that he could steal their girlfriends with one Eeyore brown-eyed gaze.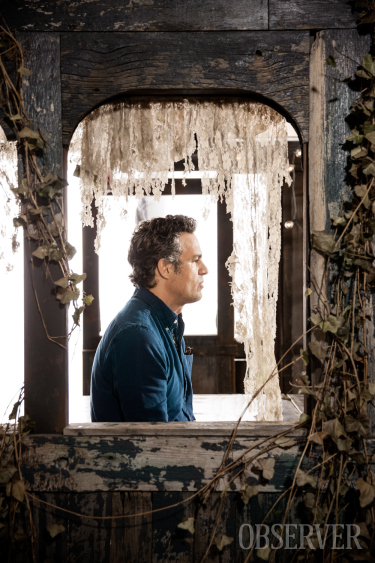 "He's one of those rare actors who make you want to see a movie merely because he's in it," says USA Today and National Public Radio's film critic Claudia Puig.
***
On a torrential June morning, Mr. Ruffalo arrives at Morandi on Waverly Place for an interview. He could easily be mistaken for one of the Internet geniuses in sneakers grilling a poor, straight-laced job applicant in a khaki suit and Florsheim's at a nearby table. The low-key star wears a weathered baseball cap pulled over his gray-dusted brown curls, a dark indigo work shirt and jeans, and an apologetic smile for being late even though he is just barely.
The modesty is charming, but perhaps misplaced. Ever since the 47-year-old Wisconsin native shot out of a cannon 15 years ago as the feckless younger brother opposite Laura Linney in Kenneth Lonergan's You Can Count on Me, Mr. Ruffalo has seen success. The transplanted New Yorker with residences in the West Village and upstate Callicoon earned a Best Supporting Actor nomination for his charming sperm donor in The Kids are All Right, another this year in Foxcatcher (he lost), which followed an Outstanding Television Movie Emmy for The Normal Heart (he produced, and won). Then, Mr. Ruffalo's career hyper-spaced as Dr. Bruce Banner/The Hulk in the iconic Avengers franchise.
On the set of the most recent iteration, Mr. Ruffalo recalls standing in the wings chatting with his co-star Scarlett Johansson, who plays Black Widow: "Scarlett and I were joking: 'How the fuck did we end up here? We're indie kids. We're going to live upstate in a little shack and do the little independent movies. And what the hell are we doing here?' "
Now he courts his first Best Actor nomination as a bipolar father struggling to care for his beloved daughters in 1980s Boston in Maya Forbes' autobiographical drama Infinitely Polar Bear.
***
Maya Forbes, the writer and director of the Sony Pictures Classics film, who cast Mr. Ruffalo as a loving but emotionally-challenged parent based on her own father (and cast her own daughter Imogene as her younger self), tells this story: "The first day Mark came to rehearsals in Providence, R.I., he carried a pot of vegetable ginger soup with turmeric that he had made. He's a caretaker. He loves to cook. He loves the domestic sphere and being a father. He embraces that role. I related to that. My father loved to take care of people."
But Cameron, the Boston Brahmin clinically bipolar patriarch in Infinitely Polar Bear (Zoe Saldana plays his wife) is frequently off his meds, incapable of holding down a job and on an emotional roller coaster. He self-medicates with alcohol, leaves his two daughters alone in the apartment, hoards, chain smokes… "Yeah, but then," Mr. Ruffalo explains, not making excuses, but stating a fact, "he kept coming back."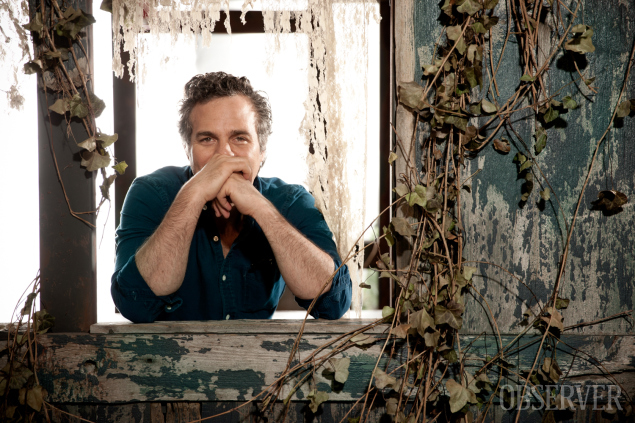 It was not the subject of mental illness that drew Mr. Ruffalo to the script, but the chance to step into the shoes of yet another authentically screwed-up family that was played for neither melodrama nor cheap laughs.
He notes: "I keep finding myself in these movies. Fatherhood to me, families, I love families. I mean I love them and I hate them. And I need to work it out. So, I just keep finding myself there with these families that are dysfunctional. Well, they're not dysfunctional. They're perfectly functional. They're actually exactly like every other family in the world, you know. Are all of our families dysfunctional or is that just maybe the norm?"
'Dealing with and using anger is an interesting journey for me,' says Mark Ruffalo. 'Channeling it into social justice issues or even environmental issues
or hydrofracking.'
Mr. Ruffalo picks a side: "Everyone's got a crazy family. And we're put together in a way that's next to impossible. When you look at human beings it's amazing the human race has gotten as far as we have. If it wasn't for our love of sex there may not be the human race. The other thing is we have love, which is the greatest grace for us, you know. There's so much drama in family and there's so much comedy in it. So much, it's so relatable and when I read this script I said, 'I have to do this movie,' you know. And I just loved that how far out he was going …
"People are so afraid of mental illness but it's everywhere," the actor continues, confessing that he personally suffers from chronic depression. "It's Dysthymia. It's a long running, low-grade depression all the time. I've been struggling with that my whole life. It's like a low-grade depression that just is running all the time in the background."
***
When Mark Ruffalo was 8, his grandmother let him stay up for the television premiere of A Streetcar Named Desire. It changed his life. "It made me want to be an actor … Brando's magnetism and that fearlessness and the vulnerability. His raw presence was slightly effeminate, balanced. It was more real, more honest. And I guess it became about looking for the things that seem honest to me, that really reflect life, that are the things that turn me on about movies."
"Marlon Brando," says Mr. Ruffalo, removing his baseball cap, shuffling his curls and replacing the hat more firmly on his head, "and Marcello Mastroianni. Oh, Marcello, I found him later. But I love him. He's the common man. He can be handsome at times and repulsive at times. A monster. And he can also be the most generous or funny or moving, or totally sentimental. He broke the mold of the macho movie star for me."
Which brings us to perhaps Mr. Ruffalo's best-known and most macho character, Bruce Banner/Marvel superhero The Hulk. What Mr. Ruffalo has done in that role, in one of the most popular global franchises in contemporary Hollywood ($434 million worldwide and counting), is crack a character that his big-screen predecessors Eric Bana and Edward Norton failed to do. 
Mr. Ruffalo credits the writer and director Joss Whedon for getting to Banner's core: "Whedon was just, listen, the problem with that character is in the movie is it's tough to watch someone who doesn't want to do the exact thing that you're dying for him to do. So it becomes a joyless super-outburst, you know. That's what's always tough with that part because he's spent the whole time trying not to be The Hulk. I didn't want to do a recap of that, clearly."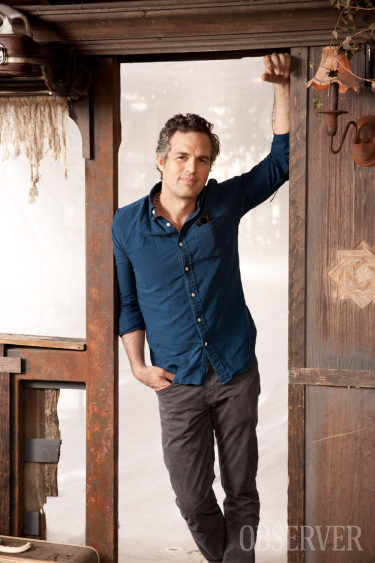 Mr. Ruffalo dives deeply into the psychology of Banner in order to humanize The Hulk. "What makes him different?" Mr. Ruffalo asks. "And for me it was turning to face Hulk. I'm in my 40s now. And in your 40s you really get a sense of who you are. You know your weaknesses or your strengths and your demons. But also you finally realize you can't really run too far from them because they're always there. So, a Banner that was ready to turn and face the Hulk and actually begin to internalize him and make peace with him and realize what an awesome power of the Hulk that can be possibly used in a way that's constructive. Anger is a really a powerful emotion that a lot of people are afraid of in themselves. But it can be an incredibly powerful tool." 
For Mr. Ruffalo, that was an "aha" moment: "I realize that I have this platform. And what am I going to do with it? Am I going use it to sell X product, or am I going to use this power like Bruce Banner?" And it is that journey, facing himself in the mirror of his movies, accepting anger as a way to change the status quo and break free from one's limitations that has also defined a parallel activity in Mr. Ruffalo's life. That rage has mobilized him as an activist unafraid to use the platform A-list stardom has given him to speak out for change.
"I  was really afraid for a long time to step out much [politically]. What if they turn on me? Or what if my career gets ruined? So, dealing with and using anger is an interesting journey for me," says Mr. Ruffalo. "Channeling it into social justice issues or even environmental issues or hydrofracking … There became that reckoning moment where you're weighing who you are and what do you do? You know, what do you do with that anger? Do you act on it or do you run away? Do you push it down?"
Ms. Forbes is glad her lead actor isn't pushing down anything: "His great gift is that he's in touch with his humanity. That's what we want to see on screen. In our lives, we're surrounded by mostly people who are selfish or screwed up and we love them. He is able to play the complexity of real people. If you don't have that core goodness it's harder to play these difficult parts. He understands pain, and being screwed up. He understands it deeply. He connects to that in a very real way. Mark has a lot of compassion and empathy for other people and their difficulties—because he's struggled himself."
After the screening, the party migrates to the seventh floor of Above Allen at the Thompson Hotel. Mr. Ruffalo suddenly turns around in the desperately adult, candle-lit space and asks "Where's Imogene?" He cannot find his young co-star. He walks out of the lounge and into the glare of the elevator bank. He punches the down button and shakes his head slightly. After letting women enter first, he follows. On the small screen a movie plays: coincidentally, there is Marcello Mastraoianni filling the tiny screen.
Downstairs, Mr. Ruffalo exits into Allen Street and a steady drizzle. He continues to ask after Imogene, approaching the drivers of the waiting black SUV's. He half turns, smiling wistfully and almost comically worried. "I'm such a bad dad," he says. He heads back toward the theater two blocks away at a clip, one bruiser guard in front of him and one behind, looking for Imogene. He has left his own party in search of the fresh young woman who has become a bit like a daughter to him, misplaced at her first New York premiere.
A bad dad? Never. Mr. Ruffalo is just a big-hearted man who struggles like the rest of us. (She turns out to be fine.)  And what Mr. Ruffalo said the week before comes back with the light rain: "You know, it's hard to live an authentic life. It requires more from you. It's scarier. You take it one day at a time, knowing that in the end it will be your life. You won't have lived your parents' life. Your professor's life. Your rabbi's life. Your priest's life. Your sister, brother. When they throw dirt on you and you're lying in your deathbed, you'll say, 'You know what?  I've lived my life.' "